Everyone
An original outdoor performance event inspired by the morality play "Everyman"
October 14-17, Reynolds Green
Inspired by the 15th century morality play, Everyman, as well as our collective journey through the pandemic, Everyone will tell the story of facing death, taking stock, making amends, and a joyous rebirth into the world. Led by Aaron Snook, Stephanie Hickling Beckman, and Carolina Perez, the ensemble will collaborate with movement, acting, spoken word, music, and song to create a singular outdoor event to bring us out of isolation and back into community.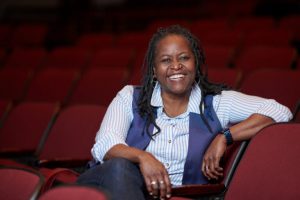 Stephanie Hickling Beckman has been active in Asheville's theatre scene since 1999. She has worked with several local theatre companies as an actor, stage manager, and director, and toured nationally as an actor. As the Managing Artistic Director for Different Strokes!, Stephanie is committed to directing and producing theatre that expresses the diversity we encounter in our everyday lives and finding ways to recognize and honor our differences in a safe and positive environment. Not unlike Different Strokes!, she is committed to being an active part of her community and seeks every opportunity to champion diversity and inclusion. She fulfills her personal mission to change the world through her art, compassionate leadership, straight-forward communication, and a deep love of storytelling.  She previously served on the boards of the Western North Carolina Chapter of the American Civil Liberties Union (ACLU), the Asheville Area Arts Council. Asheville Writers in The Schools, Montford Park Players, Odyssey Community School, Youth Outright, The Center for Diversity and Education at UNCA, Western North Carolina AIDS Project, The Magnetic Theatre, the Black Mountain Arts Center, and the YWCA's committee for Stand Against Racism. Stephanie envisions that Different Strokes! Performing Arts Collective will further impact our community as an artistic bridge for ALL performing artists in our community.
Carolina Perez joined UNCA as a Visiting Assistant Professor of Music in the Fall of 2020. She teaches Music Technology courses and leads the Music Department's Songwriters Ensemble. Her past collaboration with UNCA's Drama Department consisted of the sound design supervision, music composition and music production for The Three Pigs and the Red Line. She is excited to meet everyone in Everyone.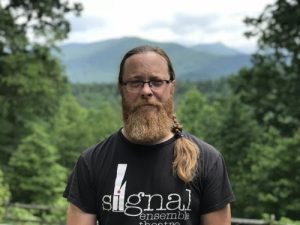 Aaron Snook has been teaching as an Adjunct Professor at UNC-A for the past few years as well as directing The Room/Bald Soprano (2019), Hedda Gabler (2020), and the Pandemic Theatre Project (2020). A North Carolina native, Aaron spent 14 years as a theatre artist in Chicago before moving to Asheville in 2016. With a BA from Duke University in Drama and English and an MFA from Northwestern University in Theatre Directing, Aaron co-founded and leads the American Myth Center, a local non-profit performing arts organization committed to providing free theatre and sparking necessary conversation within the community. For more information: snooktheatre.com & americanmythcenter.org.
---
Radium Girls
by D.W. Gregory
November 11-14, Carol Belk Theatre
Directed by Aubrie Holcomb, Senior Drama & Mass Communication major
In 1926, radium was a miracle cure, Madame Curie an international celebrity, and luminous watches the latest rage—until the girls who painted them began to fall ill with a mysterious disease. Inspired by a true story, Radium Girls traces the efforts of Grace Fryer, a dial painter, as she fights for her day in court. Her chief adversary is her former employer, Arthur Roeder, an idealistic man who cannot bring himself to believe that the same element that shrinks tumors could have anything to do with the terrifying rash of illnesses among his employees. As the case goes on, however, Grace finds herself battling not just with the U.S. Radium Corporation, but with her own family and friends, who fear that her campaign for justice will backfire. Written with warmth and humor, Radium Girls is a fast-moving, highly theatrical ensemble piece for 9 to 10 actors, who play more than 30 parts—friends, co-workers, lovers, relatives, attorneys, scientists, consumer advocates, and myriad interested bystanders. Called a "powerful" and "engrossing" drama by critics, Radium Girls offers a wry, unflinching look at the peculiarly American obsessions with health, wealth, and the commercialization of science.
(Synopsis provided by Dramatic Publishing)
---