Nacho Mama's Comedy Improv Show: It Might Get a Little Cheesy
Led by Lise Kloeppel
Thursday, November 16th and Friday, November 17th at 7:00 PM
$5 General Admission, $3 for UNCA Students (RockyCard required for entry)
Join us for a night of laughter and silliness as TheatreUNCA's debut improv troupe entertains you with a series of short-form improv games informed by audience suggestions. Contemporary dance students will open the show with a short, light-hearted piece.
Come early and get dinner from one of Asheville's Black-owned food trucks!
Thursday 11/16 from 6:00-8:30 PM - Queens Island Cuisine (Jamaican cuisine) and Cooking with Comedy (fried chicken, seafood, mac and cheese, collard greens, salads, etc.) will both be in the cul-de-sac outside Belk/Delany
Friday 11/17 from 6:00-8:30 PM - Cooking with Comedy will be in the cul-de-sac outside Belk/Delany
---
Auditions for Spring 2024 Shows Now Open!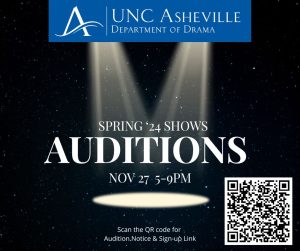 AUDITIONS for 3 SHOWS
Auditions: Nov 27th, 2023 5-9pm
Callbacks: Nov 28th, 2023 6-9pm
Carol Belk Theatre
Auditions are open to UNC Asheville students, staff or faculty. We welcome performers of all genders, races/ethnicities, and abilities to audition.
---
Senior Project Shows
Directed by Alex McFadden & Mack Moseley
April 18-21, 2024
---
Contact theatre@unca.edu for more information