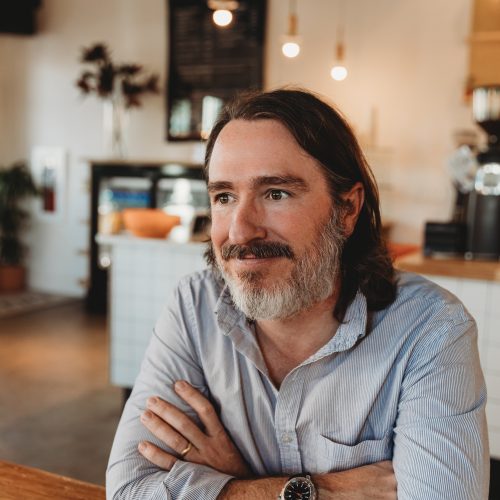 Wiley Cash, Ph.D.
Writer-in-Residence
Contact Information
wcash@unca.edu
251-6583
239 Karpen Hall
Wiley Cash is on leave for Fall 2023
Wiley Cash is the New York Times best-selling author of the novels The Last Ballad, A Land More Kind Than Home, and This Dark Road to Mercy. The founder of the Open Canon Book Club and the co-founder of the Land More Kind Appalachian Artists' Residency, he serves as the writer-in-residence at the University of North Carolina Asheville and teaches in the Mountainview Low-Residency MFA. He has received or been a finalist for numerous awards, including the Southern Book Prize, the Sir Walter Raleigh Award for Fiction, the PEN/Robert W. Bingham Prize, the Weatherford Award, and the American Booksellers' Association Debut Novel of the Year, and his novels have been listed as best-of-the-year by The New York Times, Kirkus Reviews, Library Journal, Barnes and Noble, Books-a-Million, the American Library Association, and other publications and organizations. He lives in North Carolina with his wife, photographer Mallory Cash, and their two young daughters.
Education
B.A., University of North Carolina Asheville
M.A., University of North Carolina-Greensboro
Ph.D., University of Louisiana-Lafayette
Courses Taught
LANG 499: Special Topics in Fiction Writing
LANG 363: Fiction Writing Workshop
LANG 260: Introduction to Creative Writing
LIT 329: Southern Literature
LIT 240: Introduction to Literature
Publications
Novels
The Last Ballad. New York: William Morrow/HarperCollins, Summer 2017.
This Dark Road to Mercy. New York: William Morrow/HarperCollins, Jan. 2014.
A Land More Kind Than Home. New York: William Morrow/HarperCollins, 2012.
Short Fiction
"Verchel Park." Idaho Review. (Dec. 2015).
"July, After Church." StorySouth (Sept. 2015). Online. (Nominated for a Pushcart Prize.)
"When You Say 'Home.'" Appalachian Heritage (2015). (Nominated for a Pushcart Prize.)
"The Body." Salt Magazine (Aug. 2014): 49.
"The One Night of the Year." How To Be A Man: An Online Anthology. Ed. Colum McCann. Byliner. 2013.
"Bottle Rocket." Carolina Quarterly 60.1 (Winter 2010): 35-36.
"Swannanoa." Anthology of Appalachian Writers, vol. 1. Ed. Sylvia Bailey Shurbutt. Huntington, WV: Shepherd University Press, 2009. 47-51.
"The Cove Fire." Roanoke Review 33 (Spring 2008): 15-18.
"Gunter Mountain." Crab Orchard Review 13.1 (Winter/Spring 2008): 59-68.
"Kitty." Parting Gifts 20.2 (Winter 2007-2008): 63-64.
"Leonard and the Mermaid." Wisconsin Review 41.2 (Spring 2007): 33-42.
"Grenadine." The Louisiana Review 5 (Spring 2007): 17-21.
Book
"This Louisiana Thing That Drives Me": The Legacy of Ernest J. Gaines. Marcia Gaudet, Reggie Young, and Wiley Cash. Introduction by Ernest J. Gaines. Epigram by Wendell Berry. Lafayette, LA: U of Louisiana P. 2009.
Essays
"The Family Home as Microcosm of the Southern Experience in Thomas Wolfe's Plays." South Atlantic Review 76.1 (Winter 2012): 99-112.
"'Those folks downstairs believe in ghosts': The Eradication of Folklore in the Literature of Charles W. Chesnutt." Charles Chesnutt Reappraised: Essays on the First Major African American Fiction Writer. Ed. David Izzo and Maria Orban. Jefferson, NC: McFarland Press, 2009. 69-80.
"Langston Hughes and the Dream of America." Theory Into Practice: An Introduction to Literary Criticism. 2nd ed. Ed. Ann B. Dobie. Boston: Thomson/Heinle, 2008. 233-238.
"What Do Thomas Wolfe and Charles W. Chesnutt Have to Tell Us About North Carolina?" The Thomas Wolfe Review 32.1-2 (2008): 22-33.
"Space, Time, and Region: Quantum Mechanics and the Oral Tradition in Fred Chappell's I Am One of You Forever." The South Carolina Review 40.1 (Fall 2007): 53-61.
"'What Men Dream About Doing': A Conversation with Ernest J. Gaines." The Mississippi Quarterly 60.2 (Spring 2007): 289-304.
"'The dark was hived with flesh and mystery': Thomas Wolfe, the American Adam and the Polemical Persona of Race." The Thomas Wolfe Review 30.1-2 (2006): 44-55.
"The Colonel's Dream Deferred: A Reconsideration of Chesnutt's Liberal Racist." American Literary Realism 37.1 (Fall 2004): 24-36.
Reviews
The Four Lost Men, The Magical Campus: University of North Carolina Writings, 1917-1920, The Death of Gant by Thomas Wolfe, and The Wax Cylinders: Julia Wolfe Interviews by John Skally Terry. North Carolina Literary Review 18 (2009): 249-254.
Thomas Wolfe: An Illustrated Biography and Windows of the Heart: The Correspondence of Thomas Wolfe and Margaret Roberts by Ted Mitchell and Thomas Wolfe: When Do the Atrocities Begin? by Joanne Marshall Mauldin. North Carolina Literary Review 17 (2008): 193-198.
"The Thomas Wolfe Society." Appalachian Heritage 35.1 (Fall 2007): 67-68.
Chesnutt and Realism: A Study of the Novels by Ryan Simmons. The Journal of the Midwest Modern Language Association 40.1 (Spring 2007): 146-148.
Bridging Southern Cultures: An Interdisciplinary Approach. Edited by John Lowe. Interdisciplinary Humanities 23.1 (Spring 2006): 113-117.
Website