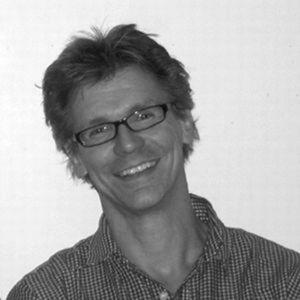 Robert Dunning
Professor of Art
Contact Information
rdunning@unca.edu
828.251.6879
214 Owen Hall
Office Hours
Tuesdays 9-10 a.m.
Thursdays 9-10 a.m.; noon-1 p.m.
Robert Dunning joined UNC Asheville in 1987. His teaching responsibilities include all levels of printmaking, introductory drawing, and two-dimensional design. He is active in service to the university, serving on several major committees and was chair of the Department of Art from 2004-2009. He has worked with Undergraduate Research students since 1988 and mentored UNC Asheville's first Undergraduate Research project in Studio Art to be presented at the National Conference on Undergraduate Research (NCUR) at Trinity University in 1989.
Professor Dunning's work has been exhibited internationally and nationally, particularly throughout the southeast. It is included in the permanent collections of the Asheville Art Museum, The Kansas City Art Institute, The Southern Graphics Council (University of Mississippi), McNeese State University, The University of Kansas, Indiana University, and Wachovia Bank. He recently exhibited his work at Blue Spiral One Gallery, Asheville, NC.
Education
MFA, Printmaking
Indiana University
BFA, Painting and Printmaking (with Teaching Certification)
East Carolina University
Courses Taught
ART 122 Two-Dimensional Design
ART 144 Foundation Drawing
ART 112 Drawing I
ART 304 Drawing II
ART 305 Drawing III
ART 404 Drawing IV
ART 220 Printmaking I
ART 221 Printmaking II
ART 321 Printmaking III
ART 322 Printmaking IV
ART 490 Senior Exhibitions I
ART 491 Senior Exhibitions II
ART 492 Senior Exhibitions II
Recent Publications/Exhibitions (2007-present)
Gallery Representation: Blue Spiral 1, Asheville, NC (ongoing)
Awarded a Juror's Choice Award for Another Day on Earth, at Raleigh Fine Arts Society's North Carolina Artists 2016 Exhibition by Bradley Sumrall, Chief Curator and Collections Manager of the Ogden Museum of Southern Art in New Orleans. (2016).
Portfolio Exchange: Randomly on Purpose, March 19, 2015, 3-5:00 p.m., Knoxville, Tennessee. As part of SCG International Conference (2015).
Rick Beck & Robert Dunning, Showcase Gallery, Blue Spiral 1, Asheville. NC (2013)
UNC Asheville Annual Art Faculty Exhibition, S. Tucker Cooke Gallery, UNC Asheville
A Decade of Surfaces: Mixed Media Printmaking, at Waterworks Gallery, Salisbury, North Carolina. (2012)
Paul Hartley - The Man and His Legacy(an invitational exhibition honoring the memory of former East Carolina University professor. Some of Hartley's paintings and ca. 200 works by selected former students were included in the exhibit.) Greenville Museum of Art, NC (2010)
UNC Asheville Annual Art Faculty Exhibition, S. Tucker Cooke Gallery, UNC Asheville (2010)
The Paul Hartley Legacy(an invitational exhibition honoring the memory of former East Carolina University professor. Some of Hartley's paintings and c. 200 works by selected former students were included in the exhibit). Lee Hansley Gallery, Raleigh, NC( 2010)
Handmade: The Western North Carolina Craft, Architecture and Design Expo. June 25-26, North Carolina Arboretum, Asheville,  NC (2010)
New X Three, New Year, New Artists, New Year!( January 2010). Blue Spiral Gallery, Asheville, NC (2010)
UNC Asheville Annual Art Faculty Exhibition. S. Tucker Cooke Gallery, UNC Asheville (2009)
Robert Dunning (Solo Exhibition). Flood Gallery and Fine Art Center, Asheville, NC (2008)
29th Annual Paper in Particular 2008 National Juried Exhibition.Columbia College, Columbia, MO (2007)
35th Annual Toys Designed By Artists National Juried Exhibition. Arkansas Arts Center, Sam Strauss Sr. Gallery, Little Rock, AR (2007)
Engraving 2007(National Invitational Engraving Portfolio). McNeese State University, Lake Charles, LA (2007)
Shared Inspiration (The Art of the Exchange Portfolio). Art Department, University of Wisconsin-Parkside, Racine, WI (2007)
Engraving 2007. Art Associate Gallery, Central School, Lake Charles, LA (2007)
Engraving 2007(Portfolio Exchange). Hyatt Regency, Southern Graphics Council Conference, Kansas City, MO (2007)
Engraving 2007. Johnson Gallery, Mesa State College, Grand Junction, CO
UNC Asheville Annual Studio Art Faculty Exhibition. S. Tucker Cooke Gallery, Owen Hall, UNC Asheville (2007)
Personal Website