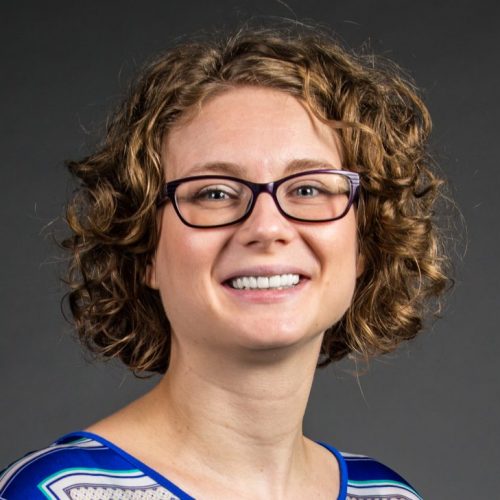 Regine Criser, Ph.D.
Associate Professor of German and Director of Student Success
Contact Information
rcriser@unca.edu
258-7714
006 Ramsey Library
Office Hours
Monday 1:00 pm - 2:00 pm
Thursday 11:00 am - 12:00 pm
Note: Or by appointment.
Bio
Regine Criser joined UNC Asheville in Fall 2013 as a Visiting Assistant Professor of German in the Modern Languages and Literatures Department and is a full time Assistant Professor of German as of Spring 2015. She received her Ph.D. from the University of Illinois at Urbana-Champaign and her research focuses on post-1989 German literature and culture, particularly on the concepts of family, memory, agency, and space. She has taught German language, literature, and culture courses and during her four years with the department has joined efforts with students and faculty to make UNC Asheville shine. She received the 2017 Goethe-Institut/AATG Certificate of Merit which honors those who have demonstrated achievement in furthering the teaching of German in the U.S. and the UNC Asheville Award for Excellent Teaching by Untenured Faculty, Spring 2018.
Education
Ph.D., Germanic Languages and Literatures
University of Illinois at Urbana-Champaign
M.A., Germanic Languages and Literatures
University of Kansas
Courses Taught
German 250 The Grimm's Fairy Tales in Their European Context
Holocaust and Literature
Das Jahr 1989 in der deutschen Literatur
German 260 The Holocaust in Context
German 101-102 Elementary German
German 103 Intermediate German
This faculty member teaches in UNC Asheville's Humanities Program.
Professional Interests
Literature of the GDR and cultural representations of post-1989 Germany
Contemporary transnational debates about belonging and Heimat
Artistic representations of the Holocaust
Recent Publications
"Narrative Topographies in Christa Wolf's oeuvre." Christa Wolf:A Companion. Eds. Sonja Klocke, Jennifer R. Hosek.De Gruyter: forthcoming Fall 2017. (Series: Companions to Contemporary German Culture).
"Disruptions of the Archive: Renegotiating German History in Autobiographical Fiction after 1989." Edinburg German Yearbook . 9, 179-194, 2015. Print.
"Zwischen Anpassung und Instrumentalisierung: Hybride Lebensnarrative in der deutschen Literatur nach 1989." [Between Adaptation and Exploitation: Hybrid Life Narratives in post-1989 German Literature] Narrative kultureller Identität - Ostdeutsche Erinnerungsdiskurse nach 1989. Eds. E. Goudin-Steinmann, C. Hähnel-Mesnard, Berlin: Frank & Tamme Verlag, 199-212, 2013. Print.