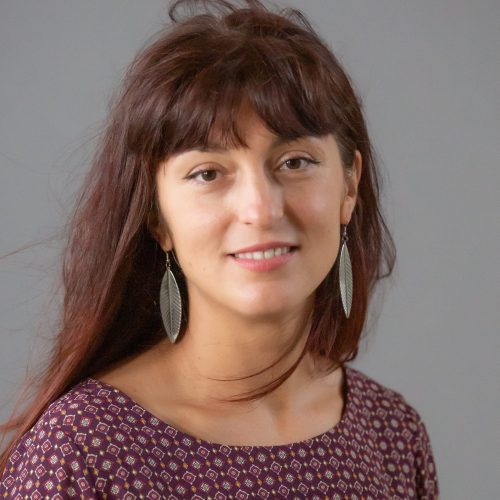 Oksana Love, Ph.D.
Lecturer
Contact Information
olove@unca.edu
828-350-4571
115 Zeis Hall
Office Hours
Monday 12:00 pm - 1:30 pm
Tuesday 10:00 am - 11:30 am
Friday 12:00 pm - 1:00 pm
Note: And by appointment. M, F online (See Moodle). T in-person.
Courses Taught
Chem 132 – General Chemistry
Chem 233 - Foundations of Inorganic Chemistry
Chem 236 - General Chemistry II
Chem 111 – General Chemistry Laboratory
Chem 145 - Quantitative Chemistry Laboratory
Chem 312 - Interdisciplinary Chemistry Project Lab
Chem 419 - Nanochemistry
Chem 411 - Lab Assistantship in Chemistry
Chem 417 – Chemical Research II
Chem 418 – Chemical Research III
Education
Ph.D in Chemistry - Georgetown University, 2012
B.S in Chemistry – University of North Carolina at Asheville, 2006
About me
Originally from Lviv, Ukraine, I graduated with B.S. in chemistry from University of North Carolina Asheville in 2006. Then I continued my studies at Georgetown University where I received M.S and Ph.D degrees in chemistry in 2012. In graduate school, I worked in Dr. Tong's group, where my main thesis topic was focused on synthesis and characterization of metal nanoparticles, particularly protected by organo-chalcogenolates for future molecular electronics applications. After graduation, I received National Research Council (NRC) Fellowship award that allowed me to continue my post-doctoral studies at the DoD Naval Research Laboratory in Washington, DC. The research concentrated on synthesis and characterization of sub-nanometer metal nanoparticles for potential catalytic applications. In 2013, I moved to Asheville to become a faculty member at my alma mater UNC Asheville.
Teaching interests
My teaching interests lie in material science, inorganic, as well as general and analytical chemistries.
Research interests
Environmental catalysts that can efficiently degrade hazardous chemicals in contaminated groundwater and in air are of growing importance. Titanium dioxide, TiO2, nanoparticles are great candidate for that due to photocatalytic properties. The objective of Love's research is to advance scientific understanding in the field of TiO2 photocatalysts by integrating research and education for undergraduate students, synthesize and characterize TiO2 nanomaterials, look into effect of mineralizers on the shape of synthesized particles, and to propose novel understanding of new degradation pathways of VOCs, specifically by brookite TiO2.
Selected publications
Love, O.; Kidwell, D. A.; Epshteyn, A.: The Atomic Metron – a Basis for Synthesis of Sub-Nanometer Particles with a Discrete Number of Atoms, Mater. Res. Soc. Symp. Proc., 2013, 1548, DOI: 10.1557//opl.2013.697.
Li, Y.; Love, O.; Tong, Y. J.: Small Gold Nanoparticles Synthesized with Dialkyl Ditellurides, Nano Bulletin, 2013, 2(2), 130221.
Zaluzhna, O.; Li, Y.; Allison, T. C.; Tong, J. Y.: Inverse-Micelle-Encapsulated Water-Enabled Bond Breaking of Dialkyl-Diselenide/Disulfide: a Critical Step for Synthesizing High-Quality Au Nanoparticles, J. Am. Chem. Soc., 2012, 134, 17991-17996.
Zaluzhna, O.; Zangmeister, C.; Tong, J. Y.: Synthesis of Gold and Silver Nanoparticles with Alkyl Selenocyanates, RSC Advances 2012, 2, 7396-7399.
Li, Y.; Zaluzhna, O.; Zangmeister, C.; Allison, T. C.; Tong, J. Y.: Different Mechanism Govern the Two-Phase Brust-Schriffin Dialkyl-Ditelluride Syntheses of Ag and Au Nanoparticles, J. Am. Chem. Soc., 2012, 134 (4), 1990–1992.
Zaluzhna, O.; Li, Y.; Zangmeister, C.; Allison, T. C.; Tong, J. Y.: Mechanistic Insights on the One-Phase vs. Two-Phase Brust-Schiffrin Method Synthesis of Au Nanoparticles with Dioctyl-Diselenide, Chem. Comm., 2012, 48, 362-364.
Li, Y.; Zaluzhna, O.; Tong, J. Y.: Critical Role of Water and Structure of Inverse Micelles in the Brust-Schiffrin Synthesis of Metal Nanoparticles, Langmuir 2011, 27, 7366–7370.
Du, B.; Zaluzhna, O.; Tong, J. Y.: Electrocatalytic Properties of Au@Pt Nanoparticles: Effects of Pt Shell Packing Density and Au Core Size, Phys. Chem. Chem. Phys., 2011, 13, 11568-11574.
Li, Y.; Zaluzhna, O.; Tong, J. Y.: Identification of a Source of Size Polydispersity and its Solution in Brust-Schiffrin Metal Nanoparticle Synthesis, Chem. Comm., 2011, 47, 6033 - 6035.
Zaluzhna, O.; Brightful L., Allison, T. C.; Tong J. Y.: Insight into Interface between Meso-2, 3-Dimercaptosuccinic Acid (DMSA) Protected Silver Nanoparticles, Chem. Phys. Lett., 2011, 509, 148-151.
Li, Y.; Zaluzhna, O.; Xu, B.; Gao, Y.; Modest, J.; Tong, J. Y.: Mechanistic Insights Into the Brust–Schiffrin Two-Phase Synthesis of Organo-Chalcogenate-Protected Metal Nanoparticles, J. Am. Chem. Soc., 2011, 133(7), 2092-2095.