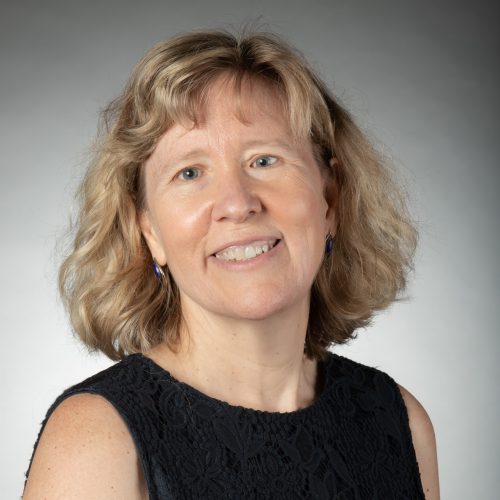 Melissa Himelein, Ph.D.
Professor of Psychology
Contact Information
himelein@unca.edu
250-3896
237 Delany Hall
Office Hours
Monday 12:30 pm - 1:30 pm
Wednesday 12:30 pm - 1:30 pm
Tuesday 11:00 am - 11:55 am
Note: Appointments available Tuesday and Thursday afternoons.
Education
A.B., Brown University (Psychology)
M.A., University of Kentucky (Clinical Psychology)
Ph.D., University of Kentucky (Clinical Psychology)
Recent Courses Taught
Psychology of Women
Internship Senior Seminar
Research Senior Seminar (The Science of Empathy)
Research and Professional Interests
In addition to teaching in the psychology department, Dr. Himelein has held a number of administrative positions on campus, including serving as the Associate Director of Research at the North Carolina Center for Health and Wellness (2006-2010), the Director of the Center for Teaching and Learning (2010-2020), and the Dean of Social Sciences (2019-2021). Her research interests have paralleled these different work settings, including projects in health psychology, the psychology of women, and the scholarship of teaching and learning.
As a clinical psychologist, Dr. Himelein especially enjoys teaching the internship senior seminar, where students learn and practice interpersonal helping skills that can then be applied in their internship settings. She has also supervised many undergraduate research students, both as assistants in her work as well as in their own independent projects.
Recent Scholarly Contributions (2017-present)
Grants
National Endowment for the Humanities CARES Act Grant (July, 2020-July, 2021). Project director, Preparing for disruption: Supporting humanities instructors with online and compressed course development. Support for professional development, curriculum revision, and digital-resource creation, enabling hybrid/online teaching of key humanities courses. $299,163.
Office of Teaching Resources in Psychology, Instructional Resource Award (March, 2016-December, 2016). Helping skills instruction in the undergraduate internship in psychology. Support to develop an instructional resource for distribution and online posting by APA Division 2 (Society for the Teaching of Psychology).
Publications (UNCA student co-authors italicized)
Chiang, E. S., Riordan, K. M., Himelein, M. J., Batada, A., Mulhollem, M. L., & Padilla, M. A. (2020). Elementary physical education: Cost is personal and social. Archives of Psychology, 4.
Himelein, M. J., & Anderson, H. (2020). Developing community among faculty: Can learning circles provide psychosocial benefits? Journal of Faculty Development, 34, 23-29.
Himelein, M. J. (2017, December). Pitfalls of using student comments in the evaluation of faculty. Academic Leader, 33 (12), 2, 6-7.
Himelein, M. J. (2017, October). Student ratings of instruction: What about those written comments? The Teaching Professor, 31 (8), 3.
Himelein, M. J. (2017). Interpersonal helping skills instruction in undergraduate psychology internship courses. Office of Teaching Resources in Psychology. Available at https://teachpsych.org/page-1603066
Batada, A., Chichester, K., Himelein, M. J., & Chess, R. (2017). "Learning to see": Faculty members' use of unnamed contemplative practices. Journal of Contemplative Inquiry, 4, 143-163.