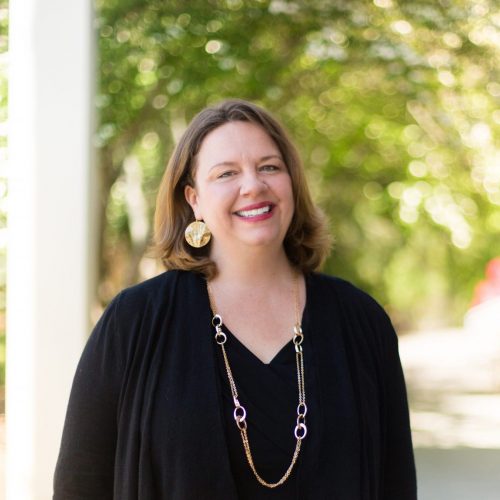 Lise Kloeppel
Chair & Associate Professor of Drama
Contact Information
lkloeppe@unca.edu
251-6940
112 Whitesides Hall
Office Hours
Wednesday 12:00 pm - 1:00 pm
Friday 3:00 pm - 4:00 pm
Note: Contact Lise or department assistant, Laura LaGrone (llagrone@unca.edu), for Zoom link.
Lise has been with the UNC Asheville Drama Department since 2008. She teaches courses in theatre education, acting, applied theatre, and arts for social change and typically directs one show a year on the mainstage. Previous directing credits include: The Trestle at Pope Lick Creek, Reefer Madness: The Musical, Our Town, The Giver, Qtopia, Twilight: Los Angeles, 1992, Welcome Home, Jenny Sutter. In 2019, she collaborated with Leon Ingulsrud, Co-Artistic Director of the SITI Company (NYC), and her students to develop and perform an original devised production, Nothing's Happening: A Black Mountain College Project, that premiered at the Edinburgh Festival Fringe. Previously, she served five years as the Faculty Director for the Key Center for Community-Engaged Learning where she trained and supported faculty on how to create community-engaged learning experiences and collaborated with community members and organizations on building mutually-beneficial partnerships. She has lead a variety of community-engaged art projects, such as the Queer Youth Theatre Project, Veterans Community Arts Project, "If You Really Knew Me" Art Installation with teen mothers, and the Hillcrest Mural Project, to name a few.  She regularly teaches service-learning courses and organizes campus/community cultural events that seek to bridge the "town-gown" divide. In 2017, she received the Community Connector Award and the Distinguished Service Award for her continued dedication to social justice and community-engaged learning on campus and in the larger community. 
Courses Taught
DRAM 111 Acting I

DRAM 113 Expressive Voice & Body

DRAM 145 Play Reading: Theatre for Young Audiences

DRAM 145 Play Reading: LGBTQIA+ Theatre

DRAM 178 Life in the Theatre

DRAM 178 Performing Community

DRAM 319 Creative Drama (Diversity-Intensive)

DRAM 318 Applied Theatre: Queer Youth Theatre Project (service-learning designated)

DRAM 319 Applied Theatre: Arts-based Sexual Health Education (service-learning designated)

DRAM 346 Theatre History Investigations: Theatre for Social Change

DRAM 358 Theatre of the Oppressed

DRAM 438 Methods of Teaching Theater 6-12

EDUC 455 Student Teaching and Seminar

ARTS 310 Arts & Community Development (service-learning designated)

ARTS 310 Creative Resistance & Resilience (service-learning designated)

ARTS 310 Imagining Health Justice (service-learning designated)

HUM 414 Individual in Contemporary World

LA 478 Cultivating Global Citizenship: Home/Body

WGSS 100 Introduction to Women, Gender, and Sexuality Studies