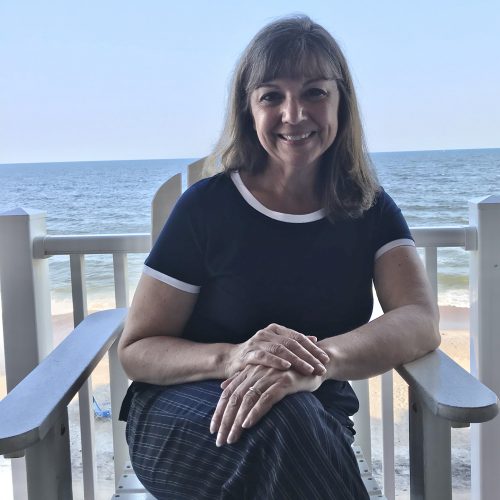 Laura Bond, M.F.A.
Professor of Drama & Interdisciplinary Studies
Contact Information
lbond@unca.edu
828-232-2992
120 Whitesides Hall
Office Hours
Monday 11:00 am - 12:00 pm
Wednesday 11:00 am - 12:00 pm
Note: Or by appointment.
Laura Bond is a Full Professor of Drama and Interdisciplinary Studies at UNC Asheville where she teaches courses on acting, directing, vocal production, and emotional expression. She has also served as Chair of the Drama department (2011-2014), Program Director of the Arts & Ideas program (2007-2020), and Program Director of the Arts Management & Entrepreneurship program since 2017.
Professor Bond's primary research interests center around the development of a physical emotion regulation method using somatic education philosophies with the science-based emotional effector patterns (EEP). During ten years of research and development, she combined the teaching of EEPs with somatic education theories to design a physical approach for expressing and modulating emotions called the Emotional Body® method. She teaches this method in UNC Asheville classes, and in workshops and intensive courses nationally and internationally. To read more about her method go to emotionalbody.co.
She is the author of two books: TEAM For Actors: A Holistic Approach to Embodied Acting and The Emotional Body: A Method for Physical Self Regulation. She has also published three study guides for theatre with Penguin Press on Antony and Cleopatra, Lysistrata, and The Plays of Agatha Christie. She is the author of two plays produced by TheatreUNCA, The Place of the Great Turtle's Back and Birds of a Feather.
In May of 2015 Professor Bond was awarded the Distinguished Service Award in recognition of her service to the University of NC Asheville, the community, the profession, and the nation.
Education
MFA Acting/Directing, Syracuse University (1991)
BFA Related Arts, Kutztown University of Pennsylvania (1986)
Certifications
Mental Health First Aid, National Council for Behavioral Health (2019)
Professionals' Training for Treating Survivors of Narcissistic Abuse, Conducted by Shannon O'Neill, MA, LPC0S, CAS, CCS (2018)
Master Trainer Certification, Estill Voice Training Association (2012)
Master Teacher Certification, Alba Method of emotional effector patterns granted by its founder, Susana Bloch, and one of the original scientists on the BOS team who discovered the emotional effector patterns in the 1970s (2005)
Courses Taught
Arts 178 Powerful Stories
Arts 310 Art and Emotion
Arts 310 Acting in the Digital Age
Arts 310 The Art of Vocal Expression
Dram 111 Acting I
Dram 113 Expressive Voice & Body
Dram 212 Scene Study
Dram 362 Principles of Directing I
Dram 415 Acting Investigations: Emotion Studies for the Actor
Dram 415 Acting Investigations: Acting Styles
Dram 415 Acting Investigations: Acting for the Camera
Dram 415 Acting Investigations: Voice
Dram 462 Principles of Directing II
Noteworthy Publications/Presentations
Book – The Emotional Body: A Method for Self-Regulation (2017)
Book - TEAM for Actors: A Holistic Approach to Embodied Acting (2012)
Booklets - Three study guides for theatre with Penguin Press: Antony and Cleopatra, Lysistrata, and The Plays of Agatha Christie (2000-2003)
Plays - Author of two plays produced by TheatreUNCA: The Place of the Great Turtle's Back, and Birds of a Feather
Presentations – Annual presentations and intensive 30-hour workshops on the emotional effector patterns are provided by Professor Bond in national and international venues (since 2007), and she is known as a Master Teacher and Teacher Trainer of the method
Presentations - Invited to serve as the Master Teacher for three 30-hour intensive workshops during a 2-year project in Canada through an Insight Development Grant of $63,500 from the Social Sciences and Humanities Research Council of Canada (SSHRC), a major federal research funding agency that promotes and supports postsecondary-based research and training in the humanities and social sciences. The project investigates how the Emotional Effector Patterns might provide an effective support mechanism for the professional contemporary actor in the stimulation and regulation of emotion. (2018-2019)