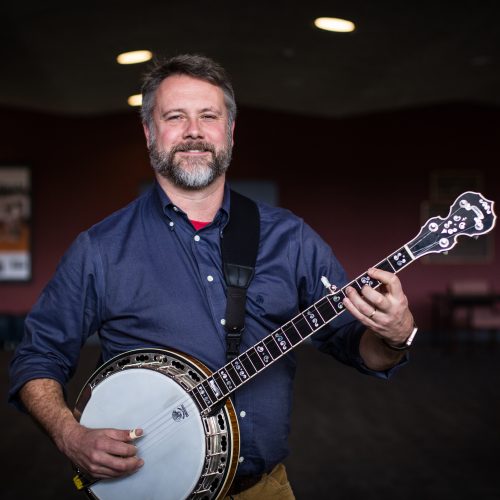 Jonathan King
Associate Professor of Music
Contact Information
jking6@unca.edu
251-6431
221D Lipinsky Hall
Office Hours
Monday 12:30 pm - 2:00 pm
Tuesday 2:30 pm - 4:00 pm
Note:
Bio
Jonathan T. King holds a B.A. from Amherst College, a M.S. in Geology from the University of Montana - Missoula, and an M.A., M. Phil., and Ph.D. in Music from Columbia University.  He wrote his dissertation on improvisatory bluegrass music performance.  Other areas of interest include include American vernacular musics, North American popular music, East and West African musical traditions, music and language, critical genre studies, and creative improvisatory practice.  He has taught classes examining the relationship of music with language, social identity, modernism, cosmopolitanism, orientalism, and political power.   He has directed ensemble classes with Nyoman Saptanyana (Balinese Gamelan), Andy Algire (Afropop), and Famoro Dioubate (Guinean Balafon), among others.
Education
B.A., Amherst College (Geology)
M.S., University of Montana - Missoula (Geology)
M.A., Columbia University (Music Theory)
Ph.D., Columbia University (Ethnomusicology)
Courses Taught
Modernity and World Music: the Middle East, and Eastern Africa (Sarah Lawrence College)
World Music, Cosmopolitanism, and "the West": Europe, the Mediterranean, and West Asia (SLC)
Music, Language & Identity: Ethnomusicology of the Americas (SLC)
Structures of Music / Structures of Power: Africa, Asia & the Middle East (SLC)
"Non-Western" Western Musics in Europe and Asia (SLC)
Music, Circulation, and Appropriation (SLC)
Studies in Music and Culture (SLC)
The Anthropology of Sound (SLC)
First-Year Studies: Music as World Culture (SLC)
Masterpieces of Western Music (Columbia University)
Classical Music History Introduction (Fordham University)
20th Century Composers (Purchase College (SUNY)
Scales in World Music (Purchase College (SUNY)
Ensembles Directed
Old Time (Country) Ensemble
AfroPop Ensemble
Traditional Bluegrass Ensemble
Guinean Balafon Ensemble
Balinese Gamelan Ensemble