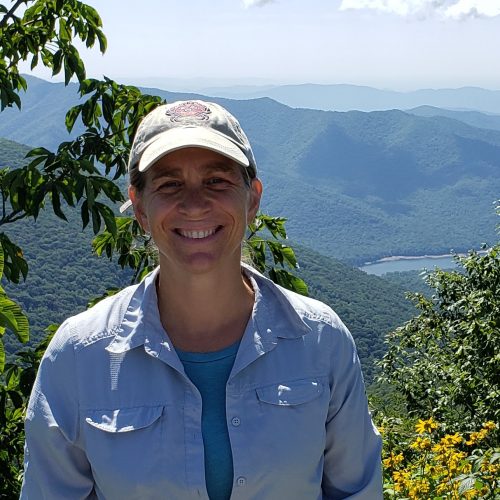 Jennifer Rhode Ward, Ph.D.
Professor of Biology
Contact Information
jrward@unca.edu
828-251-6232
307 Zeis Hall
Office Hours
Tuesday 1:00 pm - 2:00 pm
Wednesday 12:00 pm - 1:00 pm
Thursday 10:00 am - 11:00 am
Note:
Dr. Ward's research combines molecular, field, and statistical methods to examine several interrelated aspects of plant population biology, with current focus on two plant systems. The first, American ginseng, is a CITES Appendix II listed plant that produces medicinally-active compounds. The second, Sarracenia spp. (pitcher plants), form complex phytotelma communities and undergo frequent hybridization events. In addition, she works with Drs. Clarke and Horton to examine invasive plant dynamics. She has received grants from the North Carolina Biotechnology Center and National Science Foundation to fund both her pedagogical and botanical research.
Dr. Ward received her B.A. (biology) from St. Mary's College of Maryland, a public liberal arts college, then earned her Ph.D. from the College of William and Mary, School of Marine Science (Virginia Institute of Marine Science). She did post-doctoral research in terrestrial plant population biology at Portland State University (Oregon) before beginning her faculty career.
Visit Dr. Ward's website to learn more.
Education
Ph.D. in Marine Science/Biological Sciences from College of William and Mary/Virginia Institute of Marine Science
B.A. in Biology from St. Mary's College of Maryland
Courses Taught
Biol 115     Concepts in Ecology and Evolution
Biol 115L    Concepts in Ecology and Evolution lab
Biol 116     Cellular and Molecular Biology
Biol 116L    Cellular and Molecular Biology lab
Biol 211     Principles of Botany
Biol 211L    Principles of Botany lab
Biol 320      Marine Biology