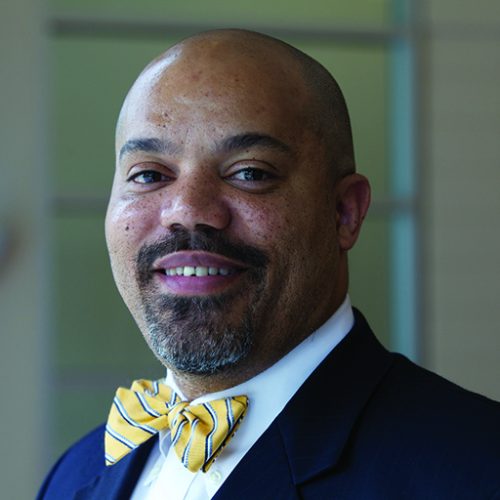 Garikai Campbell, Ph.D.
Provost and Vice Chancellor for Academic Affairs
Contact Information
Dr. Garikai Campbell joined UNC Asheville as provost and vice chancellor for academic affairs in June 2019.
Prior to joining UNC Asheville, Campbell was provost and dean at Knox College. He also previously served as provost and senior vice president for academic affairs at Morehouse College in Atlanta, Georgia, and as associate dean for academic affairs at Swarthmore College.
Campbell received his bachelor's degree in mathematics from Swarthmore, where he was a Mellon Mays Undergraduate Fellow and an Academic All-American wrestler. He returned to Swarthmore as a Consortium for Faculty Diversity Fellow in the Department of Mathematics and Statistics, and upon completion of his PhD in mathematics from Rutgers University, earned an appointment to the faculty. While at Swarthmore, Campbell held several leadership positions, including associate dean for academic affairs, acting dean of students, and associate vice president for strategic planning and special assistant to the president.
In 2013, Campbell was appointed provost and senior vice president for academic affairs at Morehouse, where he facilitated the first change to the general education program in nearly three decades, enhanced the culture of shared governance, and reshaped the academic leadership. He played an instrumental role in securing resources for academic programs and broader institutional needs, including a $2.5 million gift to support STEM programs; a $1.2 million grant from the Gates Foundation to develop and evaluate innovative student success initiatives; and a $1.25 million Lilly Endowment grant to strengthen career pathways for students through improved curricular and co-curricular programming, structured internship opportunities, and enhanced advising.
Campbell's work in his field of mathematics has focused predominantly on exploring particular properties of elliptic curves and exploiting those properties to solve select problems in number theory. He is the recipient of many awards for his teaching and research, including the Minority Graduate Fellowship from the National Science Foundation; the Lindback Minority Junior Faculty Grant; the Woodrow Wilson Career Enhancement Fellowship; and the Henry Alder Award for Distinguished Teaching from the Mathematical Association of America.
He is also recognized for his innovative work to shape programs designed to engage and retain students underrepresented in STEM disciplines. In particular, he has worked with the Professional Development Program at the University of California, Berkeley to increase enrollment and improve the success of African American, Latinx, and Native American students in graduate mathematics programs; helped design and administer alternative assessments for the Vanguard Scholarship Program of the National Action Council for Minorities in Engineering (NACME); and taught and consulted for the Enhancing Diversity in Graduate Education (EDGE) Program to strengthen women's success in graduate mathematics programs. In addition, he has served on the advisory boards for the Math is Power and Figure This! campaigns, promoting math and science literacy to elementary and middle school-aged children and their parents. In addition, he has served as a Scholar in Residence at the New York University Tisch School of the Arts in the Interactive Telecommunications Program, where he investigated, wrote, and served as a thought partner on topics at the intersection of technology, identity, art, and higher education.