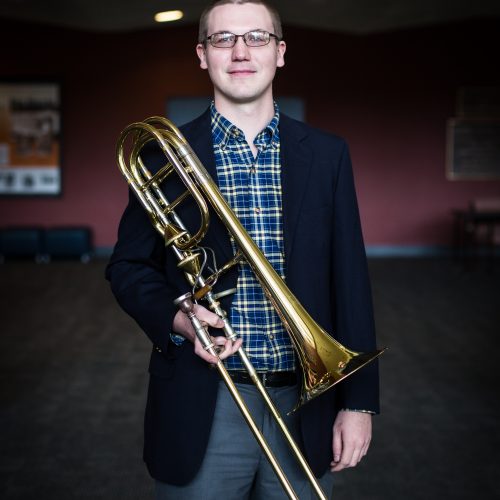 Fletcher Peacock
Director of Instrumental Studies
Contact Information
fpeacock@unca.edu
828-251-6530
117B Lipinsky Hall
Office Hours
Monday 11:00 am - 12:00 pm
Tuesday 2:45 pm - 3:45 pm
Wednesday 2:00 pm - 3:00 pm
Thursday 2:45 pm - 3:45 pm
Note: And by appointment.
Bio
A native of Asheville, NC, Fletcher Peacock is the Director of Instrumental Studies at The University of North Carolina at Asheville.  During his time at Columbus State University, he was a graduate assistant for the Wind Ensemble Activities area under Dr. Jamie Nix. Fletcher was the administrator for the 17th Annual Conductor's Workshop in 2014 with clinicians Eugene Corporon and Kevin Sedatole. Fletcher's past trombone teachers include Dr. Brad Palmer, Dr. James Sparrow, Mr. Jay Evans, Mr. Dan Satterwhite, and Mr. Keig Garvin. He was a winner of the Alma Dark Howard Memorial Music Scholarship Competition in 2013 and a finalist for the 2014 Schwob School of Music Concerto Competition (CSU). Fletcher is a member of Phi Eta Sigma, Alpha Lambda Delta, Sigma Alpha Lambda, Alpha Chi, and Phi Kappa Phi Honor Societies and is a member of the National Society for Collegiate Scholars. As the Program Assistant, he traveled to Hong Kong, China, with the Columbus State University Trombone Octet to perform for the SliderAsia Trombone Festival in 2014. Fletcher is also an avid cyclist and bicycle mechanic.
Education
B.M., Bass Trombone Performance, Mars Hill College
B.M.E., Instrumental Music Education, Mars Hill College
M.M., Bass Trombone Performance, Columbus State University (GA)
Courses Taught
MUSC 130 - Introductory Aural Skills
MUSC 131 - Introductory Music Theory
Ensembles Directed
MUSC 121 - Concert Band
MUSC 124 - Symphony