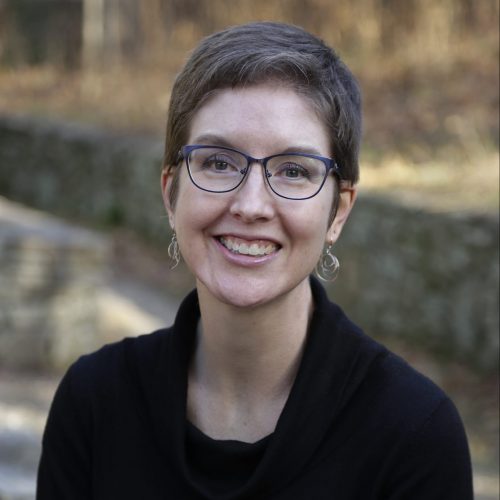 Erica Abrams Locklear, Ph.D.
Professor of English | Thomas Howerton Distinguished Professor of Humanities
Contact Information
elocklea@unca.edu
251-6592
217 Karpen Hall
Fall 2023 office hours are via Zoom only and by appointment
Bio
As someone who grew up in Western North Carolina (Leicester), I feel extremely fortunate to have a faculty appointment in the English department at UNC Asheville. My research interests include Appalachia, foodways, the South, literacy, and gendered issues within each of these categories. I teach the survey of American literature on a regular basis, as well as various writing and literature courses related to my field of study. My first book, Negotiating a Perilous Empowerment: Appalachian Women's Literacies, (Ohio University Press) explores how mountain writers portray the identity conflicts literacy attainment can cause for Appalachian women. My second book, Appalachia on the Table: Representing Mountain Food and People, (University of Georgia Press) explores how representations of Appalachian food shape national perceptions of mountain people. When I am not teaching or writing, I enjoy swimming, spending time with my family, and being at home in the mountains of North Carolina.
(Photo by Tim Barnwell)
Education
B.A., UNC-Chapel Hill, Chapel Hill, NC
M.S., Utah State University, Logan, UT
Ph.D., Louisiana State University, Baton Rouge, LA
Courses Taught
LIT 324: American Literary Tradition
LIT 363: Appalachian Literature
LIT 329: Southern Literature
LIT 374: Food in Literature
ARTS 310: Literature, Food, and Photography in Appalachia
LIT 240: Introduction to Literature
MLA 500: The Human Condition (emphasis on Foodways in the South and Appalachia)
WGSS 100: Introduction to Women, Gender, and Sexuality Studies
LIT 373/WMST 373 ST: Working Women
LIT 489: Major Author Seminar on Carson McCullers
LIT 373 ST: Race and Ethnicity in Southern American Literature
LANG 120: Foundations of Academic Writing
HUM 324: The Modern World
LIT 497 and 498: Senior Capstone course
Publications
Books
Book Chapters
"Foodways: Spotlight - Rick Bragg." The Routledge Companion to the Literature of the U.S. South, Eds. Katharine A. Burnett, Todd Hagstette, and Monica Carol Miller. New York and London: Routledge, 2022. 45-48. Print.
"Setting Tobacco, Banquet-Style." The Food We Eat, The Stories We Tell: Contemporary Appalachian Tables. Eds. Lora Smith and Elizabeth Engelhardt. Athens, OH: Ohio University Press, 2019. 24-45. Print. New Approaches to Appalachian Studies Series.
"'A Comfort During a Hard Time:' Food in Ron Rash's Poems, Stories, and Novels." Summoning the Dead: Critical Essays on Ron Rash. Eds. Zackary Vernon and Randall Wilhelm: University of South Carolina Press, 2018. 66-79. Print.
Reprint of "Consenting to Create: Crystal Wilkinson and the Affrilachian Movement." Seeking Home: Marginalization and Representation in Appalachian Literature and Song. Eds. Leslie Harper Worthington and Jürgen E. Grandt. Knoxville: University of Tennessee Press, 2016. 105-119. Print.
"Writing About Appalachia: Intersections, Missed Connections, and Future Work." With Chris Green. Studying Appalachian Studies: Making the Path by Walking. Eds. Chad Berry, Phillip J. Obermiller, and Shaunna L. Scott. Urbana: University of Illinois Press, 2015. 62-87. Print.
"A Matter of Taste: Reading Food and Class in Appalachian Literature." Writing in the Kitchen: Essays on Southern Literature and Foodways. Eds. David A. Davis and Tara Powell. Oxford: University of Mississippi Press, 2014. 124-142. Print.
"Building Bridges with Ron Rash's The World Made Straight: Results from One University and High School Partnership." Appalachia in the Classroom: Teaching the Region. Eds. Theresa L. Burriss and Patricia M. Gantt. Athens, OH: Ohio University Press, 2013. 69-81. Print. Series in Race, Ethnicity, and Gender in Appalachia.
Articles in Peer-Reviewed Journals
"Like Little Blue Wheels: Finding a Clear Path in The Blueberry Years." Iron Mountain Review (Fall 2019): 30-33. Print. (invited lecture for Emory and Henry Literary Festival that was then published)
"Mountain Fatalism in Wiley Cash's A Land More Kind than Home." Appalachian Heritage (Summer 2014): 110-121. Print.
"Following a Brier's Advice." Studies in American Culture 36.1 (Oct. 2013): 10-15. Print.
"Finding the Forsaken: Lumbee Identity in Charles Chesnutt's Mandy Oxendine." North Carolina Literary Review 22 (2013): 108-121. Print.
"On Teaching Harriette Simpson Arnow." Appalachian Heritage (Spring 2012): 53-55. Print.
"Consenting to Create: The Affrilachian Movement." Crossroads: A Southern Culture Annual 2009. Ed. Ted Olson. Macon: Mercer University Press, 2009: 169-185. Print.
"Narrating Socialization: Linda Scott DeRosier's Memoirs." Community Literacy Journal Special Issue: Appalachian Literacies 2.1 (Fall 2007): 41-57. Print.
"Fragrant Memories: They'll Get Your Attention." North Carolina Folklore Journal 54.1 (Spring/Summer 2007): 12-17. Print.
"'What Are You?': Exploring Racial Categorization in Nowhere Else on Earth." The Southern Literary Journal 39.1 (Fall 2006): 33-53. Print.
"The Stench of a Mountain Tradition: Ramp Foodways in Appalachia." North Carolina Folklore Journal 53.1 (Spring/Summer 2006): 4-18. Print.
"Varying Theories: Early Native American Perceptions of Literacy." Used as a model in Irvin Peckham's Introduction to Writing at LSU New York: McGraw Hill, 2004. Online.
The Fable Fair (adolescent educational fiction). Waterford Institute, Sandy, Utah: Pearson Education, 2004. Print.
Reviews
Review of Portraits and Dreams, by Elizabeth Barrett, Wendy Ewald. Journal of Appalachian Studies. 27.1 (Spring 2021): 127-129. Print.
Review of Southern Spaces (https://southernspaces.org). Journal of Appalachian Studies. 24.2 (Fall 2018): 263-264. Print.
Appalachian Elegy: Poetry and Place, by bell hooks. Studies in American Culture 36.1 (Oct. 2013): 172-173. Print.
Dear Appalachia: Readers, Identity, and Popular Fiction since 1878, by Emily Satterwhite. Journal of American Culture, 35.4 (December 2012): 370-371. Print.
Vale of Humility: Plain Folk in Contemporary North Carolina Fiction, by George Hovis. Mississippi Quarterly, 63.3-4 (Summer-Fall 2010): 733-735. Print.
The King of Stink: Appalachian Ramp Festivals, Directed by Steven Provence and Sharon Ford. North Carolina Folklore Journal 53.2 (Fall/Winter 2006): 60-61. Print.
Whistlin' and Crowin' Women of Appalachia: Literacy Practices since College, by Katherine Kelleher Sohn. Appalachian Journal 33.3-4 (Spring/Summer 2006): 358-60. Print.
Awards
UNC Asheville Distinguished Teacher of the Year Award, 2021
Stephen L. Fisher Award for Excellence in Teaching, Appalachian Studies Association, 2019
UNC Asheville Scholarly and Creative Achievement Award, 2013
UNC Asheville Award for Teaching Excellence in the Humanities, 2012