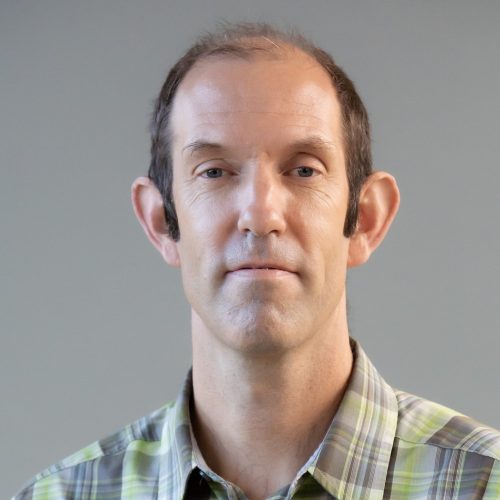 David Gillette
Professor and Chair of Environmental Studies
Contact Information
dgillett@unca.edu
251-6366
155 Rhoades/Robinson Hall
Office Hours
Monday 1:00 pm - 2:00 pm
Tuesday 1:00 pm - 2:00 pm
Note:
Dr. Gillette teaches stream ecology, wildlife ecology, fish ecology, and introduction to environmental science. His research areas include the influence of riparian landscapes on stream ecosystems, effects of dams on stream fishes and invertebrates, and patterns of temporal change in fish species composition of rivers and streams.
---
Education
B.S. Bates College
M.S. Emporia State University
Ph.D. University of Oklahoma
Courses Taught
ENVR 130  Intro to Environmental Science
ENVR 330  Seminar on Environmental Issues
ENVR 343  Stream Ecology
ENVR 373  Fish Ecology
ENVR 373  Survey of Research Methods in Environmental Science
ENVR 390  Wildlife Ecology and Management
ENVR 490  Internship
Recent Publications
Gillette, D.P., D.R. Edds, B.R. Jha and B. Mishra. [2022]. "Thirty years of environmental change reduces local, but not regional, diversity of riverine fish assemblages in a Himalayan biodiversity hotspot." BIOLOGICAL CONSERVATION. DOI:10.1016/j.biocon.2021.109427.

Davis, J.L.*,

D.P. Gillette

, C.R. Rossell, Jr. and M. LaVoie. 2020. Movement of Translocated Adult Sicklefin Redhorse (Moxostoma sp.) in the Oconaluftee River, North Carolina: Implications for Species Restoration. Southeastern Fishes Council Proceedings 1(59):23-34.

Gillette, D.P., K. Daniel* and C. Waggoner*.  [2016].  "Fish and benthic macroinvertebrate assemblage resonse to removal of a partially-breached lowhead dam in a southern Appalachian river."  RIVER RESEARCH AND APPLICATIONS.  DOI:  10.1002/rra.3017.
Rossell, C.R., Jr., P. McNeil, D. Gillette, L.A. Williams, S.C. Patch, & A. Krebs.  [2013].  "Attributes of shelters selected by Eastern Hellbenders in the French Broad River basin of North Carolina."  JOURNAL OF HERPETOLOGY. 47:66-70.
Gillette, D.P., A.M. Fortner, N.R. Franssen, S. Cartwright, C.M. Franssen, J. Wesner, P.C. Reneau, F.H. Reneau, I.B. Schlupp, E.C. Marsh-Matthews, W.J. Matthews, & C.W. Lee.  [2012].  "Patterns of change over time in darter [Teleostei: Percidae] assemblages of the Arkansas River basin, northeastern Oklahoma, USA."  ECOGRAPHY 35:855-864.
Gillette, D.P.  [2012].  "Effects of variation among riffles on prey use and feeding selectivity of the benthic insectivore Etheostoma spectabile."  AMERICAN MIDLAND NATURALIST  168:184-201.
Gillette, D.P.  [2012].  "Effects of terrestrial invertebrate reduction on three stream fishes in experimental streams.  FRESHWATER SCIENCE [formerly JOURNAL OF THE NORTH AMERICAN BENTHOLOGICAL SOCIETY]  31:835-847.