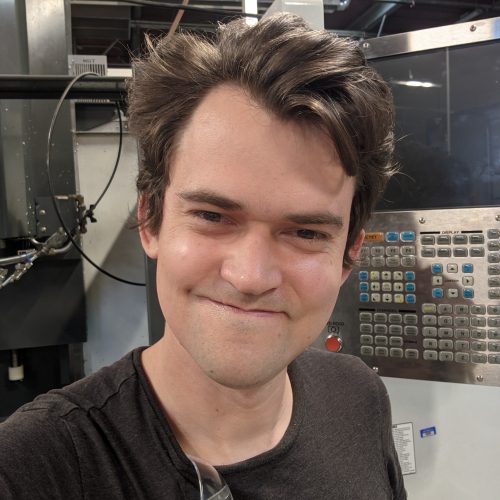 Chas Llewellyn
Design Specialist
Contact Information
Chas Llewellyn is a maker with experience in design, coding, sculpture, machining, metal fabrication and robotics. He graduated from UNCA in 2011, with a bachelors in Multimedia Arts and Sciences. Before starting at STEAM, he has worked in industry, designing and building animatronic sculptures -including extensive work on Imagine Exhibitions' 'Dinosaurs in Motion', developed software for education and manufacturing, and operated as an independent artist, working in furniture, architectural metals, kinetic sculpture and installation work including a series of responsive and electronic exhibits for the Moog Music company.
In 2019, Chas was awarded the initial STEAM STUDIO Post Bac Fellowship, where he focused on creating metal sculptural objects utilizing industrial CNC machining techniques and technologies. Since 2020, he has continued to assist in the operations of the facility, providing teaching expertise, facilitating shop upkeep and improvement and has contributed to the design and fabrication of many of the large projects taken on by the studio- including Mel Chin's 'Wake', 'Safehouse Door', the Asheville Art Museum's kinetic 'Steam Cycle' machine and the North Carolina Arboretum animatronic 'Woodland Cove' exhibit.
On a typical day, when he's not assisting a student or fixing something around the studio, you'll most likely find him in the STEAM machine shop tinkering with one project or another.