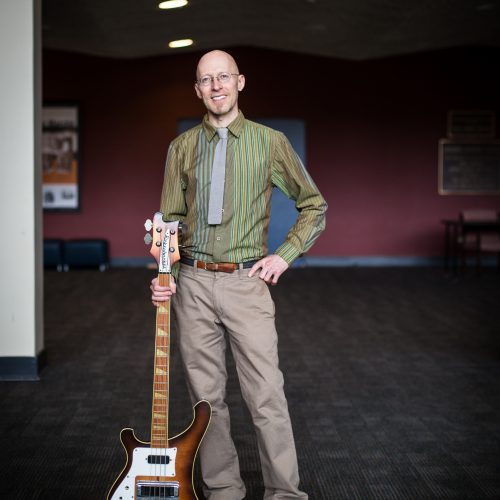 Charles Jude Weinberg
Associate Director of Music Technology; Lecturer in Music Technology and Electronics
Contact Information
cweinber@unca.edu
251-6488
026 Lipinsky Hall
Office Hours
Monday 2:00 pm - 3:00 pm
Tuesday 11:00 am - 12:00 pm
Thursday 5:00 pm - 6:00 pm
Friday 12:00 pm - 1:00 pm
Note:
Charles Jude Thornton Weinberg is an electrical and sound engineer, musician, and university lecturer in audio engineering and electronics. While studying electrical engineering at Duke University, Charles DJ'ed at WXDU in Durham, played bass with the instrumental band Spear-it, and managed the Duke Coffeehouse, where he hosted local and touring indie music bands and a weekly jazz night. After graduation, he worked as a live sound engineer for Randall Schiller Productions in San Francisco. Charles worked with Friends of the Earth on Paul McCartney's 1989 European Tour to raise awareness of climate change and the destruction of the world's rainforests, and he wrote about the McCartney tour for The Beatles Book Monthly. He formed a musical duo on the streets of London with English actor Paul Bettany, designed electronics hardware and software for B-E Electronics Co., worked on a campaign to protect and preserve the ancient Headwaters Redwood Forests of Northern California, and wrote songs and engineered at a recording studio near Taos, New Mexico. He joined the UNC Asheville Music department in 2005 to teach audio engineering and recording and he teaches electronics in UNC Asehville's Physics department. Charles Jude is currently associate director of UNC Asheville's Music Technology program, chief engineer of UNC Asheville's recording studios, and an active member of the Audio Engineering Society.
Education
Courses Taught
PHYSICS 310 Electronics
MUSC386 Audio Engineering Technology II
MUSC387 Recording Studio Practicum II
MUSC486 Audio Engineering Tech IV
MUSC487 Recording Studio Practicum IV
MUSC488 Directed Studio Projects
MUSC372 Sp Top in MUSC
MUSC484 Audio Engineering Tech III
MUSC485 Recording Studio Practicum III
MUSC384 Audio Engineering Technology I