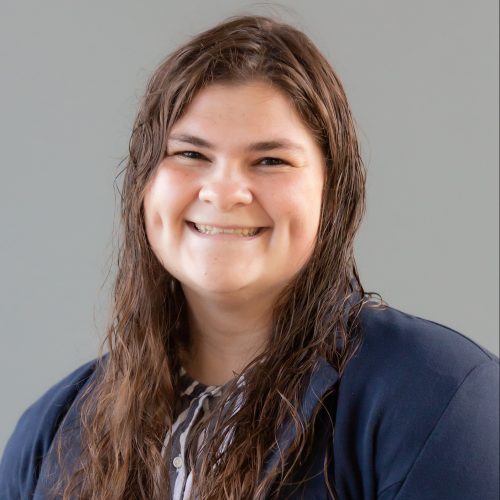 Amy Defnet, Ph.D.
Teaching and Research Fellow in Biochemistry
Contact Information
adefnet@unca.edu
828-350-4570
136 Zeis Hall
I am originally from Montgomery County, Maryland and graduated with a BS with Honors in Biology in 2016 from Fairleigh Dickinson University-Florham, a small, liberal-arts college in Madison, New Jersey where I conducted research with James Salierno evaluating the effects of road salt and zinc oxide on feeding behavior and population density of local freshwater crayfish. I then went to graduate school at the University of Maryland, Baltimore School of Pharmacy and received my PhD in Pharmaceutical Sciences in 2021, working with Maureen Kane and Paul Shapiro on targeting the activator protein-1 complex to inhibit airway smooth muscle cell hyperproliferation in asthma. I came to UNC Asheville in July of 2021 to start my teaching and research fellowship under the direction of Ryan Steed.
I am happily married and the favorite aunt of many fur-babies. I enjoy cooking, playing sports, reading, watching movies, hiking, and exploring new places!
Courses Taught
CHEM 111: General Chemistry Laboratory
Education
Fairleigh Dickinson University, Florham Park, NJ, BS with Honors in Biological Sciences with a Minor in Chemistry, May 2016

University of Maryland-Baltimore, School of Pharmacy, Baltimore, MD, PhD in Pharmaceutical Sciences, May 2021
Teaching Interests
I have been coaching and mentoring since I was little, and I think seeing the light in someone's eyes when they finally grasp a difficult concept or achieve a goal is one of the best feelings in the world. I believe that every student has the potential to achieve excellence through understanding how to harness their diverse strengths. One of my passions is to help students learn and understand course content in ways that will help them use what they learn in the classroom in a real-world setting.
Research Interests
My scientific training has spanned across several fields at the chemistry-biology interface throughout undergraduate and graduate school. Throughout undergrad I was able to participate in several small-scale "bites" of larger projects under the leadership of professors at FDU and UMB in the fields of genetics, microbiology, neuroscience, and ecotoxicology. These experiences helped develop my understanding of the scientific process and inspired me to enter graduate school at UMB. My dissertation project involved identifying new therapeutic targets to combat bronchoconstriction in asthma by targeting the Activator Protein-1 (AP-1) complex through the extracellular signal-regulated kinase (ERK1/2) and Vitamin A/retinoid signaling pathways in airway smooth muscle cells.
Currently, I am working in Ryan Steed's lab where we are focusing on ATP synthase, the proton-driven rotary motor responsible for making most of the ATP (biological energy currency) on the planet. I am currently working on uncovering structural dynamics within the stator subunit using electron paramagnetic resonance spectroscopy.
Selected Publications
Defnet, A.E.; Huang, W.; Polischak, S.; Kane, M.A.; Shapiro, P.; Deshpande, D.A. Effects of ATP-Competitive and Function-Selective ERK Inhibitors on Airway Smooth Muscle Cell Proliferation. Federation of American Societies for Experimental Biology. 2019, 33(10), 10833-10843.

Defnet, A.E.; Hasday, J.D.; Shapiro, P. Kinase inhibitors in the treatment of obstructive pulmonary diseases. Current Opinion in Pharmacology. 2020, 51, 11-18.

Defnet, A.E.; Martinez R.; Shapiro P. Protein Kinase Interactions with Regulatory and Effector Proteins. In: Shapiro P. (eds) 2020. Next Generation Kinase Inhibitors. Springer, Cham.

Shapiro P.; Martinez R.; Defnet A.E. Introduction to Kinases, Cellular Signaling, and Kinase Inhibitors. In: Shapiro P. (eds) 2020. Next Generation Kinase Inhibitors. Springer, Cham.

Martinez R.; Defnet A.E; Shapiro P. Avoiding or Co-Opting ATP Inhibition: Overview of Type III, IV, V, and VI Kinase Inhibitors. In: Shapiro P. (eds) 2020. Next Generation Kinase Inhibitors. Springer, Cham.

Shannon, S.R.; Yu, J.; Defnet, A.E.; Bongfeldt, D.; Moise, A.R.; Kane, M.A.; Trainor, P.A. Identifying vitamin A signaling by visualizing gene and protein activity, and by quantification of vitamin A metabolites. Methods in Enzymology: Retinoid Signaling Pathways, 2020, 637, 367-415.

Huang, W.; Yu, J.; Liu, T; Tudor, G.; Defnet, A.E.; Zalesak, S.; Kumar, P.; Booth, C.; Farese, A.M.; MacVittie, T.J.; Kane, M.A. Proteomic Evaluation of the Natural History of the Acute Radiation Syndrome of the Gastrointestinal Tract in a Nonhuman Primate Model of Partial-body Irradiation with Minimal Bone Marrow Sparing Includes Dysregulation of the Retinoid Pathway. Health Physics, 2020, 119(5), 604-620.

Huang, W.; Yu, J.; Liu, T.; Defnet, A.E.; Zalesak, S.; Farese, A.M.; MacVittie, T.J.; Kane, M.A. Proteomics of Nonhuman Primate Plasma after Partial-body Radiation with Minimal Bone Marrow Sparing. Health Physics, 2020, 119(5): 621-632.