It's cooler in the mountains
Story by Hannah Epperson '11 MLAS '18 | Illustrations by Hanna Trussler '13
We're in the season of endless days and endless opportunities, particularly with UNC Asheville's summer semesters in full swing. From credits for essential courses, to concerts and camps, this is the season for exploration and learning something new. That can happen even faster with the university's new Maymester—offering a full course in just three weeks. Your studies might even take you a world away on a faculty-led study abroad trip. One thing is for sure: summer school is much cooler now.
Hit the Books
Believe it or not, summer school is here by popular demand. "Earlier this year, our colleagues in the Office of Institutional Research, Effectiveness & Planning (IREP) conducted a student survey about the summer session. Part of the results of that survey suggested that our students were looking for different options for summer classes," said Brad Petitfils, senior director of advising and academic success at UNC Asheville. One of those options is the new Maymester, which allows students to complete an entire course in the last three weeks of May.
"This is a valuable option for students because they can earn course credit in a few weeks, and can still have the rest of their summer to work, complete an internship, or take other classes in the regular summer sessions in June and July," Petitfils said.
Expect to be busy for those three weeks, though. Students are limited to one course during the Maymester, as classes will be rigorous and meet every day for two and a half hours. By the end of the course, students will spend just as much time in the classroom as they would during a normal semester. And there are some great course offerings, including everything from kiln building to humanities courses to math and social justice.
For those looking for a more traditional summer semester, not to worry. The four-week and six-week summer semesters are still here, with classes offered based on student surveys. Tuition is even covered for students in the "First to Finish" program, which is designed to help students who are just a credit or two short of reaching their next class year. It's all a part of making sure students have every opportunity to be successful.
"We encourage all of our students to take summer classes if they can, to help make sure that they are on track for a timely graduation," Petitfils said. "If a student has had to withdraw from a class in the fall or spring semester, summer is a great time to catch up. Also, if a student needs a boost to their GPA, taking a summer class can help, as you would only be focused on one or two classes rather than four or five."
But don't think that summer courses are going to be a cakewalk just because they are short, Petitfils said.
"Because the summer sessions are condensed, students will have to make sure to keep up with their assignments!"
Hit the Road
It's a very special class that doesn't need a classroom. It's even more special when that class takes place on the other side of the map. This summer, groups of globe-trotting students and professors will embark on faculty-led study abroad trips to South America, Africa and Europe, studying everything from management to new media. In Europe, new media students under the direction of faculty members Curt Cloninger and Peter Kusek will learn how various art forms factor into the artistic communities of London, Paris, and Berlin, while in nearby Ireland another group of students will complete their Humanities 324 course with Sarah Judson, associate professor of history, by studying Irish history in all its complexities as both a modern nation state and an occupied colonial territory with a suppressed indigenous language. They'll also practice their digital liberal arts skills with Anne Slatton, senior lecturer in mass communication, by creating a travelogue as either a video, audio, or photo essay piece.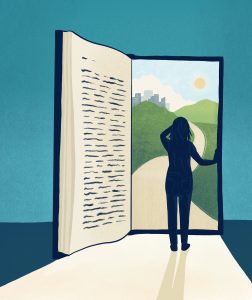 Across the ocean from UNC Asheville, Africana Studies Professors Tiece Ruffin and Agya Boakye-Boaten will lead students on a three-week trip through Ghana, where they'll explore the connections between West Africa and its diaspora. It's an incredible trip that was recognized by NASPA—Student Affairs Administrators in Higher Education—for best practices in international education.
Management majors will spend 10 days with Professor Bill Kaprowski in Santiago, Chile and Buenos Aires, Argentina, learning about conducting business in Latin America and observing the area's business, social and cultural practices. Farther north in Ecuador, students will travel with Patrick Bahls, professor of mathematics and director of the Honors Program, and with Elizabeth Porter, lecturer in economics, journeying from the Amazon to the Andes to learn about natural resource dilemmas and community actions.
For Aly Pagano, an environmental studies major and Spanish minor, the Ecuador trip is the perfect fit. "As an ecology student, Ecuador's natural landscape offers a biodiversity heaven that I am beyond excited to experience first-hand," she said. "Beyond the educational component, I am excited to experience a new culture as a means of broadening my perceptions of my own immediate world, and those cultures I have already experienced."
Pagano's adventure will begin in Quito, where she and her classmates will explore the historical center of the city, as well as participate in workshops in arts, poetry, and social change. They'll journey to the ruins of Cochasquí in the Andes, learn traditional Pachamanka food preparation, visit waterfalls, and much more.
"In Ecuador, I hope to learn more about local poverty as well as its impacts from oil pipelines in the region," said Pagano, who spent last fall interning at an educational ranch teaching students about global hunger and poverty. "In addition, our visit to the Biodiversity Research Station within the Amazon is a place where I hope to learn more of the biological interactions within a tropical ecosystem and how our changing climate is already, and will continue to affect the biodiversity within the forest."
This isn't Pagano's first study abroad trip; two years ago she took another faculty-led trip to Spain, where she studied the culture of Madrid and the surrounding areas, and then spent a week hiking the Camino de Santiago. And she hopes this trip won't be her last, as she's applying to take another study abroad course this winter, this time in Costa Rica to complete the lab component of her tropical ecosystems class.
Activities for All Ages
Back home at UNC Asheville, it's not just our college students who will spend summer learning something new on campus. Curious minds of all ages will spend their summer at a variety of summer camps held at UNC Asheville this year, learning everything from how to build a guitar to how to throw the perfect pitch.
The musically-inclined have a number of great campus summer camp options, ranging from the Jazz and Contemporary Music Intensive for ages high school and up, Chamber Music Camp for string players and pianists, and Piano Camp for middle and high school students, to the Teen Girls Guitar-Making Camp at UNC Asheville's STEAM Studio, where campers will design and build their very own electric guitar.
STEAM Studio is also offering a Woodworking Camp for Girls and a Teen Girls Build a Bench Camp. And this summer's Bulldog Sports Camps offer a wide variety of athletic choices, including baseball, women's and men's basketball, soccer, and volleyball. Writers of all ages can sign up for workshops with the Great Smokies Writing Program, with courses in nonfiction, fiction and poetry for both experienced authors and budding new writers.
The College for Seniors at the Osher Lifelong Learning Institute also offers courses year round, everything from Grandparenting in 2019 to Evidence-Based Investing in a Global Economy.
And yes, when you all return to campus in the fall, we'll be the first to ask what you did this summer.
---
Bookmark This!
Summer Reading Selected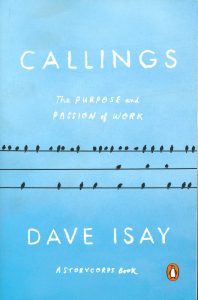 This year, UNC Asheville's incoming class will read Dave Isay's Callings: The Purpose and Passion of Work, an inspiring collection of courage, commitment, and the search for meaning from people who are doing what they love, built from Isay's work as the founder of StoryCorps.