Becoming a Bulldog before graduating from middle school
By Peyton Rodgers '20
UNC Asheville's Junior Bulldog Program is many middle schoolers' first step on a college campus, but if students, faculty, and staff have anything to do with it (and they do), it won't be their last.
"The research shows that if a middle school student steps foot on a college campus, the likelihood of them going to college goes up," said John O'Neil, program coordinator of the Junior Bulldog Program.
The survey data from campus supports this claim too. Before attending the Junior Bulldog Program, only 70% of students from urban counties saw themselves as college material along with 47% of students from rural counties. After attending the program, 96% of students from urban counties and 91% of students from rural counties see themselves as college material.
"The students get to have an interactive day on a living and breathing college campus. They get to meet college students along the way that they can ask questions to," said Alexis Brandt, campus recreation team building supervisor. "It is important that they get college on their radar as soon as possible so they can have time to think about their future and how they will accomplish their career goal."
With the goal of educating young minds about the different opportunities offered after high school, the Junior Bulldog Program is continuing to grow, hosting 10 schools in the 2019 spring semester. The fall semester focuses on GEAR UP counties, through a regional grant-funded program aimed at helping students in disadvantaged communities prepare for success in post-secondary school.
Since 2013, 8,976 middle-school students have spent the day as a college student while participating in the Junior Bulldog Program. With roughly 80 students per session, each engages in an experience that highlights what their future has the potential to entail.
"It's a seed-planting trip. So, the whole idea is to plant the seed that college is an option and if they leave here thinking, 'You know, college is an option. I didn't think it was before,' it's a successful day for me," said O'Neil.
Stepping off the school bus, you'll be surrounded by blue, from the Blue Ridge Mountains that flank campus to the royal blue shirts, monogrammed with a bulldog and worn by the university student ambassador who will be leading your tour for the Junior Bulldog Program. "Welcome to UNC Asheville," will be the greeting to more than 2,000 middle school students each year.
The first stop is the gym — either Kimmel Arena or the Student Recreation Center, where you'll learn the ropes, literally if it's with Outdoor Programs. Here you'll enjoy a multitude of team building activities. If one of UNC Asheville's 16 Division I sports are in season, you'll get an insider view of what it's like to be a student-athlete in college and the amount of dedication required to be successful on and off the court.
The adventure continues with a UNC Asheville admissions counselor, who is ready to teach you about the significance of college. You will discuss different options after high school and what students can do to ensure their success starting as early as middle school. For example, you might secure a scholarship with NASA to explore new worlds, write your next chapter in the English program, or study political science to impact public policy and the next generation.
"This is important in making the conversations about their college futures more open. It encourages the college conversations at their homes with parents," said Brandt.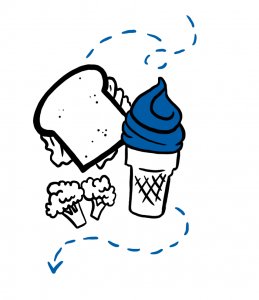 The next stop, and debatably the favorite, lunch at Brown Hall. With an all-you-can-eat but eat-all-you-take buffet, your taste buds are sure to be satisfied. Your options range from a hot bar, vegetarian options, sandwich station, smoothie area, dessert bar and the luxurious ice-cream machine. To top it all off, you'll learn that the UNC Asheville Brown Dining Hall has been certified by the Green Restaurant Association with three stars due to its commitment to sustainability, and UNC Asheville is the first designated Fair Trade Campus in North Carolina.
With your stomach full, you'll fill your mind through academic adventures that vary from day-to-day and year-to-year. You'll sit in two 30-minutes classes, varying from art, music, and an exciting way to look at math, each filled with fun projects and games in a UNC Asheville classroom. A few favorites have included:
Exploring Our World Through Chemistry with a hands-on activity which allows students to use chemical properties that are typically found in a household.
Geology Rocks station, which shows students how to investigate secrets hidden beneath rocks and gain an understanding of how geology influences our everyday lives.
Fun Music Station, where students gain an understanding of musical fundamentals through games.
Exploring Ecology, where students will meet plants and animals that are considered native to the southern Appalachians.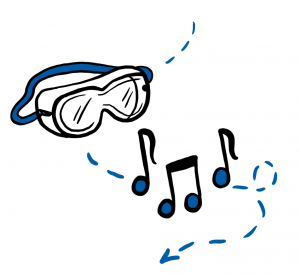 Then, it's time for you to find your own path, through a campus scavenger hunt, which takes you by the Bulldog statue for a good luck pat, to the stage in Belk Theatre and the practice rooms in Lipinsky, and to the seal on the Quad, a point where you can look to the mountains, as the university's motto suggests.
It all adds up to approximately 11,000 steps on UNC Asheville's campus, and an important initial step on your college journey.