Story by Amy Jessee | Photos by Adrian Etheridge '15, Peter Lorenz, & Colby Rabon
"I firmly believe that we at UNC Asheville are keepers of the light in higher education for this state, the region, and the nation, and we are keeping the light bright in these complicated and challenging times." — Chancellor Cable speaks on the enduring value of the liberal arts and sciences education in the opening of her address, bringing the mountains to the sea via a lighthouse metaphor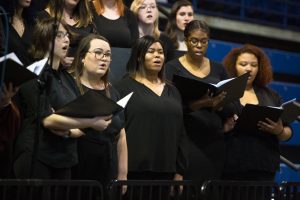 The Installation of UNC Asheville's Eighth Chancellor Nancy J. Cable, Ph.D. shone the light on the legacy of the liberal arts and sciences, with a lens toward its future, from the notable scholars gathered on the stage, to the experts assembled in the university's faculty, staff, students, and alumni.
Before joining UNC Asheville as chancellor in August 2018, Chancellor Cable served as president of the Arthur Vining Davis Foundations. Her extensive experience in higher education also includes positions as Dean at Denison University from 1977-1986, Guilford College from 1986-1991, and Vice President and Dean of Admission and Financial Aid at Davidson College from 1991-2005. From 2005-2009, she served as Vice President for Development in the College of Engineering at the University of Virginia and later with UVA's Semester at Sea Program. Following three years of service as Bates College's Vice President, the Bates College Board of Trustees elected Dr. Cable as Interim President. On April 26, 2019, she was officially installed as the eighth permanent chancellor at UNC Asheville.
Bright Days Ahead
Though the weather might have moved the celebration indoors, Kimmel Arena provided a fitting backdrop for the pomp and circumstance. In fact, the chance of rain did little to dampen the spirit of the day. It only made it brighter.
That's what UNC Asheville's Board of Trustees and the UNC System Board of Governors saw in Chancellor Cable when they first met her during the interview process.
"I knew from the moment I met you I was seeing the future of UNC Asheville, and finding someone fiercely devoted to public liberal arts and sciences education," said UNC Asheville Board Chair Kennon Briggs. Board of Governors Secretary Pearl Burris-Floyd echoed this sentiment, noting how she could see a new vision emerge and a bright future ahead.
Those who have known Chancellor Cable throughout her 42 years in higher education shared this vision. "I think that this is a special moment, because the liberal arts are principally about what it means to nurture the whole of people's selves for the whole of their lives for the sake of the whole of the world. This is an institution dedicated to that and it now has a leader dedicated to that mission," Dr. Eboo Patel said in his invocation. The author, founder and president of Interfaith Youth Core also led a roundtable discussion earlier in the day.
"You have a chancellor who understands that the essence of the liberal arts is to prepare us for a meaningful life, a productive life, and an engaged life," said Frederick M. Lawrence, the 10th secretary and CEO of the Phi Beta Kappa Society, of which Chancellor Cable is a member.
A Few Notes from Chancellor Cable's Installation Speech
Here's what we intend to deliver:
1. We produce thinking minds. We produce not just a workforce-ready graduate, which is true for many if not all of our graduates, but we produce a whole cadre of working thought-force leaders, ready to learn anything that they find beyond the halls of this institution. Our alumni are proof-positive of the evidence of that claim.
2. We ensure that to the best of our ability, every student here has the opportunity to lead, to develop the emotional intelligence to work in collaboration with others like and unlike themselves.
3. We honor not just the vitality and talent that emerges from close dedicated attention to diversity and inclusion, but we boldly seek to find new levels of equity…. We believe that will move us all forward in the common good.
4. We have a deepening commitment to shared governance. We are beginning to know that expertise and common interest bind us together to do our best.
5. We honor and remain dedicated to our sense of this place here in these stunning mountains and to all aspects of the partnerships in the region.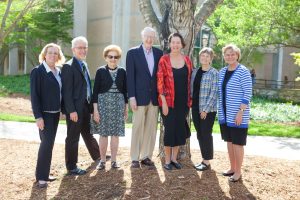 6. We remain committed to shining the light of what we expect of our students as they become agents of their own lives—critical thinking, collaborative problem solving, creativity, a love of the arts and music, capability in complex information processing with a keen eye to the ethical questions that underlie all data, and finally an abiding sense of resilience in their own lives.
Strong Foundations
Chancellor Cable also acknowledged the strong foundations in the university's 91-year history, including former chancellors gathered together for the ceremony, and Professor Emeritus Arnold Wengrow detailed the history and legacy as part of his speech.
"How a two-year junior college begun in 1927 by the Buncombe County Schools aspired to become part of the first public institution of higher learning in the United States to open its doors, is a story of diligence, dedication, and sheer doggedness by this community's leaders and its educational visionaries," said Wengrow. "The University of North Carolina at Asheville was to have a distinctive, even a unique role in public higher education. We were to be North Carolina's only [designated] public liberal arts university." He cited the university's first Chancellor, William Highsmith, in a defining description of the liberal arts and students as future leaders so they could emerge with an understanding of the world and a firm philosophy of life.
These university leaders—pioneers—created something new and different in these mountains, which Wengrow quoted from the founding documents and the first vice chancellor for academic affairs, Roy A. Riggs, "UNC Asheville was to be academically rigorous, both traditionally sound and boldly experimental."
Chancellor Cable bought that mission back to the forefront in her address.
"Our ability to be the designated and desirable liberal arts college of the UNC System came primarily because we stood for two things: sound academic intellectual work and boldly experimental work, which we are really good at doing," she said.
Lighting the Way
That work, from the everyday tasks, the syllabi developed each semester, the shared governance and community partnerships, to the statewide leadership in the liberal arts and sciences and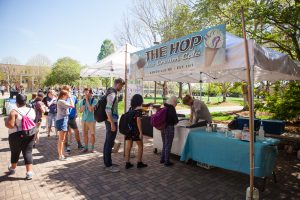 national recognition in undergraduate research and high-impact practices, continues to fortify UNC Asheville, and light the way for those coming to campus on a mission to learn more.
"We do this work to prepare our students for the unexpected. That is the nature of a liberal arts and sciences education," said Staff Council Chair Brian Hart '11. "To give students the intellectual dexterity to encounter ideas they have never encountered, to learn how to learn so they are prepared for a society that changes faster than they can, to know that when the unexpected comes their way, when their path changes and takes them to places they weren't supposed to go, they are able to draw on their experience, knowledge, and self-sufficiency to thrive."
"Here we strive every day in ways big and small to imbue in our students, and our graduates, and in continuing support from our alumni, the will, the knowledge, and the ways of learning that allow them to contribute to society and to succeed," said Chancellor Cable.