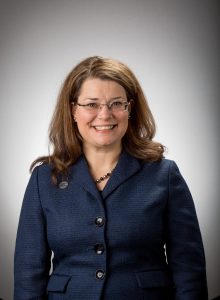 There is a palpable momentum felt across campus at UNC Asheville. Our eighth chancellor has just been installed, and alumni, community members, and friends joined us on campus to share in the celebratory events. Chancellor Cable hosted thought leaders who traveled from across the country to lead discourse during many roundtables leading up to her installation. But the most striking words spoken came from our own faculty, "There's work to be done. We're doing a lot. We need to keep doing it, and do more."
This momentum resonates with our progress in providing alumni engagement. Earlier this semester we gathered together for our National Alumni Awards Ceremony, recognizing six graduates. David Ramseur '76 shared with us his career trajectory from student activist to a published journalist with a noted political career. Professional artist and UNC Asheville Trustee Karen Brown '81 exemplifies service to our university. Sabine Moses '12, teaching fellow and current math teacher, shared with us her commitment to her students. Marquis McGee '99 has taken his service of education to collegiate administration at James Madison University, and Peter Haschke '07 returns to our alma mater with highly regarded international research. Ann Dunn '93 has expanded the arts in our community while serving as a mentor to numerous alumni. We know there are countless alumni whose accomplishments are worth celebrating, but they are not yet on our radar. There is still work to be done, and we want to hear about it. Please tell us about your impact and nominate alumni for future awards.
We also have work to be done as we grow our culture of philanthropy. Our Student Alumni Association is leading the way, and this semester established Student Philanthropy and EngagementMonth with events that recognized our donors. With a lead gift by Chancellor Cable, we are challenging our alumni to contribute to the Annual Fund. Not only is private giving necessary for our growth, but our alumni participation matters as we earn grants and rankings. We need your support as we continue to advance our alma mater!
Elizabeth Saxman Underwood '01, Ph.D.
Senior Director of Alumni Relations // eunderw1@unca.edu // 828.232.5125