October 22, 2020
The longtime Asheville residence of Wilma Dykeman (1920-2006), one of Appalachia's foremost writers and conservationists, will become home to a new UNC Asheville Writers-in-Residence Program. The announcement was made today in an online news conference held jointly by the University, the Wilma Dykeman Legacy (WDL), RiverLink, the Preservation Society of Asheville and Buncombe County, and the Western North Carolina Historical Association.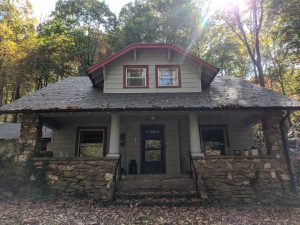 The Dykeman house at 189 Lynn Cove Road in Asheville is being donated to UNC Asheville for the purpose of housing the new Wilma Dykeman Writers-in-Residence Program, by local investor and philanthropist Ellen Carr, a member of the WDL board, who has worked with WDL founder and president Jim Stokely (Dykeman's son), and his wife Anne Stokely on this project. The gifted house and property is subject to a Conservation Easement through RiverLink and Historical Preservation Easement through the Preservation Society of Asheville and Buncombe County.
"This is a program not just for writers, but for all of us who live here Asheville," said UNC Asheville Chancellor Nancy J. Cable. "The Writers-in-Residence Program will allow writers through the spring semester, and summer, and even through the fall, to live in Wilma Dykeman's original childhood home, located only several miles outside of the city of Asheville. We will bring writers who teach for an entire semester. We will bring writers, particularly during the summer, who may be here only for a weekend or for a week at a time, but having the privilege to live in the house."
The new Wilma Dykeman Writers-in-Residence at UNC Asheville program will "support both the craft of writing and the interdisciplinary topics of enduring interest to Wilma Dykeman during her lifetime, including but not limited to the environment, social change, human relations, economics, biology, civil discourse, racial justice and women's rights," according to the memorandum of understanding between the WDL and the University. It is expected that the new Writer-in-Residence will live in and work from the house, which has been largely unchanged since Dykeman's death, with her furniture, typewriter and other objects remaining as inspirational reminders of her life and legacy.
An advisory board with members from UNC Asheville, the WDL, and Riverlink, will create and oversee the new program. UNC Asheville's current Writer-in-Residence is alum and bestselling novelist Wiley Cash.
Quotes From The News Conference
UNC Asheville Chancellor Nancy J. Cable
"First among equals is Wilma Dykeman, as a writer well-known, having come from Asheville, though her career took her to places far and wide. Her works of fiction and non-fiction are treasured by so many of us who love the mountains, love the environment, and work very hard to understand the interplay of our environmental responsibilities to one another."
"One of our hopes is that the Writers-in-Residence Program will be literally a 12-month enterprise. One writer might be here for the spring semester, teaching classes for credit but also doing master classes in the community, having public readings, doing lectures perhaps with other writers who are colleagues. There also could be an array of things happening during the entire year as we build out the strength of Asheville as a summer destination for intellectuals, for writers, for readers, for artists. This Wilma Dykeman residency in the summer could involve writers coming in for a writers' festival for example. Those are some of the ideas we're brainstorming."
"I think we'll find ways for the public to experience the land, the beauty, the historical significance of the writing cottage, the beauty of the house itself, the way it's located on the land in which it sits."
UNC Asheville Provost Kai Campbell
"My sense is that interdisciplinarity will be important, representing the full breadth of Wilma Dykeman's work. The selection committee will be expected to build a strong pool of diverse writers who are seasoned and well-known. As the program grows, we envision the launch of a fellowship program that would allow talented emerging student writers to be included in the teaching and presentation of works alongside the writers-in-residence throughout the year and especially in the summer."
Wilma Dykeman Legacy Founder and President Jim Stokely
"My mother Wilma Dykeman was born in 1920 near the head of Beaverdam Valley just north of Asheville. She grew up on the property we're discussing today, a modest house on 11 acres in Lynn Cove at the base of Iron Ore Ridge. Firmly rooted in Buncombe County, her life and work expanded to embrace Appalachia's culture, America's racial and gender dilemmas, and the world's environmental crisis."
"The Wilma Dykeman Legacy, a tax-exempt public charity, grew out of our desire to sustain Wilma's core values, of environmental integrity, social justice, and the power of the written and spoken word. Since 2012, the Legacy has produced discussions, lectures, books and programs in support of Wilma's values. The Wilma Dykeman Writers-in-Residence Program will be a bright star in that constellation."
Preservation Society of Asheville and Buncombe County Executive Director Jessie Landl
"The home and land is a tangible connection to Wilma Dykeman's legacy, and by preserving it and creating a writers-in-residence program, people will be able to experience and understand what she created, and the sense of place creates a natural setting for writers to immerse themselves in their work. The historic integrity of the house and the surrounding property effortlessly tells the story of a woman passionate about a place, the environment, her family and her craft."
Investor, Philanthropist, and Wilma Dykeman Legacy Board Member Ellen Carr
"Wilma's final novel voiced an early call for sustainable investing. I've been a professional investor for 20 years but only in the past few has stakeholder rather than shareholder capitalism caught on. Yet Wilma articulated this 50 years ago in Return the Innocent Earth, with an all-too-familiar plotline: A farmer worker dies after exposure to a toxic chemical used to preserve tomatoes. … At the end of the book, the protagonist asks the CEO, 'isn't it time to set up a realistic accounting system – one to include damage to air or water or land, to the health of the human being?' 50 years later, thanks to the rise of sustainable investing, Wilma's poignant question is at last being asked by the right people – the ones who manage your money."
"Wilma was interdisciplinary, just like UNCA and its students strive to be, and that's our dream for the program based in her childhood home. In a world that seems to grow more polarized and pigeonholed by the hour, we need thoughtful, creative, interdisciplinary response to problems that don't fit neatly into a box."
Western North Carolina Historical Association Executive Director Anne Chesky Smith
"When we were founded in 1955, one of the first actions we took to achieve our mission to preserve and promote the history of our region, was to originate and fund (with the help of the Lipinsky family), a literary award which would recognize and encourage excellence in literature that was written either by an author from Western North Carolina, or about Western North Carolina, and in many cases, both of those things. This was certainly the case for the first winner of the award, Wilma Dykeman, who won for her first book, The French Broad. It won not only because it preserved many stories of the past, but also advocated for the preservation of our environment and our future, which is something we're also seeing today with the creation of UNC Asheville's new writers-in-residence program. We've now given out the Thomas Wolfe Literary Award for 65 years."
"It seems very apt that Wilma Dykeman's home will not become a time capsule, but instead a place to inspire writers, to nurture their careers, a place that will invest in the creation of more great literature from and about our region."
RiverLink Executive Director Garrett Artz
"Wilma Dykeman means so much to RiverLink in so many ways in both her life as a friend to those who led our organization for many years, and certainly as an inspiration. She was a guiding light in how we operate. We see this property as a guiding light for growing a much-needed capacity at RiverLink and in our community and individuals to take actions to recognize the environment. We hope there will be many writers who will be inspired to use the pen as the sword to carry forward some of her ideas."
More About Wilma Dykeman
Wilma Dykeman was a strong supporter of linking economic development with environmental protection along the French Broad River that flows through Asheville, and the both the City of Asheville and Buncombe County in Western North Carolina have adopted the Wilma Dykeman RiverWay Master Plan – a 17-mile greenway and park system intended to promote sustainable economic growth along the French Broad and Swannanoa Rivers.
Dykeman graduated in 1938 from Asheville-Biltmore College – the two-year junior college that grew to become UNC Asheville – and she then graduated from Northwestern University. With family roots in both Western North Carolina and Tennessee, she taught creative writing and Appalachian literature at the University of Tennessee and served as Tennessee's state historian for more than 20 years. She also served on the boards of Berea College and UNC Asheville.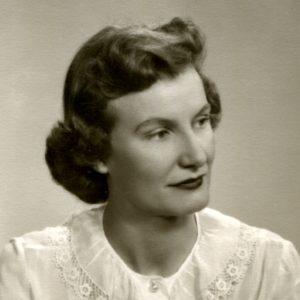 She was the author of 15 non-fiction books, beginning with The French Broad in 1955 which used economic arguments to make a case against water pollution. She also wrote three novels, including The Tall Woman (1962), the tale of a mountain woman who works to bring her community together after the Civil War, which sold more than 200,000 copies.
She also worked as a newspaper columnist, writing for the Knoxville News-Sentinel for almost five decades, and her work also appeared in The New York Times Magazine, Harper's, U.S. News & World Report, and Reader's Digest.
For More Information
For more information, visit the WDL website and the RiverLink website. To learn more about UNC Asheville's many writing programs, visit the English Department website, the Visiting Writer Series of public readings which will feature poet Melissa Range on Oct. 27, and the Great Smokies Writing Program, offering community residents university-level instruction by some of the area's finest writers.