October 6, 2022
UNC Asheville celebrated the installation of its second solar panel array with a ribbon cutting at the University's Reuter Center, home of the Osher Lifelong Learning Institute, on Sept. 23, 2022. This 26-kW solar installation will double UNC Asheville's current solar power production and propel the University towards its commitment to be carbon neutral by 2050. 
The 64-panel solar array will produce 37,000 kWh annually, or about 17 percent of the annual electricity needs of the Reuter Center.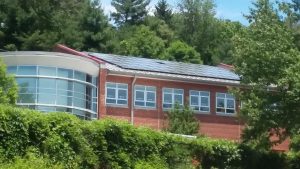 "Over the 30 year lifespan of this project, we expect to have $170,000 of savings in utility costs," said Chancellor Nancy J. Cable. "This significant contribution is made possible by many people who made this a shared project, not just for the betterment of our campus and our great students, faculty and staff, but for Mother Earth." 
This environmental stewardship project was completed under the guidance of UNC Asheville Co-Directors of Sustainability, Alison Ormsby and Jackie Hamstead, in partnership with Buncombe County, which funded the initial feasibility assessment. Funding for the solar panel installation was provided by 55 individual OLLI members, a donation from Pine Gate Renewables, and by a grant for building improvements from the Janirve Foundation. 
Learn more about sustainability at UNC Asheville: https://sustainability.unca.edu/