April 27, 2022
UNC Asheville will celebrate the accomplishments of more than 500 graduates during Commencement on May 7, 2022, and will award Eva Clayton, the first Black woman to represent the state of North Carolina in Congress and a champion for economic equality, with the Honorary Doctorate of Laws at the Class of 2022 Commencement Ceremony. Clayton will serve as the Commencement speaker and receive the UNC Asheville Chancellor's Medallion, the University's highest non-academic distinction, to recognize individuals who demonstrate distinguished national service and leadership.
UNC Asheville Chancellor Nancy J. Cable will preside over the outdoor Commencement events on the University Quad. More than 500 graduates and their families will be in attendance to celebrate their academic accomplishments and cap their untraditional University experience, following two years of academic progress through a pandemic. 
An additional honorary degree will also be awarded to Dr. Jeff Heck, a physician and recently retired CEO of the Mountain Area Health Education Center (MAHEC) under whose tenure UNC Health Sciences at MAHEC was established. The UNC Asheville – UNC Gillings MPH Program is housed on the MAHEC campus. Dr. Heck will receive an Honorary Doctorate of Science for his exceptional contributions to the Asheville community.
For more information about UNC Asheville's May 2022 Commencement, visit unca.edu/commencement.
HONORARY DEGREE RECIPIENTS
Eva M. Clayton was the first African American woman elected to represent North Carolina in the United States Congress. Clayton's historic appointment to the United States House of Representatives made her the state's first Black representing member since 1901 and the second woman to hold this position.
Prior to serving in Congress, Clayton served on the Warren County Board of Commissioners and was Assistant Secretary of the NC Department of Natural Resources and Community Development.  She was Director of the Soul City Foundation and was the Director of NC Health Manpower, UNC School of Medicine (now Access to Health Care).  Also, she is a member of Cotton Memorial Presbyterian Church where she serves as an Elder.
In Congress, she was a recognized leader; elected the president of her Democratic freshman class; served on the Agriculture Committee; and was the Ranking Member of the Sub-Committee – Nutrition and Operations.  Eva M. Clayton fought for Black farmers' equality.
She was influential in writing, and the passage of the 2002 Farm Bill, which provided additional assistance to Small Farmers; increased resources for SNAP (Food Stamps), and expanded the school lunch programs across the country.  She also served as co-chairman of the bipartisan Rural Caucus.  Congresswoman Clayton helped secure federal resources for various communities in her District. 
Upon leaving Congress, Clayton accepted a three-year assignment as Assistant Director-General with the United Nations Food and Agriculture Organization (FAO) (2003-2006) in Rome, Italy.  She headed up the International Alliance Against Hunger (IAAH), composed of the four UN agencies related to agriculture and food.  While at FAO, she and her team organized Partnership/Alliances to fight against hunger and malnutrition. in 24 different countries, including the United States.
Her husband, Attorney Theaoseus T. Clayton, Sr. ("TT"), a distinguished lawyer in Eastern North Carolina for more than fifty years, died in 2019.  She has four adult children and six grandchildren.
In retirement, Former Congresswoman Eva M. Clayton remains committed to ending hunger and malnutrition.  She advocates for rural communities, encourages young persons to be engaged, and serves on boards dedicated to those missions.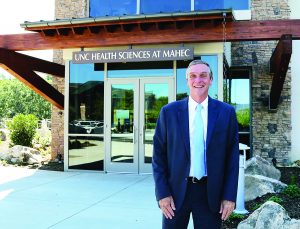 Jeffery Heck, M.D., led the Mountain Area Health Education Center (MAHEC) for nine and a half years and serves as an expert physician and health care partner in Western North Carolina.
Dr. Heck earned degrees from Vanderbilt University, Medical College of Ohio, and completed a Family Practice Residency Program at St. Elizabeth's Medical Center in Dayton. He then spent 20 years as faculty at the University of Cincinnati School of Medicine. As an advocate for global health, he founded the nonprofit Shoulder to Shoulder in 1990 to provide much needed health care services in poor, rural Honduras communities and served as its Executive Director for more than twenty years.
Dr. Heck first joined MAHEC in 2004 to chair the Department of Family Medicine and support the establishment of a campus of the UNC School of Medicine, which has grown since 2009 from four to 35 third-year medical students and an increasing number of fourth-year students. He also served as a professor of family medicine with UNC-Chapel Hill and associate dean for the Asheville Campus of the UNC School of Medicine.
As MAHEC's president and CEO from 2012 through 2021, Dr. Heck led the organization through a threefold expansion, increasing the nonprofit's annual operating budget from $30 to $100 million and the number of employees from 300 to more than 900. He guided the expansion of MAHEC's graduate medical education programs to include surgery, psychiatry, rural medicine, addiction medicine, and internal medicine residency and fellowship programs in addition to family medicine, ob/gyn, dentistry, and pharmacotherapy programs. During his tenure, MAHEC trained  hundreds of residents and fellows  in partnership with WNC hospital systems.
Working with North Carolina's General Assembly and university leadership, Dr. Heck oversaw the establishment of UNC Health Sciences at MAHEC, an academic health center with programs affiliated with UNC's top-ranked schools of public health, dentistry, pharmacy, and medicine. These partnerships led to the most recent announcement of a first-of-its-kind joint MPH degree, awarded by the UNC Gillings School of Global Public Health and UNC Asheville with a concentration in place-based health offered exclusively in Asheville on MAHEC's campus.
After stepping down from his leadership role, Dr. Heck continues to see geriatric patients at Deerfield Retirement Community, coming full circle in his career as he began it: caring for patients.