March 11, 2019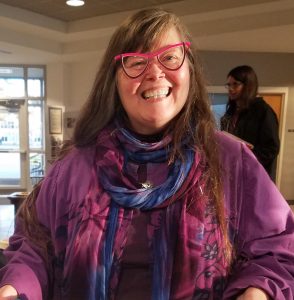 Scholars in philosophy from around the U.S. as well as Canada, England and Russia, will gather at UNC Asheville to explore Philosophical Engagements with Trauma at a March 22-23 conference. The conference is convened by Professor Melissa Burchard, chair of UNC Asheville's Philosophy Department and author of the recently published book, Philosophical Reflections on Mothering in Trauma.
Burchard says this is the first-ever conference on the topic, and it will "consider what philosophy can tell us about trauma, and how trauma needs to inform philosophy. Trauma is increasingly part of the experience and reality of people all over the world – philosophy's traditional task of investigating human experience and reality must engage with trauma," says Burchard.
Highlighting the more than 20 presentations and panels over two days will be two keynote talks: The Moral Crisis of Childhood Trauma: Hindering the Essential Arts of Personhood, presented by Peg O'Connor, professor of philosophy and gender, women and sexuality studies at Gustavus Adolphus College, at 7 p.m. on Friday, March 22; and Crippling Trauma: Depression, Shame and Projects of Collective Healing, presented by Abby Wilkerson, associate professor of writing at George Washington University, at 12:30 p.m. on Saturday, March 23.
Registration options include single day ($15), single day with meals ($30), and full conference tickets ($70). UNC Asheville employees and students are admitted free. To see the full conference program and to register, visit philosophy.unca.edu/conferences or email mburchar@unca.edu.