March 18, 2019
NOTE: Only 80 seats will be available for each performance, so if you are interested in attending, please purchase tickets early!
A group of UNC Asheville students will be bound for Scotland this summer to perform at what is billed as "the world's greatest platform for creative freedom." With some 3,500 shows of every stripe and 2.8 million tickets sold, Edinburgh's Festival Fringe is the biggest arts festival on the globe. And UNC Asheville's students, having been granted a chance to perform there, are ready to show Nothing to the world.
Nothing's Happening – A Black Mountain College Project will first preview on campus at Belk Theatre, April 18-20. This original work of theater is being created almost from scratch by students working with Leon Ingulsrud, co-artistic director of New York City's SITI Company. Ingulsrud, who is on campus as UNC Asheville's spring 2019 Black Mountain College (BMC) Legacy Fellow, chose the famed 1949 Lecture on Nothing by BMC luminary John Cage as a backbone for the new work.
The Lecture on Nothing is becoming infused into the spines and souls of the troupe of student actors in four-hour-long daily work sessions while Ingulsrud is on campus. Is it music? Is it theater? Is it a philosophical treatise? "Even though it's a lecture about nothing, it's also about everything," says drama student Caroline Kelly.
Cage's lecture was "scored" by the author/composer not with pitches, but with an odd and precise time scheme. It comes to life with an energy that grows as the students, working in small groups, come up with gestures and changes of tone and volume to add meaning and drama as they discover it, or bring it to the mysterious text. As the work continues, some of these gestures may grow into character sketches, short scenes, songs, or, who knows?
The Black Mountain College Roots of Nothing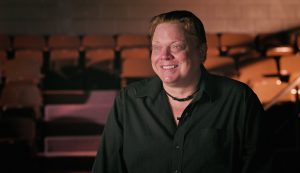 During their first week together, the students and Ingulsrud went together to the Black Mountain College Archive. "So many things, people and ideas trace back to Black Mountain College – so many artists of my generation have seen it as this magical place," said Ingulsrud. "And the undergrads have some of that sense too, but they related very much to the day-to-day of what these students were going through – they had this very human, very direct reaction."
"There are these amazing scrapbooks where they saved everything that was ever posted on the bulletin boards – tiny notes and little things," said Ingulsrud. "The students immediately dove into this saying, 'oh, this is like a meme,' … really seeing how their peers in that time were responding in the same ways, even with vastly different technology."
"You could feel the excitement in the room," recalls Associate Professor of Drama Lise Kloeppel who also is working with the students, and she is convinced that the sense of connection to students who attended BMC more than half a century ago has added both an anchor and a passion to the production. "It's going to be something that we put every piece of ourselves into," said senior drama student Casey Clennon, "and it's going to be something that not only relates to Black Mountain College but ourselves as people." Dakota Mann, a junior, already had some working knowledge of BMC from prior theater work, but he said "now I get to study it more, delve all the way into it and I'm excited."
Why Nothing?
"John Cage, I sometimes call him my artistic grandfather," said Ingulsrud. "The ideas and the ways in which he worked cracked certain things open in American art, and certainly important things in my experience of art. He was toppling the hierarchies that existed around art … it was patriarchal, it was top-down, it was the supreme artist as kind of a deity deigning on us the gifts of their great mind and soul. And here was Cage saying, 'no, actually, you can roll the dice and choose a note,' and that puts the artist and audience in the same situation, both relating to the work."
Ironically, Cage, known for incorporating random operations into his art, is being used by Ingulsrud to add structure for the students. "It's difficult and not always productive to start with a completely blank slate," he said. "So I've brought in John Cage's Lecture on Nothing as a backbone. The Lecture on Nothing for me brings enough poetry, enough beauty, enough to think about, to sustain. But I want that to be a spine on which we hang other things that intersect with it, interrupt it, coexist with it, while at the same time, performing the Lecture on Nothing at a level that will be satisfying.
"I do expect it to be a lot of fun to experience – interesting, deep, and fun – there doesn't have to be a contradiction. Bugs Bunny is a great teacher of that, and Herman Melville," said Ingulsrud. 
Is Nothing Rigorous?
"The spirit of Black Mountain College was pulling the rug out from under hierarchies," Ingulsrud continued, "and so the question becomes – and I think this was a question at Black Mountain College – 'How do you bring rigor and freedom together? How do you bring the strict control of a virtuoso and the abandon of artistic freedom – how do you make those two things coexist?'"
On the "freedom" side of ledger, Ingulsrud says, "I encourage the students to stand up for who they are, and not try to give the right answer or what they think I want to hear." And on the "rigor" side, he is training the students in two different techniques, "Viewpoints" from the postmodern dance world, and "Suzuki," not the approach to musical training but a technique from a Japanese theater company. These techniques are not styles of acting, says Ingulsrud, but rather, methodologies of actor-training, "looking at acting as potentially virtuosic."
"We always leave a little sweaty because it's super physical, but it's been one my favorite processes working in the Drama Department so far," said Clennon. "I've learned a lot in a really short period of time."
Nothing's Happening on the Stage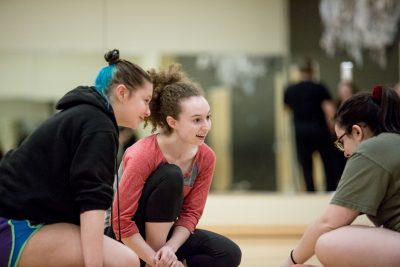 By the time the lights dim (or will something else happen with lighting or sound?) in Belk Theatre at 7:30 p.m. on April 18, the student troupe will have had a two-week and a four-week stint with Ingulsrud, working four-hours a night, five nights a week to develop and hone Nothing's Happening. And as exciting as the April shows promise to be, they will serve as the equivalent of an off-Broadway run before a show hits the big time.
Kloeppel and the students will gather on campus for a final week of rehearsals in late July, and the troupe is slated to arrive in Scotland in time for the start of Festival Fringe on Aug. 2. "That's so exciting and it's kind of cool because I missed my opportunity to study abroad," said Grace Siplon, a senior drama major whose college trip abroad will come just after she graduates. "I'm crazy excited to go to the Edinburgh Fringe Festival!"
"It's going to be amazing and I look forward to seeing what's going to happen to these UNC Asheville students going to Edinburgh's Festival Fringe and getting their minds blown by the richness of what's out there," said Ingulsrud. "And I really want to see what UNC Asheville students are uniquely going to do with that experience that other students wouldn't do. I think that's tremendously exciting and worth supporting."
To learn more, see this feature article from The Blue Banner.
******************************************
About UNC Asheville's Black Mountain College Legacy Fellows Program
Between 1933 and 1957, Black Mountain College engaged leading artists, scientists and other scholars in interdisciplinary study and a spirit of intellectual exploration, while also focusing on contemporary issues.
Mary Emma Harris, a scholar of Black Mountain College's history, was the inaugural Black Mountain College Legacy Fellow during fall semester 2016, and anthropologist and poet Renato Rosaldo was the second fellow during the spring of 2017.
Artist Mel Chin was the fall 2017 BMC Legacy Fellow, and together with UNC Asheville's STEAM Studio students, faculty and staff, he created Wake, an animatronic sculpture that was exhibited in New York City's Times Square last summer. In spring 2018, experimental philosopher and conceptual artist Jonathon Keats was the BMC Legacy fellow, and he worked with students to create what he called a "universal orchestra" with sounds aimed at the cosmos. The renowned string quartet Brooklyn Rider held the fall 2018 BMC Legacy Fellowship; the group offered performances and workshops on and off campus.
The Black Mountain College Legacy Fellows Program is funded through a $180,000 grant from the Windgate Foundation and a partnership between the Black Mountain College Museum + Arts Center and UNC Asheville. For information about upcoming BMCM+AC events, visit blackmountaincollege.org/events.
About UNC Asheville
UNC Asheville is the designated liberal arts and sciences institution for the UNC system and one of the nation's top 10 public liberal arts universities. Enrolling 3,800 students and offering more than 30 undergraduate majors and a Master of Liberal Arts and Sciences degree, UNC Asheville encourages students to take part in a nationally acclaimed undergraduate research program and participate in interdisciplinary learning. From internships and hands-on projects, to study abroad and community engagement, students experience an education that extends beyond campus into the vibrant City of Asheville, the surrounding Blue Ridge Mountains and the world. Learn more at www.unca.edu.