January 15, 2021
UNC Asheville has been recognized for its honorable commitment to engaged, experiential education by Colleges of Distinction, which is celebrating its 20-year anniversary as a one-of-a-kind guide for college-bound students.
In addition to being named a College of Distinction, UNC Asheville is also listed among the best public colleges nationally and best colleges in North Carolina in its inaugural year as part of the 2020-21 cohort.
Colleges of Distinction boasts its longstanding support for student-centered schools that traditional rankings often overlook. As an institution whose primary goals are based on empowering human potential and rooted in its unique student-centric public liberal arts and sciences mission, UNC Asheville confirms its honor as one of the renowned Colleges of Distinction.
"Each school is different, just as every student is different," said Colleges of Distinction Founder Wes Creel. "There is no number-one college for everyone, so we never rank those in our cohort."
UNC Asheville's inclusion results from the unique ways it commits to achieving success, which includes a robust undergraduate research program. More than 70% of UNC Asheville students complete original research or creative capstone projects. In addition, many students seek experiential education in the form of internships. More than 50% complete at least one internship before graduation, and at any given time the University's Career Center lists more than 2,000 internship opportunities across the U.S.
Colleges of Distinction's selection process includes in-depth research and detailed interviews with the schools themselves about each institution's freshman experience and retention efforts alongside its general education programs, career development, strategic plan, student satisfaction, and more—and accepting only those that adhere to the Four Distinctions: Engaged Students, Great Teaching, Vibrant Community, and Successful Outcomes. This model prioritizes the opportunities institutions have for students that make for a fulfilling, individualized college experience.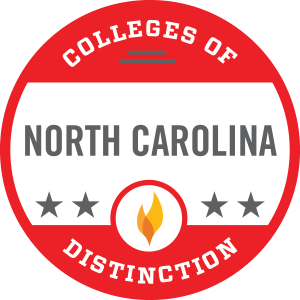 Among the merits for UNC Asheville are the First-Year Experience, Living Learning Communities, Bulldog Athletics, student organizations, and the greater Asheville community, which extends educational opportunities beyond the classrooms into the city, region, and Blue Ridge Mountains.
Creel continued, "It's inspiring to see UNC Asheville commit to the learning styles and community involvement that will best allow their students to thrive."
Read more at https://collegesofdistinction.com/school/unc-asheville/.
Students interested in learning more about UNC Asheville can start with an online visit at https://www.unca.edu/admission/visit/. The Office of Admission and Financial Aid offers personalized in-person tours as well as opportunities to connect virtually.
Applications for early decision are due Jan. 15, with a regular decision application deadline of Feb. 1, 2021. https://www.unca.edu/admission/apply/