May 6, 2022
Consulting Practicum Course graduating management students gain hands-on real-world experience while providing a valuable service for partnering Western North Carolina small businesses
Students rarely get the opportunity to gain substantive experiences with real businesses outside of an internship, yet, Susan Clark, associate professor of management at UNC Asheville, gives students the chance to do just that. Each year, approximately 12 top UNC Asheville management students are selected to be part of a consulting practicum headed by Clark that provides direct support to a local Asheville business. This year, Clark and her students partnered with Asheville, NC-based Darë Vegan Cheese.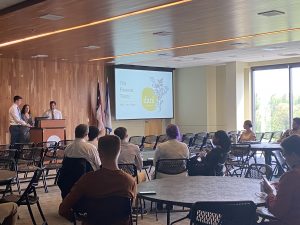 The student-led consulting practicum course is different from what you see in a traditional classroom. There are no textbooks, quizzes, exams, papers, or assignments. Instead, the cohort applies theoretical knowledge to develop a strategic business plan to help a local business scale to the next level of production, sales, and success. The students identify teams that will be responsible for contributing innovative deliverables that best suit the client's needs. Each group assumes a different role, breaking down responsibilities into functional areas, much like a real-life business. The four teams established this year to support Darë Vegan Cheese were strategy, finance, business development, and marketing.
"I designed the course to provide students with the opportunity to shadow an entrepreneur, in a collaborative setting, for an entire semester," said Clark. "This team-based apprenticeship approach to working on a real enterprise opens their experience to the world of business and entrepreneurship while building a strong bridge to the business and entrepreneurial community. This approach creates a win-win-win outcome:  local entrepreneurs are better able to scale and contribute to the regional economy, and the jobs created are often filled by students once they graduate."
She continues, "Students frequently express the desire to become entrepreneurs themselves, and after they take an experiential learning opportunity course, they are much better prepared for success as business owners and managers."
For Mollie Gordon, a student on the marketing team, the class was incredibly helpful in preparing her to enter the job market. "I love that this course allows you to provide value to a real business, giving a glimpse of what our work will be after graduation. My team conducted product photography shoots and created social media calendars and content, in line with the market research we conducted in advance."
In their work on behalf of Darë Vegan Cheese, the students conducted extensive market research and determined an ideal type of target customer. They also identified strategic business partners and opened pathways to sell more products nationally.
Darë Vegan Cheese founder Gwendolyn Dare Hageman found the process "truly invaluable." She says she "plan[s] to utilize the majority of the work provided by the students" and has already implemented select marketing strategies including the use of a social media calendar. Dare Hageman additionally noted, "the younger generation's insight into marketing and customer retention/acquisition will be knowledge I continuously reference as we spend more energy and dollars on marketing efforts. I plan to use the business plan to create a polished pitch deck for investors, as well as consult the strategy proposal at each phase of our growth."
In Clark's consulting practicum course, students are expected to prepare a deliverable solution that meets the specific needs of the client. This symbiotic business relationship allows a young, growing company to access an assortment of business and marketing services that otherwise might be out of budget, while students preparing to enter the job market gain concrete experience to add to their resumes and portfolios.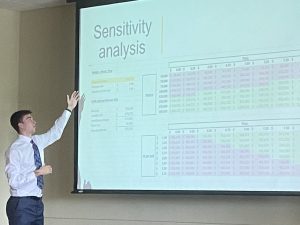 "The main objective for our team was creating a living business plan that the CEO can use to maximize her potential for success," said Darden Smith, a student on the business development team. "We also completed multiple projects, including legal analysis, certification feasibility studies, and real-time business development strategies. One of the most important things I learned was working with teams to produce exceptional content with academic rigor and professional excellence, all within budget and on a precise timeline. The challenges and benefits of working with others to deliver high value to a professional business were brought to life and are so applicable to success after graduation."
According to Ariel Willis, a student on the finance team, her team "learned a new software called Liveplan, which is designed to create detailed financial projections, world-class pitch decks, and informative graphs. Additionally, we were able to hone our Excel skills as a group to create working spreadsheets to calculate break-even points and to perform sensitivity analyses."
Over the course of 15 weeks, Dare Hageman met with students each week and sometimes twice a week. Although the students will graduate on May 7, 2022, and scatter across the country for new opportunities and adventures, their efforts in Clark's consulting practicum course will continue to blossom. Says Dare Hageman, "I will be able to continue to build upon the plan the students and I made together to actualize all that is possible for Darë Vegan Cheese."
More About the Spring 2022 Consulting Course Small Business Partner, Darë Vegan Cheese
Clark selected Darë Vegan Cheese to be the 2022 client for the course. Gwendolyn Dare Hageman is a UNC Asheville alumni who obtained a degree in biology in 2015. Her studies helped her to create the microbes necessary to produce her plant-based dairy-free cheese. The company is female-founded and living wage certified in Asheville. Dare Hageman works with other local women-owned businesses to create collaborative products, such as matcha cheesecake, in coordination with Matcha Nude. Dare Hageman recently completed the Foundations program with Mountain Bizworks and won the Venture 15 Shining Rock Award, which honors "a tenacious and resilient entrepreneur in the community", according to the Asheville Chamber of Commerce website. She also received the NCIDEA seed grant for 2021 and began membership in Elevate Asheville in January.
Read about prior courses and partnerships at https://stories.unca.edu/handson-opportunity.