February 18, 2021
UNC Asheville will host three community conversations exploring the power of ecstatic experience as a sacred vehicle for transcendence. Hosted by Classics Professor Sophie Mills, "The Ecstasy Project" will use Euripides' Bacchae as the context for exploring ecstasy in different dimensions and world cultures. The three virtual events will be held March 18, April 14 and April 26.
In addition to experts lecturing on various methods which societies have traditionally used to bring people together, such as storytelling, ritual, feasting, music and dance, this series will also enable the audience to engage in a lively and participatory community dialogue about bringing ecstasy, meaning and connection into their own lives.
Mills will be joined by actor and story-teller Pana Columbus and author Stasha Ginsburg at 7 p.m. on Thursday, March 18 to for their panel discussion, "Euripides' Bacchae, Ritual and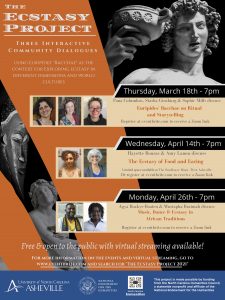 Storytelling."
On Wednesday, April 14 at 7 p.m. Hayette Bouras, owner of the Sunflower Diner, and Amy Lanou, professor of health and wellness at UNC Asheville, will present "The Ecstasy of Food and Eating" at a limited-space in-person event at The Sunflower Diner, as public health conditions allow. This lecture will also be live-streamed.
Finally, Agya Boakye-Boaten, chair and associate professor of Africana studies at UNC Asheville, and Mustapha Braimah, visiting assistant professor of dance at UNC Asheville, will discuss "Music, Dance and Ecstasy in African Traditions" on Monday, April 26 at 7 p.m.
All events are free and open to the public and will be streamed live via Zoom. The project is made possible by funding from the North Carolina Humanities Council, a statewide nonprofit and affiliate of the National Endowment for the Humanities, and from UNC Asheville's Thomas Howerton Professorship.
To register for any of these events, visit https://www.eventbrite.com/e/the-ecstasy-project-2021-a-follow-up-to-2020s-odyssey-project-tickets-136831439519.