October 4, 2018
UNC Asheville has been awarded a second three-year grant from the Windgate Foundation to elevate craft and collaborative making on campus and in the community. The $1,996,450 grant will fund programs and positions in UNC Asheville's STEAM Studio, support a continuing partnership with the Center for Craft, expand teen mentorship and making programs, build community gallery spaces and a national craft innovation hub in downtown Asheville, and provide operational support for creative placekeeping and field building initiatives, locally and across the United States.
"The Windgate Foundation's generous support confirms UNC Asheville's role as an arts, craft, and design catalyst in the Asheville community and the region," said UNC Asheville Chancellor Nancy J. Cable. "We are grateful for the energy and support that extends our artistic expertise as North Carolina's public liberal arts and sciences university, and are deeply committed to artistic expression and quality."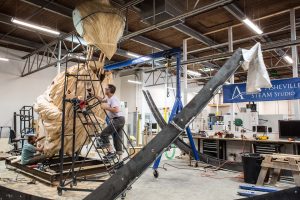 The grant will establish new positions in UNC Asheville's STEAM Studio, which stands for Science, Technology, Engineering, Art, and Math, and engage students in hands-on making experiences working side-by-side with faculty and staff experts. The new positions created will include a post-baccalaureate fellowship, technical assistant, program development, and community outreach and engagement. These individuals will work to further integrate the cross-disciplinary expertise of the studio throughout campus and the community, including K-12 schools.
"We offer mentorship through making, service learning and collaboration, whether it's helping an individual or assisting an organization to fortify and build their work to transform our community," said UNC Asheville Associate Professor of Art and Art History Brent Skidmore, one of the collaborative co-founders of STEAM Studio and the university's Public Arts and Humanities Chair. "It's part of our mission as Asheville's university to support these vital community organizations and to give them a place where they can make their ideas a reality."
Also supported by the grant will be access to space owned and operated by the Center for Craft at 67 Broadway, as renovations are underway to expand and enhance the existing gallery, create a new auxiliary gallery, and support a craft and creative sector hub concept. The new auxiliary gallery space will be shared by UNC Asheville, Warren Wilson College, and the Center for Craft and with exhibits starting in fall 2019.
"The National Craft Innovation Hub is an extremely exciting project that is being developed as a local, regional and national resource for craft innovation and education and will serve as an important asset to the broader creative sector," says Center for Craft Executive Director Stephanie Moore. "The learning and networking that the unique space and related programs will provide is unprecedented in Western North Carolina and the Southeast. Students and early-stage makers will benefit from professional connections and resources, and the auxiliary gallery expansion will provide an opportunity to showcase local undergraduate talent."
A previous grant of $1,216,500 in 2016 provided the seed funding for many of the projects, such as the STEAM Studio and "Craft Your Commerce" workshops held in the spring. These programs engaged nearly 500 students, makers and craftspeople, and combined with the existing partnership between the Center for Craft and UNC Asheville, the grant-funding directly impacted more than 8,000 Asheville-area creatives. The "Craft Your Commerce" training series for creative-sector entrepreneurs continues as a separately funded project through a partnership with Mountain BizWorks. The program will reside in the Center for Craft's new co-working space, embedding business resources for makers, artists, designers and creatives.
With this 2018 grant, creative connection comes to the K-12 sector too, as two teen mentoring and making programs will benefit directly from the funding and partnerships. The grant continues UNC Asheville's work with Journeymen Asheville, a program for boys age 12-17, and will help establish a sister program, Community Tool School: Shop Class for Girls, a pilot initiative supported by The Community Foundation of Western North Carolina. Through partnership with the STEAM Studio, participants will benefit from hands-on design and making instruction, as well as mentorship and encouragement to pursue careers in STEAM or in the trades. Presented as after-school "shop classes," these programs will include mentorship and community service projects.
For more information about UNC Asheville's STEAM Studio and ongoing projects, visit https://steamstudio.unca.edu/.