September 17, 2018
The fifth annual African Americans in Western North Carolina and Southern Appalachia Conference returns to Asheville this fall, offering scholars and the community an opportunity to illuminate the African American experience in Southern Appalachia. The three-day event from Oct. 18-20 will feature a variety of topics, including race in education, social justice, and history while highlighting regional African American culture, with a theme of "Making the Invisible Visible."
"The African Americans in Western North Carolina and Southern Appalachia Conference is not only important but necessary and vital to the reclaiming of a narrative that gets lost, has not been shared or taught and has become invisible to so many. That narrative being that the contributions and rich history of African Americans still and will forever contribute to the vitality, the heartbeat and the story of our region," said Lakesha McDay, director of diversity, inclusion and health equity at Mission Health and a conference committee member.
"Participating in the African Americans in WNC and Southern Appalachia Conference is supporting and acknowledging the resilience of a people in spite of the many injustices that have occurred in the country and this region for generations. The strength, perseverance, and grit of African Americans is a continuous thread since kidnapped and brought to this land. It is woven into the cultural fabric and demonstrated on a daily basis," said Kimberlee Archie, equity & inclusion manager for the City of Asheville, and also a conference committee member.
"I am very excited about UNC Asheville's Fifth Annual African American in WNC and Southern Appalachia Conference, as it continues to support the efforts of our community to preserve, acknowledge, and educate people about our enriched Western Carolina history," said Rasheeda McDaniels, Buncombe County community engagement supervisor, who also serves on the conference committee.
Conference Highlights
Conference activities are free and open to everyone with advance registration requested at aawnc.unca.edu or by calling 828.255.7219. The conference will begin with an opening reception on Thursday, Oct. 18 at the YMI Cultural Center, continue on Oct. 19-20 with scholarly presentations and community panels at UNC Asheville, and conclude with an awards night at The Collider on Saturday, Oct. 20.
A brunch in celebration of Asheville's Allen High School and Nina Simone will be held on Saturday morning, and an exhibit of historic photographs from the school will be on display in UNC Asheville's Ramsey Library through Oct. 31. The exhibit is co-sponsored by Special Collections at UNC Asheville and the W. L. Eury Appalachian Collection at Appalachian State University and is free and open to the public during regular library hours.
On the schedule this year are a roundtable discussion on Crafting Affrilachia, in partnership with The Center for Craft and led by Marie T. Cochran, founder of the Affrilachian Artist Project; black-owned business panels and exhibits in partnership with Mountain BizWorks; a performance in tribute to Jacob Lawrence at the Black Mountain College Museum + Arts Center; and an announcement of The City of Asheville Visiting Artist.  The CoThinkk Awards Night at The Collider returns, along with the Jesse and Julia Ray Lecture, given by Appalachian studies scholar William H. Turner.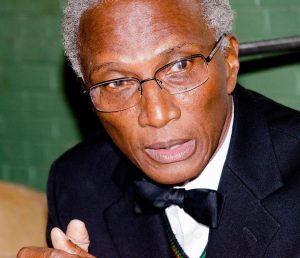 Jesse and Julia Ray Lecture by William H. Turner
Among the first to combine interests in the fields of African American and Appalachian Studies, Turner has published extensively in national newspapers, refereed academic journals, and books on the black experience in Appalachia. He has focused his career on demographic and ethnographic studies and programmatic interventions among people of color in the Appalachian region, and he co-edited the textbook Blacks in Appalachia. Turner also was a research associate to Alex Haley, author of the Pulitzer Prize winner Roots. He was inducted into the Kentucky Civil Rights Hall of Fame in 2007 and was given Kentucky's Martin Luther King Jr. Citizenship Award. In 2009, the Appalachian Studies Association gave Turner its highest honor – the Cratis D. Williams/James S. Brown Service Award. He spoke previously at UNC Asheville in February on the local and regional roots of the Civil Rights Movement.
Conference History and Support
"It has been a wonderful experience to watch the work of this conference grow, and as a member of the UNC Asheville community, and a native of Asheville, I could not be prouder of the tremendous support that the university and our community partners have given to ensure its growth. This year's program has been significantly shaped by input from the community, and we see this as a sign that community voices are playing a greater role in the efforts to preserve and tell the story of our region's rich and diverse history," said Associate Professor of History Darin Waters, conference organizer and executive director of community engagement at UNC Asheville.
The annual African Americans in WNC and South Appalachia Conference receives funding from the The Andrew W. Mellon Foundation, which awarded UNC Asheville a grant of $700,000 for public arts and humanities in 2017. One of the grant goals is to further initiatives in Affrilachia, uncovering what has been the largely undocumented influence of African Americans on the culture and social fabric of Western North Carolina. Conference sponsors include the City of Asheville, Buncombe County Government, Mission Health, Buncombe County Tourism Development Authority, Amy Mandel and Katina Rodis Fund, the Osher Lifelong Learning Institute at UNC Asheville, McClure Fund, Wilma Dykeman Society, and the North Carolina African American Heritage Commission.
Additional conference details are available at aawnc.unca.edu. Advance registration is requested online at aawnc.unca.edu or by calling 828.255.7216.