April 16, 2018
Climate change. The price of commercialism.
Conceptual artist Mel Chin's installation in Times Square this summer is designed to provoke thinking on these issues from the millions who will see it every week. And UNC Asheville students have been working since August with Chin, the university's Black Mountain College Legacy Fellow for fall semester, to bring his ideas to fruition.
Unmoored, a mixed reality artwork summoning of the impact of rising sea levels, developed by Chin in collaboration with Microsoft, had elements and concepts prototyped by new media students. And Unmoored will be paired in Times Square with Wake, a giant animatronic sculpture – a boat skeleton with a much-larger-than-life figurehead of Jenny Lind, the 19th-century diva who will look out upon a future New York City impacted by climate change.
Seven mechatronics engineering students, along with art student Jeb Hedgecock, the Black Mountain College Legacy Intern, are working under Chin's direction to construct the giant figurehead in STEAM Studio. And to help bring emotional expression to the figurehead, the engineering team turned to drama student Kelsey Hamilton.
"This figurehead, a famous opera singer from way back, is looking around and seeing how it's going to be if we don't take care of our planet more," said Hamilton, who climbed aboard a support brace high off the ground, leaning out at a steep angle, to model the motions and embody the emotions of the figurehead. Hamilton's "costume" consisted of 3D tracking devices wired to her hat and taped to her body.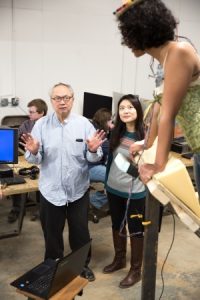 A junior from Winston-Salem, Hamilton hopes to be a film actor and she has been working with Laura Bond, professor of interdisciplinary studies and drama, on applying emotion regulation in her acting work. "The method uses breath patterns and muscle triggers in the face and the rest of the body which we call postural attitudes that work together," said Bond. "They're emotional effector patterns that physically, biologically trigger emotion in our bodies. So we do feel them."
To augment the figurehead's emotional impact on Times Square viewers, Hamilton's breathing and motion patterns are being programmed into the software and machinery that will control the figurehead's motions, thanks to the 3D tracking hardware and software developed by engineering students Kaitlin Thomas and Elijah Nonamaker.
The mechatronics students, also including Brittany Hand, Jacob Fink, Jesse Juday, Zoe Rorvig, and Kyle Ward continue to work in STEAM Studio fabricating the Wake figurehead, with Chin's installation slated to debut in Times Square on July 11. And now through August 12, New York City's Queens Museum is hosting All Over the Place, a major exhibition of Chin's decades of work, and these projects will be part of that ongoing exhibition.
2018-04-16