July 10, 2019
How many different kinds of snakes live in southeast Asia?
Don't know?
Nobody does. But UNC Asheville senior Ari Miller is helping us find out.
Miller, a biology major, is the first undergraduate student to ever receive a Smithsonian Grant from the Global Genome Initiative (GGI) to study reptiles and amphibians. The $15,000 grant has allowed Miller to spend his summer in the caves, islands, creeks and forests of Vietnam, searching not only for snakes, but geckos, frogs, and other reptiles and amphibians. Whatever he finds will be catalogued in the GGI's "biorepository," a library of Earth's genomic diversity, and will help scientists around the world better understand our planet's biodiversity, and how species evolve. Those evolutionary relationship are illustrated in diagrams called phylogenetic trees; or, as the GGI calls is, the "Tree of Life."
"All these animals have a massive role in the ecology of these communities," Miller said. "And also, we want to further understand how do these species not only fit into the Tree of Life, but
how can we answer these broader questions within evolutionary biology using the specimens that we collect? How can we use DNA sequence data to elucidate how biodiversity is generated, and thus concomitantly answer these broader questions in biology in general?"
But answering big questions means starting small. Miller's day during a field expedition in Vietnam generally starts with a bowl of pho or noodle soup for breakfast, followed by a few hours of processing specimens that have already been collected in the field. "We're collecting all this metadata for the specimens that we capture," Miller said. "We're collecting where were they found, what were they doing, what's the species, that kind of thing. And then we're collecting genomic quality tissue samples from these animals, so we're extracting the liver or heart from the specimens, and then we're going to take that back [to the Smithsonian]."
There's a break for lunch, and then it's back to preserving and cataloguing animals. Miller and his colleagues—Graham Reynolds, assistant professor of biology at UNC Asheville, a PhD student from the University of Washington, and collaborators from the Institute of Ecology and Biological Resources in Hanoi—usually only go out into the field to search for snakes and other creatures after dinner, when the sun has gone down and the 105-degree day has cooled off. Even reptiles aren't moving much in that kind of heat.
"The habitat here is pretty spectacular," Miller said. "You're either walking up a stream, or you're searching cave walls, or you're inside a cave itself, or you're walking on a trail and you're looking at the trees above you and the ground below you."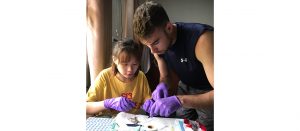 Much of Miller's time in the field is spent on small fishing boats, loaded with equipment and a half dozen scientists carefully balanced so the boat doesn't turn over, searching for specimens in Ha Long Bay—a place of remarkable beauty and biodiversity.
Finding the snakes, geckos and frogs they are searching for can often be challenging, but it's always an adventure, Miller said. In one cave, which they were directed to by a local tour guide who wanted the snakes removed so they would stop scaring his customers, Miller and his colleagues found three rat snakes slithering along the slick cave walls.
"We're calling them out and I'm shining the light on them, and people are standing up in the boat and grabbing them off the walls, and you're trying to stabilize the boat—it's very fun," Miller said.
There are a few species Miller is especially hoping to find—a rhinoceros rat snake, for example, with its lime green skin and strange, horn-like nose; or a tiger gecko, which is endangered by illegal wildlife trade. And occasionally their field work will lead them to animals outside of the reptile world, like langur monkeys and bats. "Bats are always an absolute joy to see for me," Miller said.
Miller will have more work to do when he returns to the United States. He'll analyze the DNA samples he's collected at the Smithsonian – and there's a possibility for a new species discover in that process.
"When I get back to D.C. I'm going to be in the Smithsonian molecular lab, extracting DNA and sequencing DNA," Miller explained. "And we're going to take those data and construct Trees of Life, or 'phylogenetic trees,' which will be invaluable for evolutionarily-informed conservation practices and an understanding of the origins and diversifications of these fascinating species."
But there's another reason Miller is determined to find and catalogue these animals—some of them may not be around for long.
"Our innate interests in evolutionary biology are juxtaposed by the imminent threats many of these species face, such as deforestation and industrial development" Miller said. "Simultaneously we're making an active effort to conserve these habitats and conserve the species."
Miller will have some serious research cred to his name when he returns to UNC Asheville as a senior this fall. Reynolds, his advisor and mentor, is thrilled.
"Ari is a rising senior, and he's already been involved in the description of at least four new species of reptiles," Reynolds said. "He was part of the research group that analyzed the data and described a new species. He's also on the publications that describe those. To already be responsible for at least four new species before he's graduated is pretty much unheard of.
"We're just awfully proud of him."
And the admiration is mutual.
"The main reason I came to UNC Asheville was to conduct research with Dr. Reynolds, because he not only has quite the academic track record, but obviously he's a wonderful person to work with and be around, and just a really fantastic mentor," Miller said. "I feel a lot of gratitude and debt towards him."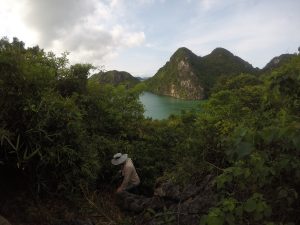 Miller plans on continuing his studies in grad school, and hopes to continue working with some of the scientists he's connected with during his trip. But for now, it's back into the boat, or into a stream, or deep inside a cave, in search of the next reptile and its genetic clues to our planet's enduring biodiversity mysteries.
"What an adventure it's been," Miller said.
Any opinions, findings, and conclusions or recommendations expressed in this material are those of the author(s) and do not necessarily reflect the views of the Global Genome Initiative.