January 11, 2022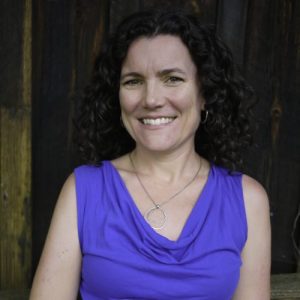 Rebecca Hale, an associate professor of biology at UNC Asheville, spends a lot of time with salamanders. Specifically marbled salamanders, a native breed to Western North Carolina. And although their striking white or grey patterned chubby bodies are pleasing to observe, Hale, a behavioral ecologist, is most interested in the evolution of their reproductive behaviors and studying the neurological shifts that happen from mating to mothering in females. This curiosity and enthusiasm garnered her the inaugural Steve and Frosene Zeis Professorship, a two-year award providing resources and support for a UNC Asheville faculty member engaged in biomedical or biochemical work.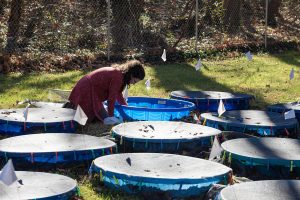 Hale has built an outside enclosure on the UNC Asheville campus that reflects a marbled salamander's natural habitat, minus the threat of predators. She and her students hope to find answers to questions regarding the evolution of reproductive behavior. Specifically, are marbled salamanders seeking high-quality mates or many mates; and, how is this linked to caring for offspring? Hale asks, "How long do salamanders spend seeking mates versus nurturing their eggs? And is there a switch-mode where salamanders return to mating from nurturing?"
Hale considers that the females of most species do not actively engage in seeking mates and caring for offspring simultaneously—female mammals do not ovulate during pregnancy and nursing, and female birds do not brood eggs until all the eggs are laid, for example. There are well-studied ecologically driven mechanisms such as the constraints of time and energy that partially explain the negative coupling of these behaviors; however, Hale's research goes beyond these standard explanations and asks if there might be neurotransmitter activity and other genetically expressed physiological activity that contributes to this negative coupling.
Initially, Hale and neurobiologist Sabrina Burmeister of UNC-Chapel Hill were curious about the gene expression in the brains of female salamanders during nesting and compared those findings to females in the mating phase. They discovered a significant shift in brain activity. Although they don't know yet what the gene shifts mean, those revelations led to the current, active study on salamander behavior patterns. This work earned Hale the Zeis Professorship and grants her and Burmeister the ability to delve deeper into the evolution of reproductive behavior. This continuation of their work will create opportunities in field methods, neurobiology, and bioinformatics to multiple UNC Asheville undergraduates each year, and will support that work through summer research assistantships and research training during the academic year.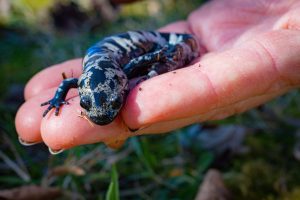 Over the next two years, Hale will collaborate with faculty and labs at UNC-Chapel Hill and East Carolina University using the marbled salamander as the primary animal of study. Her work will answer questions that the larger scientific community has about vertebrate reproduction and may potentially impact such areas as the medical understanding of pregnant and postpartum women.
About The Zeis Professorship:
Steve and Frosene Zeis have a long history of generous philanthropy that supports UNC Asheville's academic quality and mission. In 2010 the University's new science building was named Zeis Hall, recognizing their $3 million gift to the project. Steve and Frosene Zeis have also provided funding for student scholarships, laboratory facilities, and professorships in UNC Asheville's science and math departments. The newly initiated Zeis Professorship provides resources, including reassigned time and summer support to a faculty member to engage in a project for two years. The project must be engaged in broadly defined biomedical or biochemical work.