November 25, 2019
UNC Asheville celebrated Cherokee Cultural Week from Nov. 13-15 as part of Native American Heritage Month. The week included concerts by contemporary Cherokee musicians, informational displays, and a keynote address by Eastern Band of Cherokee Indians Principal Chief Richard G. Sneed.
Sneed was joined by representatives of the Museum of the Cherokee Indian, who shared historical Native American dress, traditional stories, music, and dances with the audience. Jarret Wildcatt told The Blanket Story, which focused on the importance of honoring elders, and Mike Crowe led the audience in the Bear Dance and the Friendship Dance.
"I want to thank you all for participating in our dance," Crowe said. "Some of us might have met prior today, but now we've danced together, and that's a big part of being involved in the community and being one body."
Sneed spoke on the recent history and contemporary issues facing tribal citizens, including tribal sovereignty, language preservation, and education.
"My hope is that what I share with you today will prompt you to deeper thought and deeper study," Sneed said.
"The story of the Eastern Band is a cautionary tale and certainly for all tribal nations and their interaction and contact with the federal government and Europeans," Sneed said. "Our story tells of what can happen when the power of the state is allowed to trample the rights of individuals and when green cloaked in the 'greater good' wins out over the rule of law."
Sneed addressed the challenges facing contemporary tribal leadership as they seek to reclaim good governance practices. "When the federal government could not destroy Native people through war and genocide, then they tried through assimilation. The idea was 'kill the Indian, save the man,'" Sneed explained. Assimilation took many forms, including the infamous boarding schools where children were stripped of their culture, language, and religious practices. The Bureau of Indian Affairs was then given the vast majority of control over Native peoples living on reservations.
"When self-determination and self-governance came about, when the federal government said 'it's really expensive trying to govern all of these Indians, you guys go ahead a do it for yourselves,' you have to understand there were generations of tribal nations that had never experienced tribal governance," Sneed said.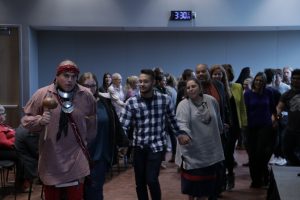 Instead of returning to tribal systems of government, Sneed said, tribes ended up adopting the corrupt systems of government that had been forced upon them for so long.
"We mimicked the system that was imposed upon us," Sneed said. "It's not our way."
Part of reclaiming their self-determination and self-governance has been through the process of tribal sovereignty, Sneed said, acting as a nation within a nation. "When I talk about individual sovereignty, I'm talking about your individual rights as a human being and then collectively as a tribe."
The Eastern Band of Cherokee Indians has exercised their sovereignty by taking over operations from the Bureau of Indian Affairs, such as the school system in 1987 and the tribal hospital in 2001.
A major key to tribal sovereignty and self-governance, Sneed said, is education.
"A literate populace that's capable of critical thinking" is essential, Sneed said. "That's not just for tribal nations, that's for human beings. Why is that? If any people are to be unto themselves a supreme and independent power regarding governance…you have to have an educated populace. Ignorant people are much easier to deceive."
Sneed's visit, along with the other activities during Cherokee Cultural Week, were organized by UNC Asheville student and EBCI member Livia Lambert, who is a community fellow for the Key Center for Community Engaged Learning and the president of the Native American Student Association. In Sneed's report to the Cherokee One Feather newspaper, he thanked Lambert for her work in organizing his visit.
"I would like to thank Miss Livia Lambert for the opportunity to educate UNCA students and faculty about the unique circumstances tribal citizens face in the modern world," he wrote. "Educating the general public about tribal issues is just one facet of my responsibility as Principal Chief, but one I take seriously.  We must educate our neighbors to garner support and understanding regarding Native concerns."
Cherokee Cultural Week reflects UNC Asheville's ongoing partnership with the Eastern Band of Cherokee Indians, which includes a memorandum of understanding (MOU) in which UNC Asheville reserves up to 10 admission slots for new, incoming, academically qualified EBCI members each semester, and the EBCI covers the students' cost of attendance. UNC Asheville also offers a Cherokee language program and an American Indian and Indigenous Studies minor.