June 15, 2018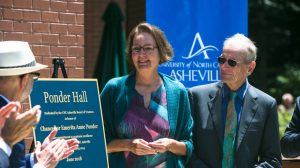 It was a golden spring afternoon, Chancellor Emerita Anne Ponder said, several years ago as she crossed campus to return to her office from watching a baseball game, that she paused while walking by the newly completed Overlook Residence Hall. "I looked up from my walk along the Karl Straus track, to see that two of the floor-to-ceiling glass spaces in what was then Overlook Hall were being used just as we conceived them. In one, a student played violin alone. In another, there were three students, and they were almost literally putting their heads together, talking through something, in an animated and near intimate way."
On a warm summer afternoon on June 15, 2018, Ponder returned to the residence hall for a special celebration, officially renaming the building to Ponder Hall in her honor.
The naming befit not only UNC Asheville's second-longest serving chancellor and her work during her nine year tenure at the university, but also her vision for UNC Asheville's students and graduates.
"I want our graduates to experience 'ponder' as a verb," Ponder said. "I want them to have a fully developed capacity to think deeply and well, in these rapid and accelerating times, I want this and future generations of students to be able to slow down, to dwell with an idea, even one diametrically opposite to their initial feelings."
Overlook Hall—now Ponder Hall—was only one of many buildings added to campus during Ponder's leadership of the largest building program in UNC Asheville's history, which included construction of the Wilma M. Sherrill Center. When it was completed in 2012, Ponder Hall became UNC Asheville's second building on campus to house solar panels; the building also is served by a geothermal system that both cools and heats the building. Ten study lounges with floor-to-ceiling windows offer views of the athletic fields and the Botanical Gardens. Ponder Hall also boasts the only rooftop study lounge on campus, and houses UNC Asheville's all-day and late-night sandwich shop.
"Those of us who have led this institution since Anne's retirement in 2014 have enjoyed the perspective that comes from following in the footsteps of visionaries," said Interim Chancellor Joe Urgo at the celebration. "We are well aware of where our opportunities originated."
"One yields to Anne, because when she speaks it is because she has something of consequence to say," Urgo said. "I have never emerged from a conversation with Anne without intellectual benefit of some kind. It is gratifying to think of students calling Ponder Hall their home, living and studying under its and her influence."
"I worked alongside Chancellor Ponder as a simple trustee at times when the university was challenged with some harmful, damaging, permanent budget reductions," said Kennon Briggs, chairman of the UNC Asheville Board of Trustees. "And through her diligent work with our legislative delegation, tirelessly, on behalf of protecting the academic core of this institution, she fought hard to make sure those cuts didn't take place."
"She's championed so many causes for this institution with her strong and determined leadership," Briggs said.
"It truly was a joy working with Anne, and becoming friends. We worked through a lot," said Buncombe County Commissioner Al Whitesides—who also has a building bearing his name on campus. To Ponder, he said, "this building is really a tribute to you, to what you've done in your nine years on board and what you continue to do for UNC Asheville."
In her remarks, Ponder thanked her colleagues for the work they did together, and took time to recognize incoming Chancellor Nancy Cable. "You will need the strengths of each of the other chancellors who have served before you, each of whom has had a lasting influence on our university," Ponder said to Cable, citing Chancellor Sam Schuman's academic erudition, Chancellor Mary Grant's public energy, Chancellor Dave Brown's entrepreneurial genius and Chancellor Pasty Reed's calm straightforwardness, Chancellor Jim Mullen's genial warmth and Chancellor Bill Highsmith's zeal that UNC Asheville would have a special mission, and with her own conviction that UNC Asheville will be the finest public liberal arts university anywhere.
"Nancy has those, and more," Ponder said. "I am excited about and confident about the future of UNC Asheville."
Interim Chancellor Urgo closed the ceremony with his own premonition about UNC Asheville's future.
"I can now imagine a very common exchange on the Quad where one student says, 'where are you going?' and the other student says, 'I'm going home to ponder.'"