January 21, 2021
Two lectures – one offering a new view of mummification in ancient Egypt on Feb. 3, and the second describing a newly discovered winery in ancient Israel on March 3, will be offered online by UNC Asheville and the WNC chapter of the Archaeological Institute of America (AIA).
The lectures, free and open to everyone via Zoom, begin at 7:30 p.m. and are part of the AIA's 125th Lecture Program that will bring leading scholars to audiences virtually across the U.S. during the 2020-21 academic year. To pre-register for access to this lecture, please visit unca.edu/events.
Feb. 3 – Who's your Mummy? Mummification as a Business in Late and Roman Period Egypt, presented by Jessica Kaiser
Jessica Kaiser is a postdoctoral researcher at the University of California, Berkeley where she earned a Ph.D. in Egyptian archaeology and bioarchaeology. A specialist in human remains and mummification who has been involved in numerous field projects in Egypt over several years, Kaiser has studied the business of mummification in later Egyptian history. Her talk will propose an alternative explanation other than "shoddy work" for the use of more expeditious techniques that produced mummies with an outwardly pleasing appearance that concealed a jumbled mess of bones beneath their wrappings.
March 3 – A Newly-Discovered Winery at Jezreel, Israel, and its Bloody Biblical Connections, presented by Jennie Ebeling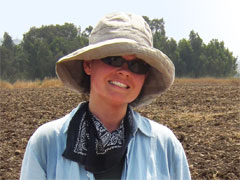 Jennie Ebeling is an associate professor of archaeology at the University of Evansville and a specialist in Syro-Palestinian archaeology. She has published widely on women and archaeology in the ancient Near East and has excavated at various sites in Israel including Jezreel, where she is currently co-director of the Jezreel Expedition. Her talk will focus on the well-preserved winery complex found at the site and offer new insights into the technology and scale of wine production in the region during the Iron Age (ca. 1200-586 BCE). The Jezreel winery also provides context for the dramatic story of Naboth's vineyard in 1 Kings 21 and the events that brought down the House of Ahab, including the gruesome death of ancient Israel's infamous Queen Jezebel.
For more information, please email UNC Asheville Senior Lecturer in Art/Art History and Classics, and President of the AIA's WNC Chapter, Laurel Taylor, at ltaylor@unca.edu.
A link to the lecture can be found here:
https://unca-edu.zoom.us/j/97745582804?pwd=c21sRVRFZWViL2tNbXdiOWo4WENRUT09