September 5, 2018
Chef and cultural historian Michael Twitty hosted UNC Asheville's fourth annual Farm-to-Table Dinner on the Quad Tuesday night, Sept. 4.
Twitty, the author of The Cooking Gene, which won the James Beard Foundation Best Book Award last year, also gave a free public lecture on the theme of culinary justice on Sept. 5.
Photos are by Emmanuel Figaro '18.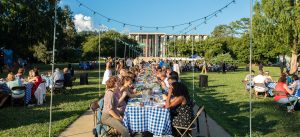 "Culinary justice," Twitty explained, "is about the people who create, the survival through oppression, having control over being able to derive benefit from the source of their survival—the food, and the culinary ideas."
Twitty's work explores the African history of the foodways of the American South—a history that has become separated from the food itself. "The food is our culture," Twitty said. "We share it, we've been sharing it."
"You cannot marginalize us, and if our food is to be celebrated, you cannot marginalize the stories behind that food," Twitty said. "It's more than just fried chicken and red rice and collard greens, and black-eyed peas, and Hoppin' John, and barbeque. It is the meaning behind those dishes, the meaning behind those foods. Macaroni and cheese was brought by James Hemmings, our first foundational black chef, of whom Patrick Henry said 'his table was half French, half Virginian in style, served in good taste and abundance.' And you know what he meant by Virginian. These are the stories we have to start telling, because our children feel disempowered."
Professor Emeritus Dwight Mullen returned to campus to introduce Twitty to the audience, drawing the connection between the culture of food and the black aesthetic artistic movement.
"Think about the preparation of that food, the growing of that food, the securing of it, the making sure that you're not just healthy, but you're happy," Mullen said. "This is the new black aesthetic, reaching across not just to black folk and changing how we feel about ourselves, it changes how the world views us. And this man is a key voice."