January 6, 2021
Looking for the story about Grace Volk, the 2021 Goldwater Scholarship award winner? Sorry that we brought you to the wrong place! You can find her story here.
Best-selling author, cultural commentator and Rutgers scholar Brittney Cooper will deliver the virtual Keynote Address for UNC Asheville's 2021 Martin Luther King Jr. Commemoration on Jan. 26, highlighting a series of events at the University that will also include an online talk on Jan. 28 about COVID and racial inequities by sociologist Whitney Pirtle of the University of California, Merced.
UNC Asheville also will present a variety of learning circles, panel discussions, art exhibitions and other events for its students, using a mix of safely-distanced in-person and online modalities, exploring the legacy of Dr. King and current struggles for racial justice and equality.
The following virtual events are free and open to everyone. Please check unca.edu/events for Zoom access information closer to the event dates.
Tuesday, Jan. 26 at 7 p.m. – Keynote Address: Reimagining Black Liberation
Brittney Cooper, associate professor of Women's and Gender Studies and Africana Studies at Rutgers, will deliver the keynote talk – Reimagining Black Liberation – for UNC Asheville's annual commemoration of Martin Luther King Jr.
Cooper is the author of the memoir Eloquent Rage: A Black Feminist Discovers Her Superpower, and Beyond Respectability: The Intellectual Thought of Race Women, winner of the 2018 Merle Curti Intellectual History Award from the Organization of American Historians.
A cultural commentator, Cooper has written for media outlets including The New York Times, Washington Post, Cosmopolitan, Ebony, and The Root. She is active on Twitter @ProfessorCrunk and is co-founder of The Crunk Feminist Collective where she blogs as "Crunktastic"; she is co-editor of The Crunk Feminist Collection – Essays on hip-hop feminism.
Cooper earned her Ph.D. in American studies from Emory University, where she had also earned her master's degree. She did her undergraduate work at Howard University where she earned bachelor's degrees in English and political science.
Thursday, Jan. 28 at 7 p.m. – COVID-19 Death Gaps: Understanding How Race and Class Inequities Shape Pandemic Health Outcomes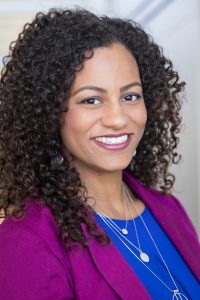 Whitney Pirtle, assistant professor of sociology and McArthur Foundation Chair in International Justice and Human Rights at the University of California, Merced, will present, and she provides this description of her lecture:
"Health sociologists have long explained how socioeconomic status, and later racism, are basic root causes of health disparities. I extend this work to argue that racial capitalism, or the idea that racialized exploitation and capital accumulation are mutually reinforced systems, structure health inequities. Furthermore, these intersecting systems are exacerbated in the face of additional forms of oppression and in times of health crises. Synthesizing early reports and preliminary empirical studies, I demonstrate how multiple, overlapping mechanisms shape the excess deaths in COVID-19 across racial lines. This analysis demonstrates that health inequities will continue to be replicated unless we can fundamentally change our unequal system."
Pirtle is an award-winning author, teacher, and mentor whose work has been published in academic journals such as Ethnic & Racial Studies, Social Science & Medicine, and Sociology of Race and Ethnicity, as well as public media websites such as The Atlantic, Huffington Post and Feminist Wire. 
She continues to research racial disparities in COVID-19, with a forthcoming article in Gender & Society urging for a structural intersectional analysis of the pandemic. In addition, her co-edited volume Black Feminist Sociology: Perspectives and Praxis is forthcoming with Routledge Spring 2021. She recently won the 2020 A. Wade Smith Award for Teaching, Mentoring, and Service from the Association of Black Sociologists.
Pirtle received her B.A. from Grand Valley State University, and earned her M.A. and Ph.D. in sociology from Vanderbilt University. At UC Merced, she has affiliations with the Public Health, and Critical Race and Ethnic Studies Departments and directs the Sociology of Health and Equity (SHE) Lab.
For more information on UNC Asheville's MLK Commemoration events and programs, please email Megan Pugh, director of the University's Office of Multicultural Affairs, at mpugh1@unca.edu.