November 19, 2019
By Tris Lashea '21
You've probably dreamed, at least once or twice, about spending some time in college studying abroad. A semester in Paris studying art, perhaps, or a summer in Italy on an archeology dig sounds like the opportunity of a lifetime. But let's be honest; it takes courage to study abroad. As a UNC Asheville student you know the value of expanding your horizons, but turning those travel dreams into a reality can feel like a real challenge. Spending an entire semester, or even a summer, studying abroad might seem completely out of reach—obstacles like affordability, taking the right classes, or even just living somewhere where you might not like any of the food, can make even the idea of studying in a different country overwhelming. But learning from multiple UNC Asheville students' study abroad experiences, along with a conversation with the Study Abroad Office, can help prospective travelers truly see what it is like.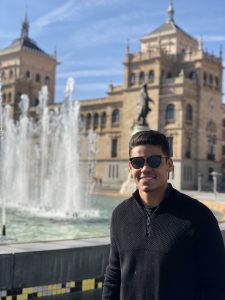 Semester and Year-Long Trips
For students looking for the full study abroad experience, there are numerous opportunities available to spend a semester, or even entire year, in countries all over the world. Luiz Dantas, a senior international student from Brazil, studied in Spain in spring 2019. He is a management major with economics and Spanish minors.
"I'm from Brazil, and coming to the United States was already a totally different experience and I had to adapt when I came here," Dantas says. "And the same thing happened when I went to Spain. Everything is completely different than you're used to."
But taking on the challenges of adapting to a new country allowed Dantas to become immersed in that culture and language, and helped him become fluent in the language, just as he did with English when he came to the United States from Brazil. Even though his native language is Portuguese, which is similar to Spanish, he wasn't fluent in it before the trip, he says.
According to Dantas, Spain was the best place for him to practice his Spanish, and being in Europe allowed him to travel to many countries in a short amount of time.
"Being on a bus ride of two hours, you're already in a completely different environment," Dantas says, "a new place where people speak a totally different language has totally different cultures, totally different: food, cuisine and all of that. Which I thought would be amazing, and I wanted to be exposed to other cultures and be outside of my comfort zone."
Ally Hibbitts, a senior studying mass communication with a management minor, went to Finland two years ago through a partner program of UNC Asheville called ISEP (International Student Exchange Program).
"I didn't have a specific country I wanted to go to," Hibbitts says. "I just more so loved the idea of going abroad and I didn't really care where I ended up. My only criterion was that I could take mass communication classes. It fit within a semester. And I really wanted to go somewhere out of the ordinary."
Like Hibbitts, students who want to study abroad don't necessarily have to have a certain place or time they want to go, the only thing they need is an interest in traveling. The Study Abroad office can help you pick out the perfect place and program for you and your major.
According to Hibbitts, doing a lot of research about the country really helped when she got to Finland, because she already knew so much about the town and culture. Still, the transition can be tough due to homesickness, time zones and stress from being in a new place.
"When I got there, I was a little homesick which is super normal," Hibbitts says. "But that caused me to kind of just hole up in my room for a couple of days and not really experienced as much."
But Hibbitts stresses that it's important to take time to adjust and then to enjoy the once in a lifetime opportunity. Hibbits' experience inspired her to become an advocate for study abroad, and she now works in the Study Abroad office.
"I think that in this day and age, especially with our generation of people, wanting to be able to connect with other people from different backgrounds, I think to be able to do that fully, we have to immerse ourselves in someone else's culture. And really the only way to do that as a student is to study abroad," she says.
Summer Faculty Led Trips
Spending a full semester abroad might not be the best fit for all students looking to turn their wanderlust into an educational experience. In that case, a shorter, faculty-led trip with a group of your fellow UNC Asheville classmates might be more your speed. Kelsey Hall is a junior who went to Ecuador in the summer of 2019 on a faculty-led trip. She has a major in environmental policy and management with minors in economics and human rights studies.
"It was absolutely incredible," Hall says of her month-long experience. "It is the best experience I've ever had, and one of the best decisions I've made while I've been at UNCA."  Hall enjoyed being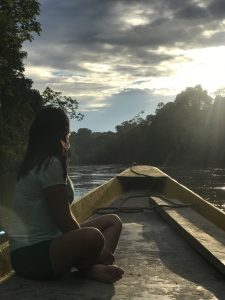 immersed in the interesting native Ecuadorian culture with the people, the food and location.
"We spent a lot of time in the Ecuadorian Amazon studying and learning about how extracted industries especially oil extraction, how they impact indigenous communities in the Amazon," Hall says.
Studying abroad experiences don't have to be confined to the classroom. Many students go to the country before or stay after the semester or program is over, to travel and explore the country more. Hall did exactly that when she went to Ecuador earlier than the program started to explore by herself.
"I definitely would highly recommend doing some independent travel if you're able to, outside of the program," she says. "I'm really glad I did it." Hall says she encourages other students to independently travel if possible because it can teach you a lot about yourself and be very empowering.
Carin Twitty, a senior studying fine arts, went to South Korea over this past summer. Twitty chose to study in South Korea because she is planning on moving there soon after graduation to teach English. Twitty says a little language study prior to her trip made a big difference in her ability to navigate around the language barrier.
"I took Korean in college so I could read the signs and talk to people for directions and things like that," Twitty says. "These days you have translation apps, and people in Korea who use translation apps on me all the time to ask me questions. It's not as hard as it seems. I'd say the easiest thing you could do is learn the alphabet; you don't have to learn the language itself."
Twitty says that studying over the summer is perfect for the price and the cultural experience that you get it over a short period of
time.
Don't Fear, Your Study Abroad Advisor is Here
Ready to embark on your own study abroad adventure? Even if you're only beginning to explore the idea of spending time learning in another country, you're bound to have plenty of questions. One of the biggest concerns students have about studying abroad is the possible language barrier. After all, college classes can be hard enough even when you do speak the language.
"Normally students are concerned about their courses being taught in English," says Madelyn Petrovich, a study abroad advisor for UNC Asheville. Fortunately, there are many universities and programs that have opportunities to have classes taught in English. Even if you are going to a country where English isn't usually spoken, you can still usually find courses that are taught in English.
"They are also concerned about financial aid and if their financial aid package can be used towards their study abroad," Petrovich said. "And the answer to that is almost always yes."
The Study Abroad office can help guide students towards the program that best fits their financial needs, class requirements, and language preferences. They can also provide information about upcoming faculty-led trips.
This year UNC Asheville is offering faculty-led summer programs in France, the Virgin Islands, China, Ecuador, Greece,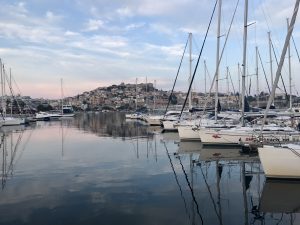 Germany, the Netherlands and Belgium, Ireland and Scotland, and Spain.
According to Petrovich, summer faculty-led trips can be a great traveling opportunity for student-athletes or students that can't swing leaving for a whole semester or year.
"Summer is good if you are not willing to just move to another country by yourself," Petrovich says. "All of the faculty that lead these trips to have a relationship with the country that they're going to. So you're going with someone who knows the country, who knows where to go, knows how to get the most out of your experience there."
The Study Abroad Office wants to help with any questions or concerns when thinking about studying abroad because it can seem scary or complicated, Petrovich says.
"It's uncharted territory," Petrovich says. "If students have any questions they can drop by during our walkout at walking hours. They can make an appointment. We're here to help you navigate this, because it's a huge process."
The Study Abroad Office is hosting a series of informational sessions during International Education Week, Nov. 18-22, celebrating the benefits of international education worldwide. Find out more about spending a summer in the Virgin Islands or Spain, try out recipes submitted by students from around the world, learn about Persian calligraphy, shop at the Weihnachtsmarkt (German Christmas Market), and more. You can find all the events here.
For more information about study abroad and their programs, please visit https://studyabroad.unca.edu/