April 23, 2020
UNC Asheville awarded five Selby and Richard McRae Scholarships to exceptional students from the incoming Class of 2024. Each student will receive $50,000 over the course of their four years at UNC Asheville.
"UNC Asheville's inaugural Selby and Richard McRae Scholars excel academically and as leaders in their communities. We welcome them to our University and look forward to supporting their academic potential, ingenuity, and leadership skills during this exciting time of their lives," said UNC Asheville Chancellor Nancy J. Cable.
An additional 39 Provost Scholarships have also been awarded, ranging from $1,000 to $5,000 bringing the total scholarship support to nearly half a million dollars for first-year students.
The McRae Scholars and Provost Scholarships are available to both in-state and out-of-state students and recognize undergraduate scholars with exceptional academic accomplishments, demonstrated leadership, and potential to be a pace-setter in their academic life and future beyond college.
Meet the First Five Selby and Richard McRae Scholars at
UNC Asheville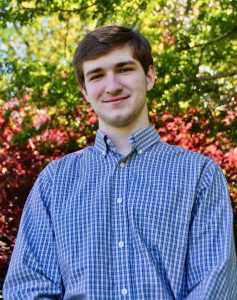 Eric Dunbar from Lilburn, Georgia is home-schooled and dual enrolled at Georgia State University, where he has been named to the Dean's List and President's List. Dunbar was the lead programmer and webmaster for Toaster Teach FRC #5332 robotics team, and the team won the Region and Spirit & Innovation Awards in recent competition. He plans to study computer science at UNC Asheville and has undergraduate experience as an intern at a Georgia State University analytical chemistry lab where he has compiled data and presented findings of his research on the concentration of caffeine in soda with Dr. John Brock, associate professor of analytical chemistry and toxicology at UNC Asheville. He is a volunteer with Great Pyrenees Rescue Atlanta and has worked with the Yellowstone Youth Conservation Corps where he assisted park rangers patrolling and maintaining the park, conducting scientific research, and guiding park visitors. He is also a six-time overall champion in American Ninja Warrior XOL and is an American Ninja Warrior Coach, professionally training individuals for competition.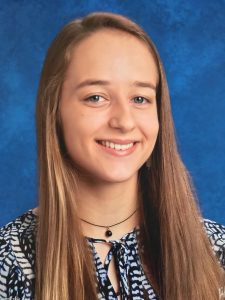 Ariona "Ona" Elkins from Asheville, North Carolina is a senior at A.C. Reynolds High School and is an AP Scholar with Honors. She earned the North Carolina High School Athletic Association (NCHSAA) Scholar-Athlete Individual Award, has been named an Amateur Athletic Union (AAU) Academic All-American, and was featured as an Asheville Citizen-Times Athlete of the Week. She has led the varsity volleyball team as captain since the 10th grade. She also is captain of the Xcel Volleyball performance team and has committed to playing NCAA Division I volleyball at UNC Asheville. In addition, Elkins is an AC Reynolds Junior Marshal, student body treasurer, a member of the National Honor Society, and alto section leader for the AC Reynolds Advanced Chorale. She serves as vice president for Girl Up, an organization that empowers women by promoting awareness of issues that disproportionately affect girls and by providing methods of transportation to school. She plans to major in political science at UNC Asheville.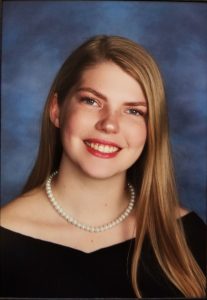 Gillian Gavenus from Burnsville, North Carolina, is a senior at the North Carolina School of Science and Mathematics, who also was accepted into the school's Senior Research Mentorship Program and worked with Dr. Stuart Pimm at Duke University assisting in his lab with research on how to prevent present-day extinctions. She plans to continue her undergraduate education and research at UNC Asheville as an environmental studies major with a minor in biology working with Assistant Professor of Biology Graham Reynolds on National Geographic Society-funded projects. She aspires to be an environmental scientist, biologist or conservationist. In addition to her academic accomplishments, which include a bronze medal for the National French Exam, acceptance into the US Naval Academy Summer STEM Program, membership in the National Honor Society and Mu Alpha Theta International Mathematics Honor Society, for which she has served as president, she has served in many leadership roles. As a senior, she served as a resident life assistant on her dorm hall building a community on hall through active hall programming, acting as peer mediator, and serving as a resource for residents with academic or community related issues. As club leader for NCSSM Habitat for Humanity she coordinated builds, student recruitment and arranging transportation. She sings soprano in the Chamber Ensemble, is co-host of the popular Koffeehouse, a monthly student talent show, and also serves as a leader for Yoga Club. While a student at Mountain Heritage High School she served as president of both the Math and Astronomy Clubs, activities coordinator for the Eco Club, and has worked with Blue Ridge Resource Conservation & Development taking water samples, organism samples, and supervising children's camp activities and hikes. She has coached youth league soccer, played Varsity soccer and was a Varsity swimmer for NCSSM swim team. In 2019, Gavenus received the NC Governor's Volunteer Service Award for Yancey County.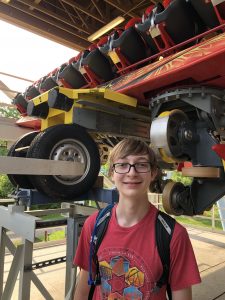 Ethan Hawley from Grimeland, North Carolina, is a senior at the North Carolina School of Science and Mathematics, where he focuses on robotics and engineering with a goal of becoming a roller coaster engineer. He has served as the First Robotics chairman and marketing team lead for Team 2682, and the team was a World Champion Finalist. He also is a member of the NCSSM High Power Rocketry Team, which designed and built a supersonic rocket. He works as a teaching assistant at the NCSSM Fabrication Lab where he instructs students on tools and assists in making items for the school, and he is an Eagle Scout and webmaster for Boy Scouts of America ECC Troop 46. He plans to major in mechatronics at UNC Asheville, through a joint program with NC State, and he's already advanced his goal of becoming an engineer by going behind the scenes with engineers at Dollywood and Busch Gardens, as well as teaching himself Fusion360 3D modeling and roller coaster modeling software NoLimits 2 which creates realistic and comprehensive simulations of rides through a spline-based model.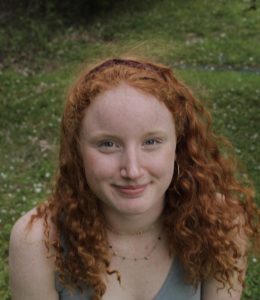 Addison Wright from Nashville, Tennessee, is a senior at the Hume-Fogg Academic Magnet High School. She has received two Coaches Awards for swimming and is a swimmer on the Varsity swim team at Ensworth Aquatics & Hume-Fogg Swim Team. She has committed to swim at the NCAA Division I level at UNC Asheville and plans to study English with a certificate in Food Systems and Culture. She has served as senior editor for the Hume-Fogg yearbook, leads a small group at her local youth group, and volunteers for Book'Em Literacy nonprofit where she writes content for the blog and newsletter, and sorts books for underserved students. She is vice president for the Hume-Fogg National Honor Society. Wright also serves as a swim instructor for children ages 2-10 at Ensworth swim school. She enjoys photography, piano, and writing.
About the Selby and Richard McRae Scholarship at UNC Asheville
Each McRae Scholar receives $10,000 in scholarship support each year for four years with an additional $10,000 to support study abroad, undergraduate research, and internships, which are all hallmarks of the historically strong liberal arts and sciences education at UNC Asheville. The McRae Scholarships are funded by the Selby and Richard McRae Foundation through a gift of $250,000. It provides entering students with opportunities to acquire the skills, knowledge, and problem solving necessary to pursue their goals and take their places as leaders and engaged citizens in a rapidly changing society.
The McRae Scholarship is one of many offered by UNC Asheville, with scholars chosen through a rigorous selection process. Finalists are also considered for Provost Scholarships, numerous academic department scholarships and the Pisgah Scholars Program, which is a comprehensive scholarship program to first-time applicants. Students seeking to transfer to UNC Asheville can also be considered for merit-based scholarships. To apply, go to unca.edu/apply.