December 21, 2018
Before the main Commencement Ceremony honoring our graduating Bulldogs takes place, groups of students gather with their families and loved ones to celebrate their accomplishments in three special ceremonies: Lavender Graduation, Veterans Graduation, and Donning of the Stoles.
Jordan Perry, UNC Asheville's healthy campus liaison, addressed the graduates who attended Lavender Graduation on Dec. 3, 2018, a ceremony honoring students of the LGBTQIA community and allies.
Perry offered advice for the graduates, as well, encouraging them to speak kindly to themselves, to be unafraid to apologize when they make mistakes, and to spend more time with the people and in the places that fill them joy.
"Nothing I can say right now can be more inspirational than your existence," Perry said. "Being queer and trans in the world that seeks to erase, deny, eliminate our existence takes immense strength. And on top of that, you're graduating from college…. Your existence is resistance, and the world desperately needs you."
The Veterans Graduation ceremony on Dec. 12, 2018 honored our veteran students for their accomplishments at UNC Asheville and for their service in the military.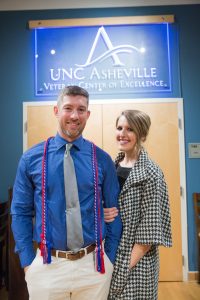 "This is the time where we as a university believe it's extremely important to celebrate your graduation, but also to recognize what you've also offered to our country, through your service and your sacrifice, and also to our university, by bringing all of that which is you, with you," said Bill Haggard, vice chancellor for student affairs.
Finally, on Dec. 13, Donning of the Stoles recognized and celebrated students from diverse cultural backgrounds and their accomplishments. The ceremony was kicked off with a performance by Toby King, assistant professor of music, and an African percussion ensemble.
Chief Eric Boyce offered the graduates congratulations and advice based on his own life lessons.
"Your journey will be a fulfilment of your purpose and your potential," Boyce said. "History has taught us over time that people in marginalized communities often encounter challenges that we have to overcome, we have challenges with resources, we have challenges with access—I stand here before you today and you are in a better place than I was when I sat in your seat. Continue to tackle those challenges every day."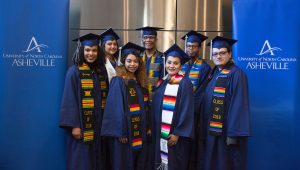 Boyce's advice for tackling those challenges was simple: "Start where you are, work with what you've got, and do the best you can."
All 225 of UNC Asheville's graduates were honored the next day, Dec. 14, at the university Commencement Ceremony.