August 15, 2019
By Peyton Rodgers '20
Whether you're searching for a sport to play, a craft to make, a space to relax and meditate, or a club focused on educating about a specific topic, UNC Asheville has a club for all your interests and desires. Not sure where to start? Here are some of our unique and exciting clubs created to make your Bulldog experience even more than you hoped for.
Brazilian Jiu Jitsu
Brazilian Jiu Jitsu, a martial arts practice, is a great way to challenge yourself while competing in tournaments with your teammates.
Whether you're here for competition or just some fun exercise, in each practice you'll engage in a lesson about a new technique and submission. After each lesson, you and a partner will practice what you've learned through a drill along with moves you have learned in previous lessons.
"First off it's a martial art, but second it's like a grappling martial art," said 2018-19 president Chris Schweitzer Schweitzer said. "In Jiu Jitsu there's no striking, we don't punch, we don't kick and a lot of it takes place on the ground."
Schweitzer says the physical fitness of the opponent doesn't matter when competing in Brazilian Jiu Jitsu.
"It's not like the dude who benches most at the gym is going to regularly beat everyone in the room. You have to deal with what you know," Schweitzer said.
Avery Waters, vice president of the Brazilian Jiu Jitsu club, likes that he never stops learning at practices.
"I think the part I like about it is that I came from playing high school sports, so it's a way that I can still compete, but it's still very relaxed and fun," Waters said. "I'm always learning something."
Many of the teammates appreciate that the sport is both mentally and physically challenging.
Brazilian Jiu Jitsu meets throughout the week and attends at least one tournament every semester in various locations.
Mindfulness Club
Lisette Gallaher and Nina Hendrickson, who both graduated in May, were the 2018-19 co-presidents of UNC Asheville's Mindfulness Club. The club focuses on promoting a healthy mind and body while taking on daily challenges.
Club meetings are once a week and consist of a multitude of different activities that help focus on keeping a healthy mind through, what may be for some people, a chaotic life.
"It's not the same thing every week," said Lydia Senghas, another recent graduate who majored in anthropology. "We're trying to bring attention to present moment awareness, but we use different methods every week like creating mandalas out of flower petals, or a lot of art-based activities like going for a walk or having a discussion about technology. Sometimes it's totally across the board."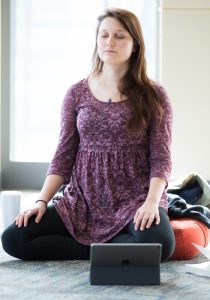 The club's uniqueness starts with the people who attend the meetings. With each individual coming from a different background, they all have something special to contribute each meeting.
"What I think is unique about our groups are the individuals that make up the group," said Senghas. "We're all coming from really different disciplines on campus, we all have different majors which is really interesting because a totally different person will lead each week bringing their strength to the table. Whether it's meditation or a discussion-based topic or an activity, we do a lot of things."
Colleen Koehler, a senior psychology student, said she hopes the club meetings are a safe space for many students.
"I want people to come and discover something about themselves," Koehler said. "Sometimes, not every time but sometimes, there can be a lot of vulnerability that comes out and makes a connection about things that usually aren't talked about, which I think is really cool on a campus setting while experiencing a lot of classes…. I think that's a cool revolution."
Ultimate Frisbee- Women's
When describing what Ultimate Frisbee is, Kat Schubert, 2018-19 captain of the women's Ultimate Frisbee team, felt only one word was necessary: eclectic.
"One of the defining features of Ultimate is a concept called 'spirit of the game,'" Schubert said. "It's essentially being competitive while at the same time still not having competition to the point of ruining the enjoyment of the game."
The spirit of the game is especially important because the players are their own referees, Schubert said.
"Because the game is self-officiated, without some moral guideline it can be really easy to drive to the point of being unreasonable and not having fun anymore," she explained. "And if you're not having fun, what are you doing?"
Each practice consists of a warm-up, drills, an introduction to a new technique and then a few extra drills to work on what you've learned at practice.
Schubert enjoys the experience that comes with Ultimate Frisbee tournaments and the opportunity it gives the team to grow in their relationships with each other.
"Practicing is all well and good and is where we build foundation, but tournaments are where you really come together as a team. It's where you get to know each other and develop some chemistry; it's when you find out who you really are as a team," Schubert said.  "There's so much time for team bonding, both on and off the field, but it's a growth opportunity like nothing else."
The women's Ultimate team isn't just about the sport, it's also about the community.
Sara McKee, 2018-19 vice president of the team, appreciates both the sport and the people she plays with.
"The community's great. It's very positive and I feel really included," McKee said.
During her experience on the team, she has not only learned the techniques of the sport, but also great team building skills that can be utilized in future endeavors.
Cross Country and Track
If you're someone that enjoys running, competitive or casual, the Cross Country and Track Club is a great way to beat your personal record and meet students that also crave the runner's high.
"Running has been something that I've always done. I love running and I started running devotedly junior year of high school," said Branden Schulte, 2018-19 club vice president. "It's a really good feeling of being able to go out and run. It's a way of betterment for me; it makes you feel good."
Competitive runners tend to practice three or more times a week, while casual runners come out for runs about once a week.
The Cross Country and Track Club competes in meets against other schools and is scored individually.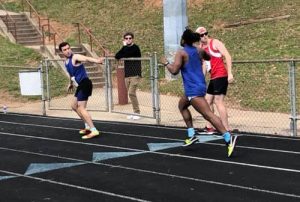 The team doesn't just enjoy running, they also enjoy spending time together outside of practice.
"We promote ourselves more of a social group. We love interacting with all of our teams and everybody that's on it," Schulte said.  "We love getting together and doing things together, whether it's getting together and having lunch or dinner at Brown after practice, or going to downtown just walking around and getting ice cream. We're a very social group."
Byron Hollowell, a mechatronics engineering student, is a long-distance runner for the Cross Country and Track club.
Hollowell says he enjoys club running because it gives him the opportunity to run with others and still allows him time to focus on his school work.
Equestrian Club
Leigha Johnston, 2018-19 captain of the Equestrian Club who graduated in May, has enjoyed riding horses since she was 5 years old.
Equestrian Club has two categories: the competition riders and club riders.
Club riders meet once a month at stables off campus for lessons, while competitive riders may practice at the stables weekly. Lessons and competitions carry extra fees.
Johnston now carries her passion with her along with her team to the Intercollegiate Horse Shows Association to compete with other people who have the same passion for horseback riding.
"I love showing; I think it's such a cool way to get to know other girls and people from other schools, and other people who are in the same sport as me" Johnston said.
Shows are typically hosted on Saturdays starting at 8 a.m. going from the highest-level riders, flowing through different level ranks.
"It's really cool to watch all the really good advance people go and then you get to ride after that," Johnston said. "It makes it more of a learning experience."
The club not only enjoys riding together, but they also enjoy taking care of the community. They have participated in roadside cleanup, volunteer work with Brother Wolf Animal Rescue and decorating for school events such as Homecoming.
Johnston said she has gained a lot of self-confidence due to the individual aspect of Equestrian Club, and appreciates the club since she is still a part of a team.
Kink and Sex Education Club
Tori Royal, a sophomore and founder of Kink and Sex Education Club (KASE), was inspired to start this club after listening to a podcast about the importance of being educated on safer sex.
"The goal of our club is to educate the campus community about safe sex practices, as well as redefine how they interact with sex in general—that meaning reframing understanding of consent, gender, sexuality, as well as sexual freedom, and deconstructing racist, homophobic, sexist, transphobic, etc. outlooks on sex, especially in the sex industry, and in our lives," Royal said. "Our goal is to cultivate a campus community that has a better and healthier understanding of their relationship with sex."
Some of the things that are covered in the meetings are BDSM, non-kinky sex education, an inclusive guide to safer sex, designing your relationships and more.
Royal expects that their favorite part will be the opportunity to be educated by the club members.
"Though I'm leading and creating these classes, I'm excited to make connections in the on-campus and off-campus sex and kink inclusive community and learn more about myself in the process," Royal said.
To find out more about all the clubs, student orgs, sports, and more, be sure to check out the Student Involvement and Resource Fair from 11:30 a.m. – 1:30 p.m. on Tuesday, Aug. 20, 2019 on the Quad. You can also learn more at https://unca.presence.io/organizations and https://recreation.unca.edu/sport-clubs.