September 25, 2019
UNC Asheville's Visiting Writers Series will feature three free readings and talks this fall by writers who have made their mark nationally.
Wally Lamb, the author of six New York Times best-selling novels who may be even better known for helping develop and publish the writing of women in prison, will speak on campus. Poet and educator Jericho Brown, winner of the American Book Award, will also come to UNC Asheville to read and discuss his writing. And the series will begin with two newly published writers and UNC Asheville graduates – Mesha Maren, whose debut novel was reviewed in The New York Times by Charles Frazier, and M. Randal O'Wain, whose first book will be published in October.
Oct. 6 – The Katherine Min Memorial Reading by Mesha Maren and M. Randal O'Wain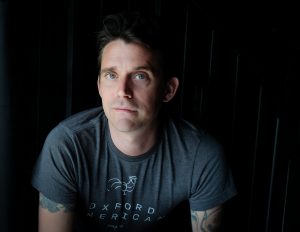 Mesha Maren's Sugar Run debuted in January to unusual fanfare, including a feature on public radio's The State of Things, a review in The News & Observer, and these words of praise in The New York Times from Charles Frazier: "The literary lineages here are hard-boiled fiction and film noir, but on every page of her debut novel, Mesha Maren creates bold new takes on those venerable genres, a much needed refresh of worn tropes and clichés."
For this event, Maren will revisit campus with fellow 2012 graduate M. Randal O'Wain – the two worked together as co-editors of Headwaters, UNC Asheville's student literary and arts journal, and as mentors of other students in the university's Writing Center. O'Wain was the 2009 winner of the Thomas Wolfe Award for Fiction, a prize won five years later by Maren. O'Wain's memoir, Meander Belt: Family, Loss, and Coming of Age in the Working-Class South, will be released in October by University of Nebraska Press, and his Hallalujah Station and Other Stories is forthcoming next year from Autumn House Press.
Both Maren and O'Wain studied with the Katherine Min, the late writer and UNC Asheville faculty member who was a mentor to many budding writers at the university. She died in March after a long battle with cancer and this will be the inaugural Katherine Min Memorial Reading in her honor. This free event takes place at 7 p.m. on Sunday, Oct. 6 in Karpen Hall, Laurel Forum.
Oct. 29 – Reading by Wally Lamb
Wally Lamb is the author of six New York Times best-selling novels. His first two, She's Come Undone and I Know This Much Is True, were No. 1 New York Times bestsellers, New York Times Notable Books of the Year, featured titles of Oprah's Book Club, and between them, have been translated in 18 languages.
Lamb has said of his fiction, "Although my characters' lives don't much resemble my own, what we share is that we are imperfect people seeking to become better people. I write fiction so that I can move beyond the boundaries and limitations of my own experiences and better understand the lives of others. That's also why I teach. As challenging as it sometimes is to balance the two vocations, writing and teaching are, for me, intertwined."
Lamb was in the ninth year of his 25-year career teaching high school English in his native Connecticut when he began to write fiction. And for the past 20 years, he has extended his teaching into Connecticut's York Correctional Institution, a maximum-security prison for women. Lamb's writing workshop there has led him to edit and gain publication for two anthologies of the women's autobiographical essays: Couldn't Keep It to Myself: Testimonies from Our Imprisoned Sisters and I'll Fly Away. Lamb was also associate professor at the University of Connecticut, where he directed the English Department's creative writing program.
Lamb is UNC Asheville's Goodman Endowed Visiting Artist for fall 2019. His reading is free and takes place at 7 p.m. on Tuesday, Oct. 29 in the Highsmith Student Union, Blue Ridge Room.
Nov. 14 – Reading by Jericho Brown
Acclaimed poet Jericho Brown won the American Book Award for his first book, Please, and his second book, The New Testament, was named one of the best poetry books of the year by Library Journal. Brown's third anthology, published earlier this year, questions why and how we've become accustomed to terror: in the bedroom, the classroom, the workplace, and the movie theater.
"In Brown's poems, the body at risk — the infected body, the abused body, the black body, the body in eros — is most vulnerable to the cruelty of the world," wrote poet Maya Phillips in her review in The New York Times. "But even in their most searing moments, these poems are resilient out of necessity, faithful to their account of survival, when survival is the hardest task of all: 'So the Bible says, in the beginning, / Blackness. I am alive.'"
A native of Shreveport, Louisiana, Brown is the recipient of many prizes and grants, including fellowships from the Guggenheim Foundation, the Radcliffe Institute for Advanced Study at Harvard, and the National Endowment for the Arts. His poems have appeared in The Bennington Review, Buzzfeed, Fence, jubilat, The New Republic, The New York Times, The New Yorker, The Paris Review, TIME magazine, and several volumes of The Best American Poetry. He is an associate professor and the director of the Creative Writing Program at Emory University.
Brown's reading, a free event, begins at 7 p.m. on Thursday, Nov. 14, in the Highsmith Student Union, Blue Ridge Room.
For more information, please contact UNC Asheville's Department of English, at 828.251.6411 or visit english.unca.edu.