August 12, 2021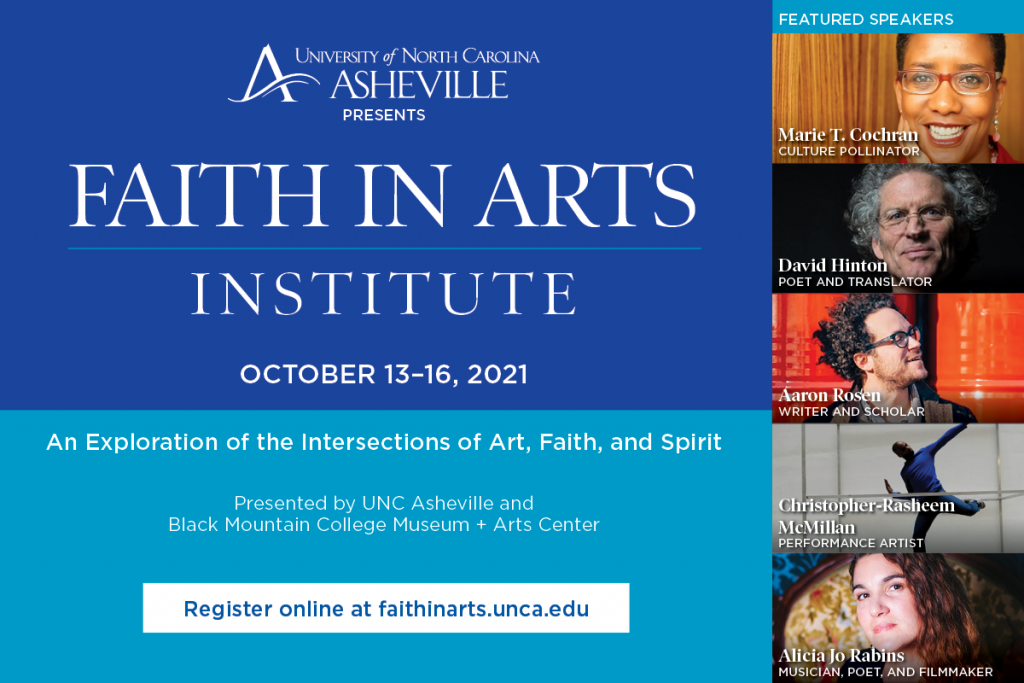 This fall, the Faith in Arts Institute will bring together artists, creatives, and scholars to celebrate and explore the intersections of faith and arts. The multi-day festival, happening October 13-16, 2021 in the heart of Asheville, NC, will feature a combination of free public performances, lectures, and film screenings, plus intimate registration-only institute workshops and contemplative practices. Events will take place on campus at the University of North Carolina Asheville and downtown at the Black Mountain College Museum + Arts Center. A full lineup of participants and performers is below.
Can our experience of the arts – as creators, listeners, viewers, readers – and the ways we talk about those experiences, offer us a way to also talk across what might otherwise divide us? The Faith in Arts Institute proposes this question while providing a platform to celebrate artists and creatives who draw on spiritual or religious practices as an influence in their work and exploring ways that arts have played a role in spirituality and religion. Through workshops, lectures, performances, and exhibitions, the Faith in Arts Institute engages attendees in contemplative and reflective practices while providing a welcoming space intended to evoke open and honest dialogue. Together, performers and presenters will join institute participants in thoughtful discussions, powerful performances, and evocative film screenings.
"Perhaps the arts themselves can open us to new possibilities in our own spiritual or religious lives or help those of us who are secular to discover similarities between our experiences of the arts and experiences of those who engage in religious or spiritual practices," says Faith in Arts founder Richard Chess, a professor emeritus of English at UNC Asheville who recently retired after directing UNC Asheville's Center for Jewish Studies for 30 years. "The Faith in Arts Institute will offer us a rich opportunity to explore these possibilities."
The thoughtfully curated programming of the Faith in Arts Institute is elevated by its diversity and noteworthy guests and performances. A few of the events taking place over the four-day event include poet and acclaimed translator David Hinton leading a discussion on Ch'an (Zen) insight and how Ch'an shaped the arts in ancient China and beyond; artist and pollinator Marie T. Cochran guiding a talk following the screening of her film Testify, Beyond Place, an homage to the 85th anniversary of the Mount Zion African Methodist Episcopal Zion Church's demolition and gravesite removal in Cullowhee, NC;  musician and filmmaker Alicia Jo Rabins showing her film A Kaddish For Bernie Madoff, a hybrid musical memoir and narrative fantasy; art critic and author Kay Larson examining "John Cage's Lecture on Nothing and Its Inspirational Value for the Visual Arts"; and, choreographer and scholar Christopher-Rasheem McMillan exploring 'Danced spirituals' as African American liturgical and artistic acts.
"The interdisciplinary nature of the project invites audiences to re-examine what theology means in the context of their own lives, the public sphere, and settings or fields of inquiry they may not have previously associated with religion," said BMCM+AC Executive Director Jeff Arnal. "Connecting these conversations to Black Mountain College, the programming demonstrates the ways both faith and art cross disciplinary and geographic borders, and offers audiences an entry point for examining such issues in the context of this region's rich history."
Originally slated for May 2020, the original Faith in Arts Institute launch was interrupted by COVID-19 restrictions. "Perhaps now more than ever," says Chess, "we are seeking meaningful ways to connect with one another. The Faith in Arts Institute provides a platform for us to come together and reflect on matters of the deepest meaning to us. What better way to do so than by engaging with powerful works of art that nourish our souls."
A limited number of Faith in Arts Institute passes are now on sale for $60 at faithinarts.unca.edu/ and blackmountaincollege.org/faith-in-arts/. Passholders will be admitted to all events including intimate workshops, contemplative practices, and small group conversations which will be limited to Institute participants only. A variety of other performances, screenings, and talks will be free and open to the public as indicated.
For more information including a full schedule, visit faithinarts.unca.edu/
The Faith in Arts Institute is presented by UNC Asheville and Black Mountain College Museum + Arts Center with support from the Center for Jewish Studies at UNC Asheville, the Osher Lifelong Learning Institute at UNC Asheville, Warren Wilson College, a grant for the humanities from The Andrew W. Mellon Foundation, the Henry Luce Foundation as part of their Theology Responsive Grant program, the Center for Contemplative Mind in Society, and Bob and Carol Deutsch.
Faith in Arts Institute 2021 Participants and Performers
Kimberly Bartosik – Choreographer
Julie Levin Caro – Art historian, Warren Wilson College
Curt Cloninger – New Media Artist and Author (Hot-Wiring Your Creative Process), UNC Asheville
Marie T. Cochran – Installation Artist and Culture Pollinator
David Hinton – Poet and Translator
Rachel Elizabeth Harding – Historian, Poet, and Essayist
Jessica Jacobs – Poet (Take Me with You, Whenever You're Going)
Kay Larson – Art Critic and Author (Where the Heart Beats: John Cage, Zen Buddhism, and the Inner Life of Artists)
Thomas Moore – Pianist
Alicia Jo Rabins – Poet, Musician and Filmmaker, A Kaddish for Bernie Madoff
Christopher-Rasheem McMillan – Performance artist
Aaron Rosen – Writer and scholar
About Black Mountain College Museum + Art Center
The Black Mountain College Museum + Arts Center preserves and continues the legacy of educational and artistic innovation of Black Mountain College (BMC). It achieves its mission through collection, conservation, and educational activities including exhibitions, publications, and public programs. Arts advocate Mary Holden founded BMCM+AC in 1993 to celebrate the history of Black Mountain College as a forerunner in progressive interdisciplinary education and to explore its extraordinary impact on modern and contemporary art, dance, theater, music, and performance. Today, the museum remains committed to educating the public about BMC's history and raising awareness of its extensive legacy. Its goal is to provide a gathering point for people from a variety of backgrounds to interact through art, ideas, and discourse. More at www.blackmountaincollege.org.
About UNC Asheville
UNC Asheville's national reputation for empowering human potential is rooted in its unique student-centric public liberal arts and sciences mission. UNC Asheville thrives on close-knit connections among students and their faculty and staff mentors. The University's 3,300 students are innovative, ethical, creative and resilient leaders who seek to understand complex global challenges and find creative, sustainable solutions that benefit our communities and the world. More than 65 percent of UNC Asheville students conduct applied research alongside faculty experts. UNC Asheville consistently ranks as a national top 10 Public Liberal Arts and Sciences University by U.S. News & World Report, and on its list of Most Innovative Schools. UNC Asheville regularly earns several national top 20 rankings in The Princeton Review's "The Best 386 Colleges," including Best Quality of Life, Town-Gown Relations, and UNC Asheville has ranked in the top two nationally for the "Best Schools for Making an Impact," in The Princeton Review's "Colleges that Pay You Back." Learn more at www.unca.edu.