February 12, 2021
by Tris Lashea '22
This semester the Career Center is showcasing events and workshops to help students advance in the career world. This month, February, the workshops will educate you on things to take with you throughout your work journey such as race advocacy in the workplace and resumes.
Race Advocacy in the Workplace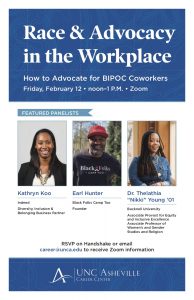 How to Advocate for BIPOC (Black, Indigenous, and People of Color) Coworkers
This online panel discussion on Feb. 12, from noon-1 p.m., will help attendees focus and practice working on an organization Diversity, Equity, and Inclusion allyship with BIPOC colleges in the workplace by also voicing for BIPOC. 
Celebrate Black History month by educating yourself on how you can be an advocate for BIPOC colleagues in your workplace and career. This panel is lined up to discuss how employees, especially those with privilege, can make equitable workplaces all while avoiding mistakes that are maintaining the status quo. Job seekers also can benefit from the workshop by learning how to identify companies that are making genuine strides toward dismantling systemic racism in the workplace. This panel workshop is beneficial for employers, employees, students, and job seekers to take a step into making the workplace–and beyond– more equitable.
The panelists include:
Kathryn Koo, Indeed, Diversity, Inclusion, and Belonging Business Partner
Earl B. Hunter Jr. Founder of Black Folks Camp Too
Thelathia "Nikki" Young '01, Bucknell University Associate Provost for Equity and Inclusive Excellence. Associate Professor of Women and Gender Studies and Religion
The three panelists will be discussing BIPOC workplace experiences, including tokenism and common mistakes "well-meaning" colleagues make. They will also answer questions about the concrete steps that organizations can take after putting out a statement of support, and how white colleagues can advocate for their coworkers and elevate BIPOC voices. The panelists will share advice on finding work where their voices are valued and promoted. There will also be an opportunity for audience members to ask questions.
The event is free and open to registration for all. Please email career@unca.edu to register; you will then get a calendar invitation for the zoom meeting information.
Resumania & Resume Workshop- Week of February 22nd to 26th
Resumania is an extended event to focus on resume and review services that last for the week of February 22 – 26.  It's never too early to work on your resume, so this is a great opportunity for any academic year. Students can either have a resume ahead of time or be starting from scratch! Just come ready to learn.
"We hope that students will gain information about best practices for writing resumes and gain a direction for their resume moving forward," says Cate Marshall, student engagement coordinator for the Career Center.
Resume Workshop: February 23 from 4- 5 p.m.
This event is free and registration is open for everyone who needs a resume or to work on their resume. Learn best practices for writing resumes and making them the strongest they can be. Students can expect to learn resume best practices and strategies for improving their current resumes. If you are unable to attend the workshop, please feel free to make an appointment with the Career Center via Handshake to review and work on your resume which is always available throughout each academic year.
Register for the workshop through Handshake at https://unca.joinhandshake.com/events/618173?ref=school-show-upcoming-events.
Keep an eye out for more Career Center events in March and April such as:
Interviewing workshops, March 23, 4 to 5 p.m.
Salary negotiation workshop, March 30, 4 to 5 p.m.
Budgeting workshop, April 6, 4 to 5 p.m.
Cover Letter Week, March 8-12
Internship event, March 4th 12 to 1 p.m.
And many more. For more information please check out the Career Center website and Handshake.