July 16, 2020
With nearly $10,000 in grant funding secured by UNC Asheville faculty members Tiece Ruffin and Agya Boakye-Boaten, a new reading initiative is being launched this summer. The initiative, "Relevant, Responsive & Fun Family Literacy Toolkits," takes the form of distributing books and activities specially designed to be enjoyed together by families with children who are receiving free summer meals via Asheville City Schools.
Books purchased through local independent bookstores and toolkits will reach some 160 families through the meal distribution sites at Hillcrest, Klondyke, Pisgah View, and the Asheville City Schools Family Resource Center at Isaac Dickson Elementary School. Distribution will begin on July 27. Funding for the initiative is provided by a Citizen Diplomacy Action Fund Rapid Response grant from the U.S. State Department.
Books featuring Black protagonists and written by African American authors have been selected for this initiative by Ruffin, Boakye-Boaten and the two community partner organizations – the Colorful Pages Coalition and Read to Succeed Asheville/Buncombe – in part to address the "opportunity gap" among Asheville City Schools students, but also with a larger social purpose.
"Our hope is for students to see themselves reflected in positive, powerful, and affirming ways. This work is so valuable right now. Black children deserve to feel good about themselves, to feel good about who they are and where they come from," said Jeannie Curtis, Punam Medina, Bianca Gragg, leaders of the Colorful Pages Coalition, which is focusing on books and activities for students in grades 4-9. "Dr. Ruffin's and Dr. Boakye-Boaten's initiative provides Black families with thoughtfully created literacy kits that engage the whole family and is rooted in the understanding that our Black families have so much to offer."
"We're trying to make sure the books are not just about civil rights or slavery – the trauma of Black people – but also engaging children's literature that talks about other parts of the African American experience," said Ruffin, associate professor of education and Africana studies at UNC Asheville. "The companion activities we're developing with our community partners include phonemic awareness for the youngest readers, discussion prompts, ways to unpack vocabulary, artwork, and things like creating 'found poems' using phrases from the book."
"We are also trying to move away from the all-digital learning environment kids have been in since March, and we know that access to libraries will be very limited," said Boakye-Boaten, associate professor and chair of UNC Asheville's Interdisciplinary and International Studies Department. "Many of these students don't have equal access to digital tools, so we want to support literacy learning by getting physical books into their hands and maybe reintroduce the culture of reading physical books." And Ruffin adds, "they can keep the books, read them over again and share with younger siblings – they don't need to return them."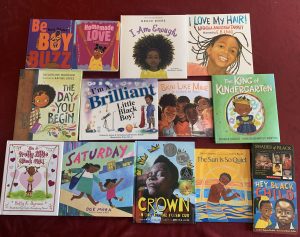 "The very presence of books and reading materials in the home has been shown to improve reading outcomes for young students, and through the relevant, engaging games and activities included in these literacy kits, children will also discover that reading can be fun and rewarding," said Read to Succeed Asheville/Buncombe Executive Director Ann Flynn, whose group is focusing on the youngest readers, from pre-K to third grade. "Read to Succeed Asheville/Buncombe is thrilled to partner with Tiece, Agya, Colorful Pages Coalition, and Asheville City Schools on this creative and unique literacy initiative."
Ruffin and Boakye-Boaten were eligible to apply for this funding because they are alumni of U.S. government exchange programs – both have worked in Ghana to lend their expertise to schools in that nation as part of the U.S. State Department's Fulbright Program. With global travel restrictions this year preventing most exchange efforts, the State Department has instead invited its exchange program alumni to apply for Citizen Diplomacy Action Fund Rapid Response grants, providing between $500 and $10,000 in funding for domestic initiatives designed to support community resilience and engagement in the face of the COVID-19 pandemic.
"We are very grateful our grant was selected in a very competitive process," said Ruffin, who conceived the program together with her colleague Boakye-Boaten. "Agya's doctorate is in cultural studies in education, and I have licensure in reading and special education. So we were thinking, 'how do we combine our knowledge to do something that is culturally affirming and relevant, that is literacy-based, and also bring in community partners?' When you bring expertise from the university, and expertise from community organizations, then you create a 'communiversity' for the good of the community, and in higher ed, our work should be community-engaged."