September 20, 2022
The Center for Native Health, UNC Asheville, the Ray Kinsland Leadership Institute (RKLI), and Tsali Care are partnering to develop ᎠᏏᎾᏏ  ᏃᎴ ᎠᏙᎴᏆᏍᎩ  "asinasi  nole  adolegwasgi": Cherokee Potters Master Apprentice Program. This collaborative project, funded by a SOUTH Arts In These Mountains: Central Appalachian Folk Arts & Culture Project Grant, will support projects that promote sharing, teaching, learning, preserving, documenting, and supporting the continuity of the folk arts and traditional culture of Central Appalachia.
ᎠᏏᎾᏏ  ᏃᎴ ᎠᏙᎴᏆᏍᎩ  "asinasi  nole  adolegwasgi" is designed to be a knowledge and cultural exchange by exposing emerging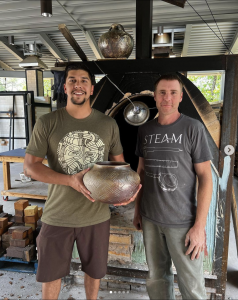 Cherokee potters to pottery techniques and technologies, particularly the use and maintenance of kilns, to incorporate into their own cultural knowledge. In return, participating faculty, staff and students at UNC Asheville will gain a deeper understanding of Cherokee culture, particularly traditional arts. 
"This program fits directly into our mission by developing positive relationships and projects that are community based with the direct goal of interrupting the devastating effects of historical trauma," said Trey Adcock, executive director of The Center for Native Health and director of American Indian and interdisciplinary studies at UNC Asheville. "The loss of language and culture in Indigenous communities directly impacts the health outcomes of individuals and communities as a whole, so for the Center for Native Health to be involved in a project that supports the revitalization of Cherokee pottery is part of a larger goal of supporting pathways of healing for Native peoples."
During the year-long experience, master apprentice potters will be introduced to firing a two-chambered wood kiln at UNC Asheville, and will learn about atmospheric firing processes using soda, salt, and wood. The project team will travel throughout WNC to learn from and with master potters to better understand design principles related to wood-fire kilns. 
ᎠᏏᎾᏏ  ᏃᎴ ᎠᏙᎴᏆᏍᎩ  "asinasi  nole  adolegwasgi" will be supported by Tara McCoy, coordinator of the Right Path Adult Leadership Program on the Qualla Boundary and resident of the Birdtown Community, as project consultant; Levi West, coordinator of the Cherokee Youth Council program and resident of the Wolftown Community as principal apprentice; and Matt West, lecturer in art and studio technician at UNC Asheville, as master craftsman. 
"I'm thankful to be able to learn new pottery techniques so I can give back to my community and hopefully increase creativity and quality of art in the community," said McCoy, who leads a community pottery class.
Levi West, a student of McCoy's community pottery class, said, "I'm excited for the opportunity to learn something I can teach my community. It will be full circle from learning from master potters to being able to give back by making their firing process easier."
"I'm excited to be a part of this process," said Matt West. "I hope it will become an opportunity to support craft, creativity, and the Cherokee culture in multiple communities." 
For more information on this project and the work of The Center for Native Health, visit centerfornativehealth.org or @centerfornativehealth501_c_3 on Instagram. 
***
The Center for Native Health works with the EBCI and other sovereign tribal nations in the Southeast to address issues related to significant health disparities that exist in Native communities. The Center is driven first and foremost by a community agenda and guided by the advice of community members.
UNC Asheville's national reputation for empowering human potential is rooted in its unique student-centric, relationship-rich mission. UNC Asheville thrives on close-knit connections among students and their faculty and staff mentors. The University's 3,300 students are innovative, ethical, creative and resilient leaders who seek to understand complex global challenges and find creative, sustainable solutions that benefit our communities and the world. More than 65% of UNC Asheville students conduct applied research alongside faculty experts. UNC Asheville consistently ranks as a national top 10 Public Liberal Arts and Sciences University by U.S. News & World Report, and on its list of Most Innovative Schools. UNC Asheville regularly earns multiple national top 20 rankings in The Princeton Review's "The Best 388 Colleges," including Best Quality of Life, Town-Gown Relations, and on the Review's Green Colleges list. For more information, please visit: www.unca.edu.
The goal of the Ray Kinsland Leadership Institute is to help produce a selfless, giving generation that is grounded in traditional Cherokee values and educated in modern leadership. The institute was developed in 2016 by the Cherokee Preservation Foundation as a collaborative project with the Cherokee Boys Club.
The Tsali Care Center is a 72-bed facility at the forefront of providing skilled health care to those with special needs. Each unit at Tsali offers services and activities designed to meet the daily needs of residents and to promote their independence.