April 22, 2019
By Tris Lashea '22
We decided to celebrate National Poetry Month in April by talking to students and professors–and not just on the English hall in Karpen. What we learned (and already knew) is that everyone has their own personal experiences with poetry, that start at a young age and last a lifetime.
Name: Johanna Ayala
Year: First-year student
Major: English and Psychology
A favorite poem, book or poet: Quarters by James Harms
First experience with poetry: "In elementary school when I read Red Wheelbarrow by William Carlos Williams."
"I like poetry because it can be simple and diverse as the authors want it to be. The reader can pick and choose the message they wish to have known within the text. You get a new message every time. You never read the same poem twice."
Name: Patrick Bahls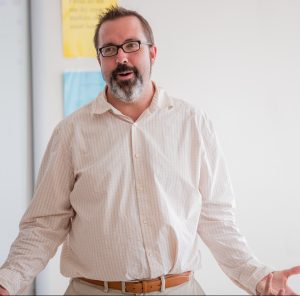 Teaches: Honors Director and Professor of Mathematics
A favorite poem, book or poet: "William Carlos Williams, definitely William Carlos William. His ability to just evoke a scene, an image, a feeling, a moment, in life that we've all experienced with just a handful of choice words is just unparalleled. There are others that do it well too, obviously, but he's always the one that I go back to if I need a lift.
"At a very versatile level, poetry really touches us in a way that other literature doesn't. The nice thing about poetry is that the literal meaning of a word is not necessarily the only way to take it or the only way to interpret it.
Patrick says he enjoys imaginative, visual poems that interact with all the senses.
"The poetry I like is very imaginative, the ones that conjure up images almost archetypal feelings and the stuff of human existence in a way that's difficult to put into words."
First experience with poetry: "Shel Silverstein, was one of the first poets that I remember appreciating, and his work. He had fun with what he wrote…and you read them now and they're marvelous."
Experience with poetry as a teacher: "I definitely taught poetry in both in my math classes, interestingly enough…. One of the wonderful things about poetry is that it can be universally enjoyed. And it's something that's much more accessible than people think of it as, because poems speak to people. You pick up a good poem and, and it doesn't matter. It doesn't matter who you are,  there are poems that can speak to everyone. No matter who you are as an individual, there's a poet out there for you somewhere."
Name: Nicole Allegretto
Year: First-year student
Major: English
A favorite poem, book or poet: The Road Not Taken by Robert Frost.
First experience with poetry: "I was introduced to poetry in 7th grade. I wrote a poem about foxes and my teacher put it on the wall and put a sticker on it and that's when I realized I liked poetry."
"I like that poetry doesn't have to make sense, and that you can use it to express your feelings and no one knows it's about you. It's mysterious."
Name: Carolyn Ogburn
Teaches: UNC Asheville's Master of Liberal Arts and Sciences Program, the Great Smokies Writing Program, and is the Director of Accessibility Services
A favorite book or poet: I'm terrible at narrowing down to a favorite so I'll just tell you current poets with whom I'm a little obsessed: Tommy Pico's Nature Poem, Tyehimba Jess's Olio. And pretty much everything of C.D. Wright, or Mary Ruefle. There are just so many amazing poets out there right now.
First experience with poems: I was a big reader as a child, and read pretty much everything I was given and then some. The poetry collection I remember the most was one called A Child's Garden of Verses by Robert Louis Stevenson. I liked the thumpity-thump rhythm of its words, and it also had pictures. When I look back at the A Child's Garden of Verses now, I recognize that there are several overtly racist poems in this collection, poems that are hateful and horrific. It is an example of the way racism is embedded in the culture in which I was raised, despite active anti-racist actions on the part of my parents. So, while there are some poems in here that I'm still pretty fond of, I'd be hard pressed to recommend it today!
Experience teaching poetry: I tend to include poetry in pretty much everything I teach. When I've included a book of poetry as a textbook for a class (like I did this semester, with C.D. Wright's One With Others), I've noticed that people at first feel like they don't know what it's about. They get intimidated, and feel like they should have special skills to know what it's supposed to be about. But the more they read, the more they want to read. They start to trust the text as it is on the page, rather than trying to look for something that's not there.
Name: Peyton Rodgers
Year: Junior
Major: Mass Communication
A favorite poem, book or poet: Rupi Kaur because she shows growth in between books. She is raw and really makes you think and feel.
First experience with poetry: "I started writing and doing slam poetry in middle school. I won two awards by doing slam poetry. But I didn't start reading poetry until high school."
"Poetry is my favorite art form. It can be used for anything and talk about things that are uncomfortable. It creates symbolism with words."
Name: Juan Sanchez-Martinez
Teaches: Assistant Professor of Languages and Literature and Indigenous Studies
A favorite poem, book or poet: "Humberto Ak'abal is a K'iche' from Guatemala who used to write in K'iche' and Spanish…. The first time that I heard his poetry was a long time ago, like more than 15 years ago. And right at the moment when I heard it, I knew I had to follow this poetry and it has brought me on a long journey."
First experience with poetry: "My father and my grandparents, they just loved words.  I remember my dad saying beautiful things. And he was so excited saying it. And so I memorized them without knowing. And then later in life, I found the books where those words were written."
Experience with poetry as a teacher: "It comes to my class when I teach about the history and culture, and I believe also that poetry has this beautiful power of connecting with people. So when I need to explain a historical fact or a conflict, I always try to find a poem and to introduce the theme of poetry. I want to share with the students how sometimes we have to think about other perspectives in this world."
"Poetry's not just what we read or what we write, but beyond that. It's a way of being and to connect with language, music, nature, love, death, and life."
"Poetry is a bridge, it's not an end."
Name: Tris Lashea (me!)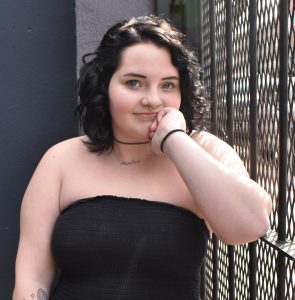 Year: First-year student
Major: Mass Communication
A favorite poem, book or poet: Sharon Olds and Rupi Kaur
First experience with poetry: "I found a collection of Robert Frost poems in my middle school library."
"I like poetry because it always affects me and touches me in such a deep, personal way that I have never been able to feel through anything else. Writing poetry is a nice break because there are no rules or criticism, just you and your words, which is very powerful and inspiring, for the writer and the readers."
Interesting in creating some of your own poetry? Check out this summer's class schedule for the Great Smokies Writing Program, where you'll find courses in poetry and many other styles of writing.