March 19, 2020
This semester has found our UNC Asheville and global community facing the unprecedented challenge presented by the coronavirus pandemic. While we Bulldogs usually enjoy spending time on our beautiful, close campus together, we're now having to learn to create our community in new ways as classes move to remote instruction, and most of us are learning and working from separate places.
We miss being together on campus, but no matter what, we're Bulldogs, wherever we are.
We'll be bringing you stories from our UNC Asheville community as we learn, teach, adapt, and work together through whatever challenges lay ahead. Patrick Bahls, professor of math and director of the honors program, shared how he is getting ready for online classes, entertaining himself while practicing safe social distance, and some words of encouragement for his students and colleagues.
For his Discrete Mathematics course, Bahls said, a few standard modifications well help bring the classwork online. "They'll still be reading the text, submitting solutions to various problems via Moodle, they've been doing this all semester, and I'm supplementing the text with short videos I'm making on the fly and with drop-in 'office hours' via Google Hangouts," he said.
Instead of presenting solutions in front of the class, Bahls is asking his students to make and turn in videos in which they solve two problems.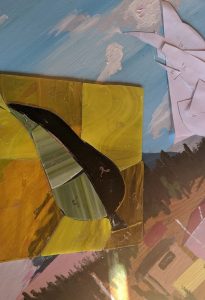 "I hope they'll have fun with this," Bahls said. "I'm hoping to see pets in the videos, but I'm not formally offering extra credit for that."
The honors senior capstone course, Cultivating Global Citizenship, offers other opportunities to incorporate the current global situation into the class.
"What we're all going through now actually fits in very well with the course theme of 'geography of citizenship;' roughly, how do person and place interact? How do our physical surroundings, natural and built, enable or constrain our enactment of citizenship? How, in turn, do our actions impact our physical surroundings?" Bahls said.
He's also asking students to consider communal use of space—a frequent discussion in class—in the era of COVID-19.
Other parts of the course—the service-learning component and other in-class experiences—still need workarounds, but Bahls said he's keeping perspective as he and his students move forward together.
"I'm staying open and flexible," Bahls said, "welcoming student feedback as we go forward and giving everyone the benefit of the doubt."
In the meantime, Bahls and his wife, UNC Asheville English Lecturer Jessica Pisano, are finding ways to have some fun at home, like running and reading a mystery series together.
"Watching movies with Jessica and the step-kids, and cooking and baking, and making art," Bahls said, "generally trying to find balance."
Bahls wants his students to know that he's ready to support them while they work through the challenges of the coming weeks together.
"I understand, and I see you," he said. "I know you've likely got a lot going on, and I know you didn't sign up for this. Hang in there, do what you can. I trust you to give it an earnest effort. I'm here for you, no matter what you need."
He offered words of encouragement to his colleagues, as well. "Stay civil, stay open, keep working hard. I know we're all in different places, too, but in a way, we're all in this together.
"I hope we all embrace this opportunity to, ironically, come together as a community as we learn new ways to support one another and be there for each other," he continued. "These are trying times, and not every outcome will be a positive one. But I believe that we can make the most of the experience and emerge together with a better understanding of what we all mean to one another."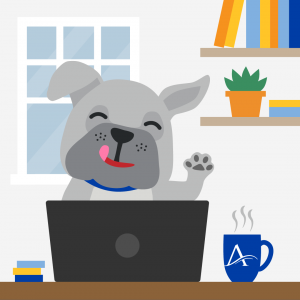 We want to hear from you! Send us a photo of your work-from-home space, share a story about how you're having socially-distant fun, or just tell us how you're doing, using #BulldogsWhereverWeAre.